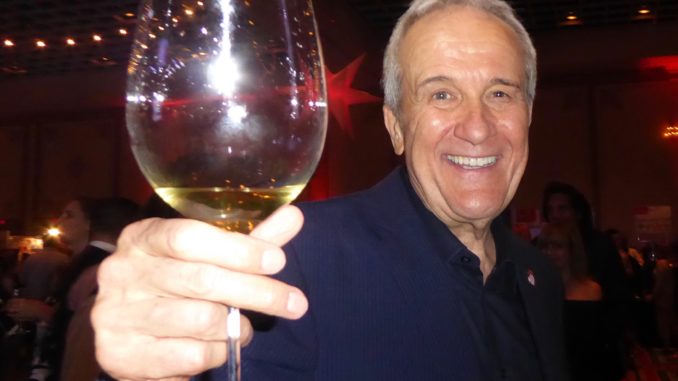 Las Vegas loves a party. And Las Vegans love to support worthy causes too. UNLVino guests "took a sip for scholarship" with generous wine, beer, and spirits and food-tasting opportunities on March 30 through April 1, 2017 at this popular three night annual event in support of UNLV's William F. Harrah College of Hotel Administration.
UNLVino was cofounded in 1974 by the William F. Harrah College of Hotel Administration and Southern Glazer's Wine & Spirits of Nevada, the two organizations which continue to sponsor it today. Over the past four decades, UNLVino has raised several million dollars for scholarships and other academic developmental needs of UNLV students.
The three evening events celebrated 43 years of hospitality excellence and included Bubble-Licious, Sake Fever and the Grand Tasting. UNLVINO is sponsored by Southern Glazer's Wine and Spirits and its mission is to raise money to fund scholarships to University of Nevada Las Vegas (UNLV)'s College of Hotel Administration.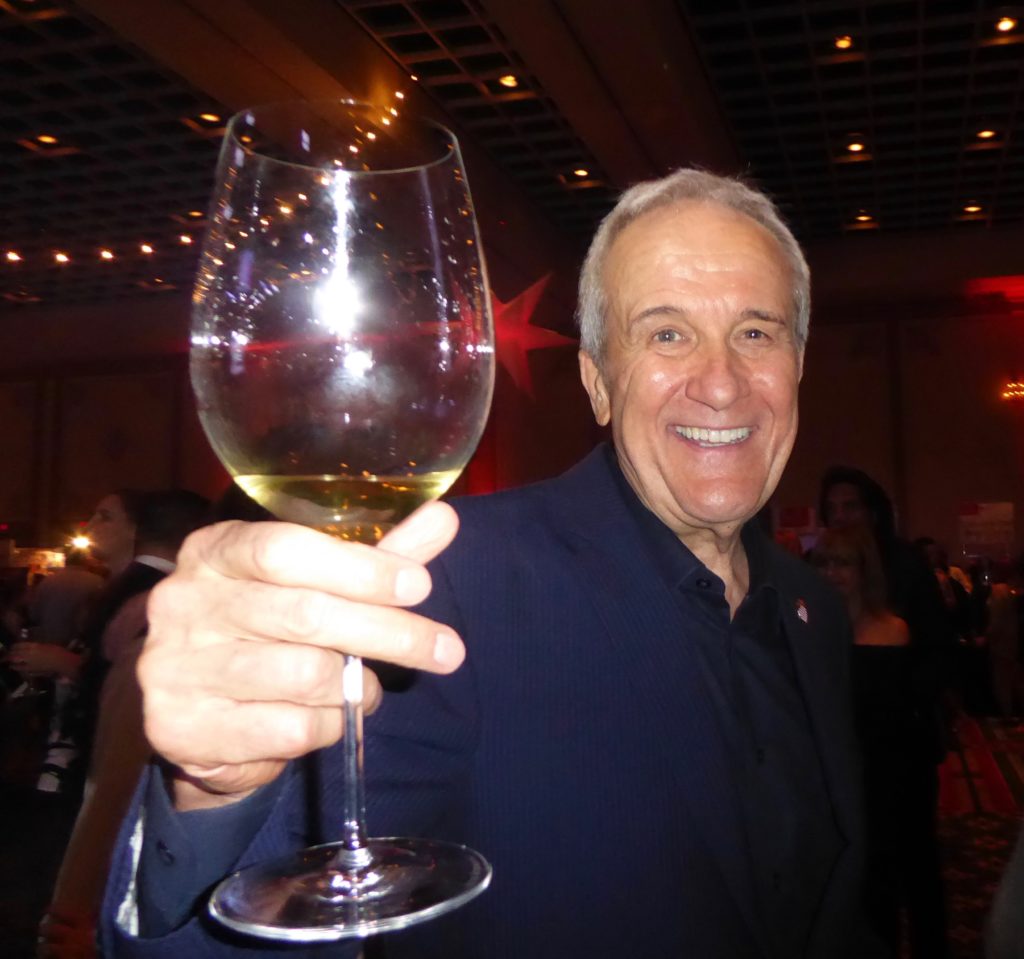 Larry Ruvo, the Senior Managing Director of Souther Glazer Wine and Spirits, helped found UNLVINO and is still active in the yearly event. He was present at the award ceremony at all three events.
Splash reporter Burt Davis spoke with Dr. Stowe Shoemaker, the Dean of the William F. Harrah College of Hotel Administration at the event. He told him that this year's events were well attended and he anticipated that more money would be raised than in the past.
UNLVino also continued its tradition of recognizing hospitality industry leaders with the Dom Pérignon Award of Excellence. Bar Rescue star Jon Taffer, who is headquartered in Las Vegas, was honored by UNLV hospitality students during the Bubble-Licious Event at the Venetian Hotel & Casino. Joining him for the award presentation were Michael Severino, Director of Marketing and Special Events for Southern Glazer Wine & Spirits and Larry Ruvo, Senior Managing Director of Southern Glazer Wine & Spirits.
Chef Mitsuo Endo the well known owner of Aburiya Raku Japanese Charcoal Grill received the award at Sake Fever Event at Red Rock Casino Resort & Spa.
Bubble-Licious
Bubble-Liciou

s, UNLVino's opening event generally takes place out the Venetian's outdoor Doge's Palace Plaza while guests sip champagne under the stars. But someone forgot to tell Mother Nature as high winds forced the event into The Veronese Ballroom.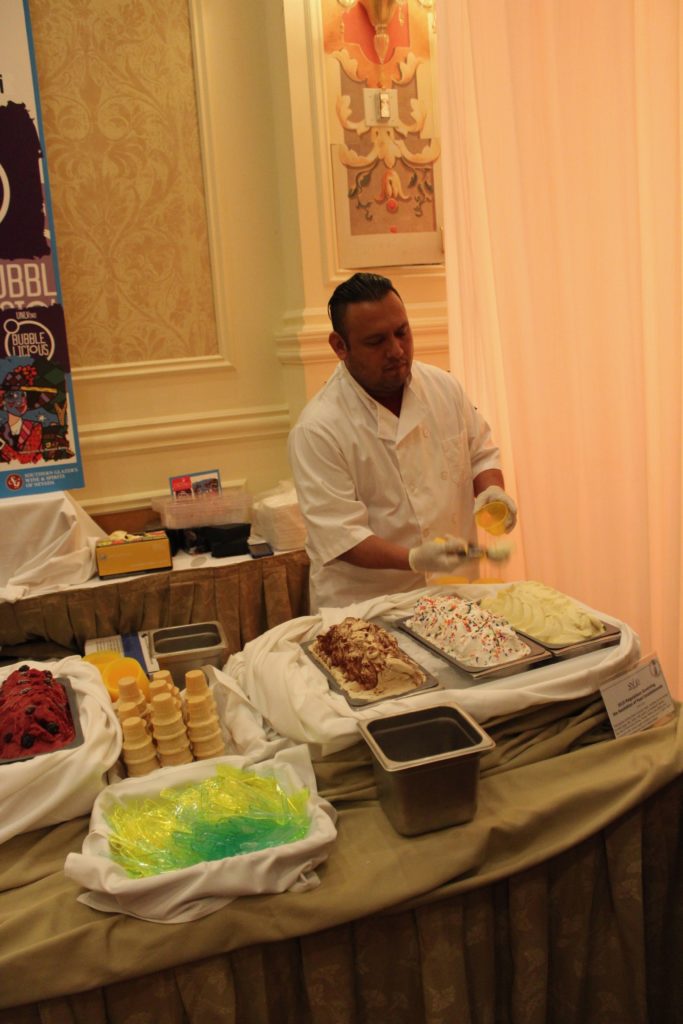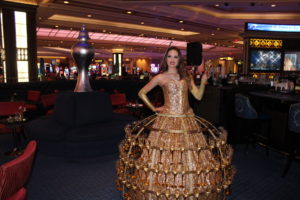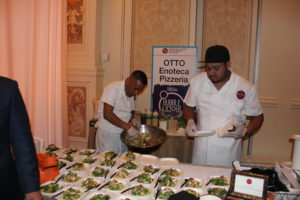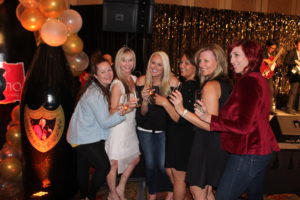 The shift in location did not dampen the enthusiasm as the event started with the traditional 21 cork salute from opening champagne bottles. Guests were treated to samples from the multitude of restaurants at the Venetian and Palazzo Hotels as well as an endless supply of champagne and sparkling wines.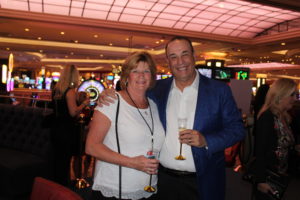 Jon Taffer was presented with Dom Perignon Award of Excellence and several custom designed gifts. He is a Yankee fan and received a custom portrait of himself wearing Babe Ruth's uniform. He also received a script from The Godfather signed by Diane Keaton and was serenaded with songs from the group Chicago.
Sake Fever
Sake Fever – the second event in UNLVino – is generally held at the Red Rock Casino's swimming pool. But, Mother Nature's winds kept blowing and the event was moved to the Red Rock Ballroom. The event featured food samplings from a host of Asian themed restaurants and copious amounts of sake and Asian beers.
The culinary highlight of the evening was provided by Naked Fish's Sushi and Grill. Restaurant employees performed as expert surgeons as they carved up and served a 244 pound tuna. Guests lined up to get sample portions of the raw tuna.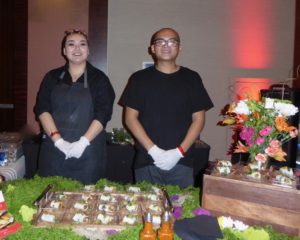 The opening of the event is steeped in tradition and included the entrance of Japanese dancers accompanied by drummers and samurais brandishing their swords. Then, Chef Mitsuo Endo received a special bottle of sake and a custom knife set along with the Don Perignon award.
The Grand Tasting
Since The Grand Tasting was scheduled for the Paris Las Vegas Ballroom, Mother Nature did not interfere. This premier event of UNLVino features an unbridled collection of premium wine offerings. Over 75 wine and beverage companies had booths at the Grand Tasting. Nearly 40 restaurants served up small bites to the guests.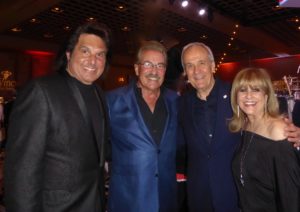 The food sampling was supplemented by food booths set up by some of the more than 500 UNLV students participating in UNLVino. A highlight of the evening was a performance by the Bronx Wanderers who are headlining at Bally's. Folks were moved to dance and sing along with the tunes of the 60's, 70's, and 80's.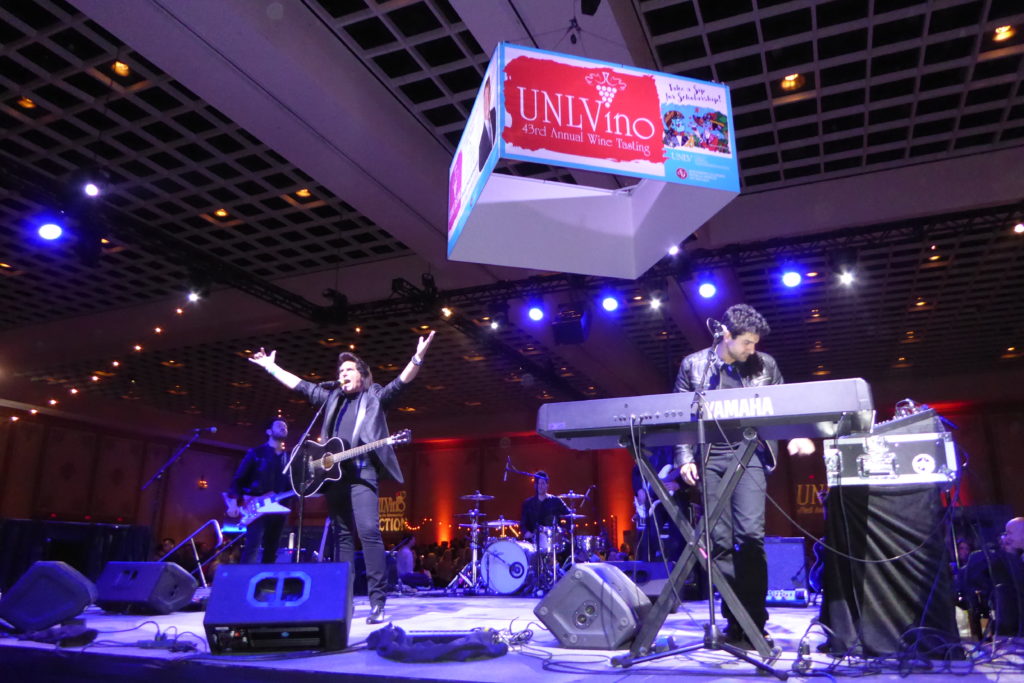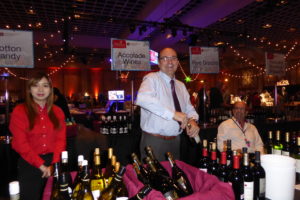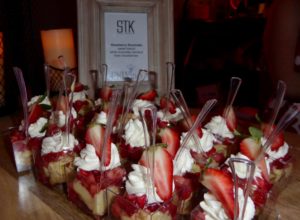 David Hoenemeyer graciously accented the Don Perignon award of excellence. He also received a autographed jacket from the students, a box of Davidoff Cigars and a personalized sketch of himself in a Yankee Uniform. Yes, two of the honorees are New York Yankee fans.
Attendees certainly appeared to enjoy this yearly charitable three day event. Some come to one night and many are there for each of the three events which make up UNLVino. Most were already looking forward to next year's 44th annual event. After all, that will be the chance to drink the wine and eat the food that you were too full to consume this year.