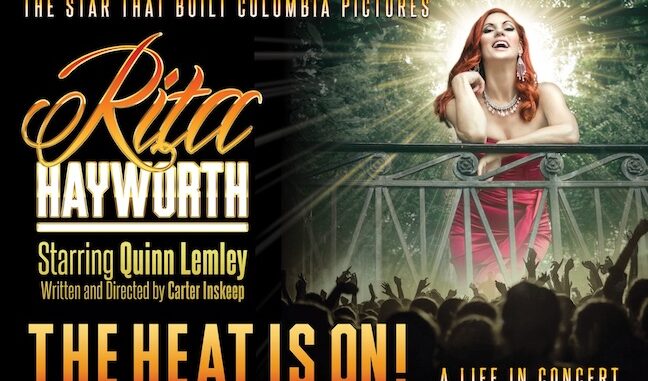 "The Heat is On" written and directed by CARTER INSKEEP with musical direction by TOM WILSON.
So, by now we should clearly know on whom to put the blame…or rather praise, and that, of course is the indomitable Quinn Lemley and her creative partner Carter Inskeep for creating and evolving the cabaret musical chronicle of the life of Ms. Rita Hayworth, "The Heat Is On!" And is it ever!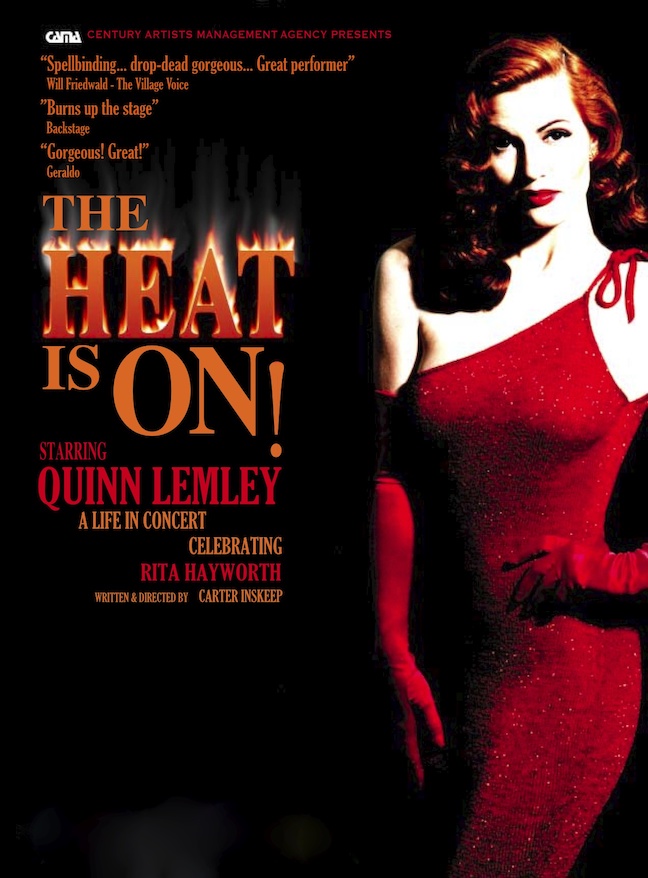 On Thursday night, September 28th the capacity crowd in the largest section of the hottest cabaret spot on New Yorks' Restaurant Row, "Don't Tell Mama", Ms. Lemley provided enough warmth both musically and emotionally to necessitate turning up the air-conditioning the night before our metropolis was inundated with enough rainfall so as not to be surprised to witness an Ark boating the avenues with a couple of giraffes peeking through the windows.
Truly, it should be to no one's surprise that this show has received numerous awards over the years it's been presented, including the prestigious Bistro Award win and Mac nominations. This reviewer first attended an earlier iteration of this edifying entertainment some time ago. That Ms. Lemley has matured into this incarnation of the famed screen goddess with an enhanced allure is clear. That her acting while telling the story as the idol has grown even more deeply and touchingly is even clearer.
Margarita Carmen Cansino's story is indeed a tale well worth recounting. The born dancer who partnered with her father at age 14, replacing her mother, in unfortunately too many senses regarding her father, Eduardo Cansino, is an ambiguous chapter of joys ans and profound sorrow, that led, as so often in this business of show, in circuitous fashion to employment beyond the dance floor, to the silver screen by the age of 18. The road to the seemingly inevitable stardom is recounted with ironic humor and a bevy of songs (so many featuring the genius of Rodgers and Hart!) skillfully rendered by Lemley backed up by a first-rate ensemble of musicians.
While providing a candid chronicle of this legendary personality, with personal and professional relationships detailed including Ed Judson, Daryl Zanuck, Harry Cohn, Orson Welles, Howard Hawks, Dick Haymes, Ali Kahn, Glenn Ford, James Hill, and more, it's particularly worth noting that two immortals in particular had compliments for Ms. Hayworth with infinite respect: Fred Astaire's assertion that with the numerous films he made for Columbia Pictures with her, he'd never had a greater dancing partner, AND when in 1957, when making the film of " PAL JOEY , at the ascendance of his Hollywood stardom and power, Frank Sinatra insisted that Hayworth receive top billing saying that she was the true idea of a movie star.
Anyone who has ever enjoyed the essence of that star power, and/or appreciates the crafting of great cabaret, should run to this dutiful and delicious display of the life of the image that inspired so many, including Stephen King's "The Shawshank Redemption"! Go and behold Quinn Lemley's recreation of Rita Hayworth for all her worth!
"DON'T TELL MAMA! " 343 W. 46th St. (8th-9th Aves.) Manhattan.
Upcoming Shows: Mondays,10/23, and Nov. 20th at 7:00 P.M.
Photos: Courtesy of Quinn Lemley