Some dining experiences are well worth the drive and Ristoranté Brissago®, on the second floor of Grand Geneva Spa and Resort, is one of them. Advertised as "a contemporary take on traditional Italian cuisine, combining authentic flavors and creativity" it's truly a destination dining experience. Utilizing local and seasonal ingredients, it offers inspired dishes certain to delight. And those dishes are not only delicious, they're beautiful, presented like gifts for the diners to enjoy.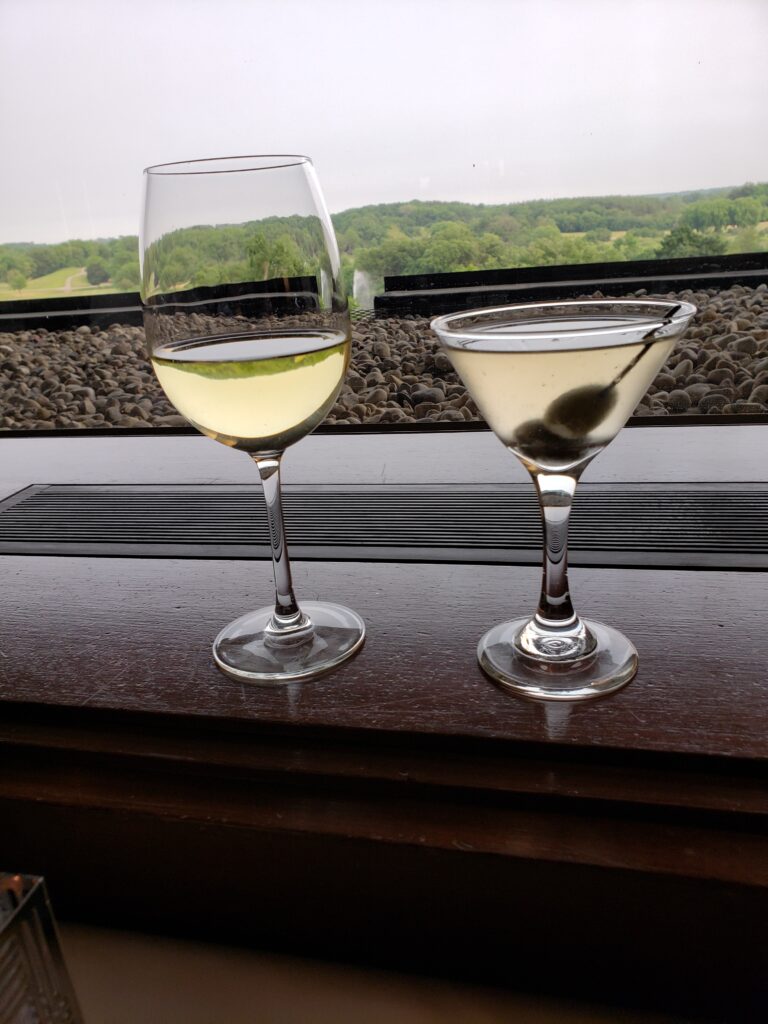 The calm and contemporary dining room affords room for intimate and sharing experiences. And there's a lovely view overlooking Grand Geneva's golf course if you are seated on that end of the dining room. We shared our space from everyone from couples to large family groups and girlfriends out for a girls' night. The restaurant appeals to everyone who loves inspired Italian.
We began our own experience with the Dr. Pauly Mosel Riesling and a superb dirty martini the fabulous homemade bread, of course, while we eagerly awaited our salads.   I chose the house's signature green one, the Casalinga Alla Brissago Insalata featuring asparagus ribbons, candied walnuts, gorgonzola and basil lemon vinaigrette, while my mother went with our fabulous waitress Tanya's suggestion, the Anguria, with summer watermelon, marinated cucumber, pickled shallot, Amalfi lemon yogurt and white balsamic vinaigrette.  Mine was a perfectly fine salad, but nothing particularly special and I found myself wishing I'd ordered the same magnificent creation as my mother. Everything about it was spectacular, from presentation to exceptional delicate flavors perfectly balanced and paired.  I strongly recommend it.
We also sampled the Truffle Sacchetti featuring black truffles, parmesan cream and extra virgin olive oil. Everything about this dish was absolutely exceptional. I could have eaten multiple plates of it, despite its richness. It felt as decadent as a dish with truffles should despite the few ingredients.
For entrees my mother chose the Branzino Mediterranean Sea Bass, lemon aioli, Castelvetrano olives, marble potatoes, artichokes, Pecorino Romano, basil pesto. It was an absolutely splendidly-composed dish that not only looked beautiful but was cooked to enhance the flavor of the fish.  Each bite paired perfectly with the accompaniments. 
I chose the Pettini Di Mare because if scallops are on the menu, I can't resist them. This was an outstanding dish. Diver scallops, mushrooms, corn, risotto, peas, sorrel pesto, lemon vinaigrette combined into an absolute poem. The risotto alone was worth the price of admission. I could have eaten an entire plate of that. But the delicate, fluffy scallops were just perfection paired with this exceptional risotto. I would eat this again and again, it was a triumph.
When it came to dessert, we couldn't make up our minds, so we ended up with three. The New York Cheesecake was the first choice, again on Tanya's recommendation. I am a cheesecake hater. It's usually too heavy and without good flavor, but this one was as extraordinary as so many of the other dishes, so if you're wavering about ordering it, get it. I chose the Wood-fired Peach and Terragon Crostada. Sadly, it was not nearly as delicious as it appeared and not nearly as good as the cheesecake. The pastry wasn't as buttery as I would have liked, the peaches were fine, but it was a bit too heavy on the tarragon, which spoiled the sweetness of the dish. But the truly exceptional Pistachio Semifreddo was dark chocolate ganache, amarena cherries, vanilla panna Montana absolutely made up for it. I can't tell you how utterly splendid this dessert was. If you make only one choice on the dessert menu, make it this.
Whether or not you're staying at the resort, this absolutely should be on your short list of destination restaurants in the southern Wisconsin area. It's well worth the drive. The restaurant is open for dinner Friday and Saturday 5-10pm, Thursday, Sunday and Monday 5-9pm.
Call (262) 249-4788 for reservations. Or visit their website.