The 8th Annual Taste Of the Rams. co-presented by Don Lee Farms and Bank of America, held at SoFi Stadium in Los Angeles, raised nearly $200,000 to assist families and individuals facing food insecurity in Los Angeles County. The money raised will support the Los Angeles Regional Food Bank in distributing meals across the county.
The event received support from Food Bank allies, including Don Lee Farms and Bank of America. Rams receiver Cooper Kupp, the Honorary Chair of the event for the fourth consecutive year, played a crucial role. Kupp, who was the 2021 NFL Offensive Player of the Year and Super Bowl LVI MVP, has been actively involved in addressing food insecurity, both in Los Angeles and his home state of Washington.
The Rams introduced the Taste of the Rams event in 2016 and have provided 4.8 million meals.
This event not only gives back to the community but features incredible food from local chefs.
Let's start with the seafood. Chef Paco Moran, from La Cha Cha Cha, served Aguachile with a side of LA Churros. The Aguachile was fresh with a hint of spice and paired perfectly with the churros. The churros had a unique thai tea sauce on the side. Next, Chef Ei Hiroyoshi outdid himself with the melt in your mouth Nigiri. He served Salmon, Yellowtail, and Albacore Nigiri with the help of the Rams Mascot. His restaurant is Hamasaku, located on Santa Monica Blvd.
Momento Mori Hospitality, shined with their Spicy Rigatoni alla Vodka. Chef Jackson Kalb prepared this amazing dish with vodka sauce that is sold by the jar if you want to make this dish at home.
Chefs Mary Sue Milliken and Susan Feniger prepared a Dobladita. A dobladita is a flat slab of dough, folded twice, coated in butter, and then baked. These chefs put their own spin on a dobladita. They used a corn tortilla, mexican cheese, kale, roasted corn, veggies, and a chipotle aioli to create this delicious dish. You can find more dishes like this at their restaurant, Socalo in Santa Monica.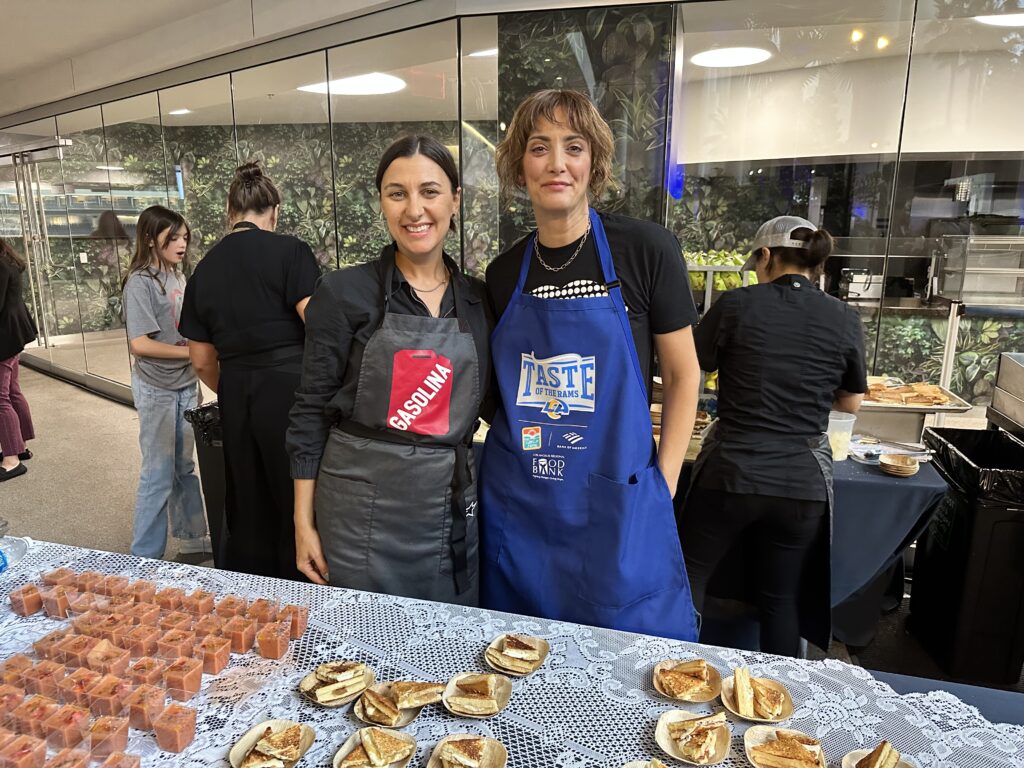 We can't forget desserts. Nationally acclaimed chef and owner of Bakery By the Yard, Sherry Yard, put on a show. She created an upscale sundae dessert in front of your eyes with cookie lollipops on the side. Chef Sally Camacho served Ube and Mango Malasadas. These donut-like desserts were incredible. In 2012 she was honored by Dessert Professional Magazine as one of the Top 10 Pastry Chefs in America and I can taste why.
The Los Angeles Rams are committed to serving their community by continuing to partner with the Los Angeles Regional Food Bank for this event.
This event is a great way to help the community and taste amazing food from chefs in Los Angeles.
For more information, visit: Taste of the Rams
To explore sponsorship opportunities similar to this one, please contact Roger Castle, Chief Development Officer at rc*****@la********.org or (323) 234-3030 ext. 147.
About the Los Angeles Regional Food Bank
The Los Angeles Regional Food Bank has been mobilizing resources to fight hunger in Los Angeles County since 1973. To support the Food Bank's vision that no one goes hungry in Los Angeles County, food and grocery products are distributed through a network of 600+ partner agencies and through Food Bank programs serving 800,000 people monthly. In response to the COVID-19 pandemic, the Food Bank tripled the number of people reached every month. The Food Bank is a 4-star rated charity by Charity Navigator. For more information, visit LAFoodBank.org
About the Rams
The Los Angeles Rams – Los Angeles' original professional sports team – stand as one of the oldest franchises in the National Football League and since its founding in 1937, have garnered three World Championships and sent 30 of its members to the Pro Football Hall of Fame. In 2017, the Los Angeles Rams clinched the NFC West title and hosted the NFL's first Playoff game in Southern California in 30 years. As a professional sports team, the organization is committed to being a valuable civic partner and serving the greater Los Angeles area 365 days a year. The team currently hosts games at the Los Angeles Memorial Coliseum, with plans to move to a new world-class stadium at the Los Angeles Stadium and Entertainment District at Hollywood Park, currently under construction in Inglewood, California, for the 2020 NFL season. For more information visit www.therams.com and follow the Rams' social media channels.