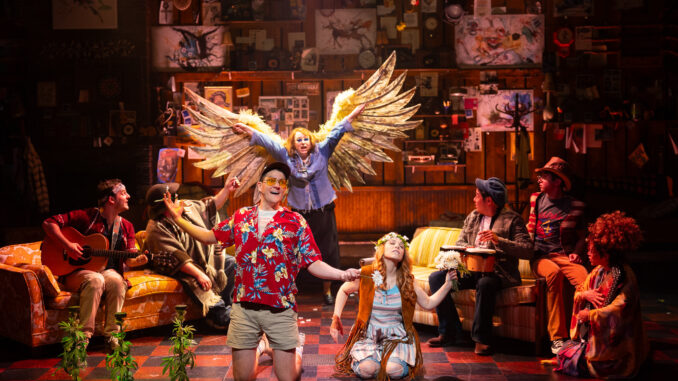 What makes a good musical? Drugs? Adultery? Guns? Suicide?
One wouldn't think so, but the La Jolla Playhouse's new world-premiere musical features the life of the iconic counterculture journalist who was known for his hard-driving life that included all of those elements.
THE UNTTITLED UNAUTHORIZED HUNTER S. THOMPSON MUSICAL is currently onstage at the La Jolla Playhouse in their Sheila and Hughes Potiker Theatre.
Hunter was a fascinating man who lived his life on his own terms. He changed the face of journalism by setting himself, the author, into his articles in what would become known as Gonzo journalism. He fervently supported outcasts, miscreants, and misfits. He just as fervently hated Richard M. Nixon.
Composer-Lyricist-Playwright Joe Iconis has been fascinated by Hunter for decades and when he mentioned it to the Artistic Director at the Playhouse, Christopher Ashley, the idea was born to make the bio-musical. Shows often take many years from concept to production – and this musical was no exception. From their first conversation about it in 2007 until the previews in August 2023 – it's been 16 years!
The production tells the story from Hunter's own voice and point of view, except, instead of what he did in his articles – this time it's with song. Iconis has said he felt Hunter's voice was lyrical and seemed like music to him.
Gabriel Ebert plays the iconic "Hunter S. Thompson" who takes us through his journey from his childhood in Kentucky and his bad boy problems with police, to the military and then his life as a journalist. Hunter lived for a year with the Hell's Angels and after writing about them, was brutally beaten by them. He wrote an unconventional article about the revelry and depravity of the Kentucky Derby that contributed to his fame – and then wrote the book, "Fear and Loathing in Las Vegas," that was later made into a movie.
Hunter often wrote for the magazine Rolling Stone, headed by publisher Jann Wenner, and had a long-time collaboration with British illustrator Ralph Steadman. His hatred for Nixon lasted his whole life, and he went on the presidential campaign trail with George McGovern. Through the years, between his alcoholism, drug use, infidelities, and contempt for authority, Hunter ended up alienating both friends and family.
The entire production takes place on the set of Hunter's Woody Acres, Colorado compound where he lived and hosted many of the outcasts, misfits, and outsiders who he championed in his writing and his life. Along with his wife Sandy, who ultimately divorced him, and his other guests, Hunter also had peacocks at his home.
Hunter was an ardent firearms collector, and in 2005, when his productivity and fame had started to dwindle and he didn't want to cope with growing health issues, he did himself in with one of his guns.
I saw the show in previews before the official opening and was amazed at how what could have been dark and upsetting… was actually fun, accessible and, overall, a captivating story of a complex and flawed, yet brilliant man.
In addition to Gabrielle Ebert as "Hunter," other actors in the production include George Abud as his nemesis "Nixon," Jeannette Bayardelle as "Jann Wenner," Giovanny Diaz de Leon as "The Kid," Marcy Harriell as Hunter's wife "Sandy," Lorinda Lisitza as "Virginia," Lauren Marcus as "Flower Child," George Salazar as "Oscar," Ryan Vona as "Juan," and Jason SweetTooth Williams as "Ralph Steadman ." The puppets, which add some lightness and laughs, were provided by Animal Cracker Conspiracy.
Music and Lyrics are by Joe Iconis, with a book by Joe Iconis and Gregory S. Moss. The musical was choreographed by Jon Rua and directed by Christopher Ashley, the Rich Family Artistic Director of La Jolla Playhouse.
The La Jolla Playhouse always presents incredible work – with new shows that their audiences love. Future shows at the La Jolla Playhouse this season are:
SUMO, a world-premiere play written by Lisa Sanaye Dring, directed by Ralph B. Pena; Sept 26 – Oct 22.
BABBIT, a world-premiere play starring Matthew Broderick, written by Joe DiPetro, adapted from the novel by Sinclair Lewis and directed by Christopher Ashley. Nov 7 – Dec 3
REDWOOD, a new world-premiere musical featuring Broadway Star Idina Menzel. Book by Tina Landau, music by Kate Diaz, lyrics by Kate Diaz and Tina Landau with additional contributions by Idina Menzel, directed by Tina Landau. Feb 13-Mar 17, 2024.
There's no question – the La Jolla Playhouse is a great place to go for thought-provoking, compelling, and entertaining theatre!
THE UNTITLED UNAUTHORIZED HUNTER S. THOMPSON MUSICAL runs from August 29 – October 8, 2023. Tue/Wed at 7:30 pm; Thu/Fri/Sat at 8 pm; Sun at 7 pm; Sat/Sun at 2 pm
Sheila and Hughes Potiker Theatre
2910 La Jolla Village Drive
La Jolla, CA 92037