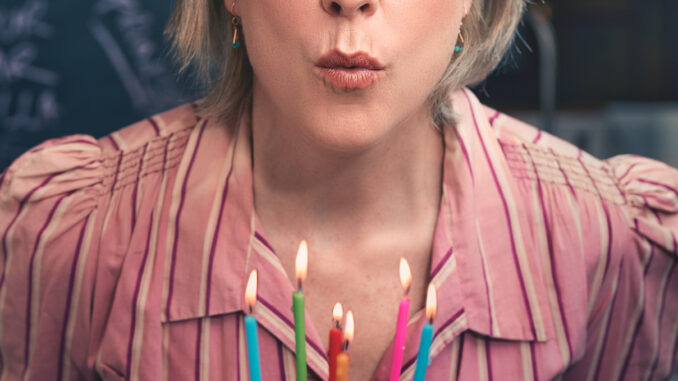 Five generations of a woman's life are examined in Northlight Theatre's fine production of "Birthday Candles" written by Noah Haidle and directed by Jessica Thebus.
The poignant and often times humorous play delves into the life of Ernestine Ashworth, a woman who questions her very existence at every turn. It explores the highlights, heartbreaks, and extraordinary moments that make up one woman's ordinary life. In her wider orbit, Ernestine reflects on how she impacts the lives of her family and friends that surround her.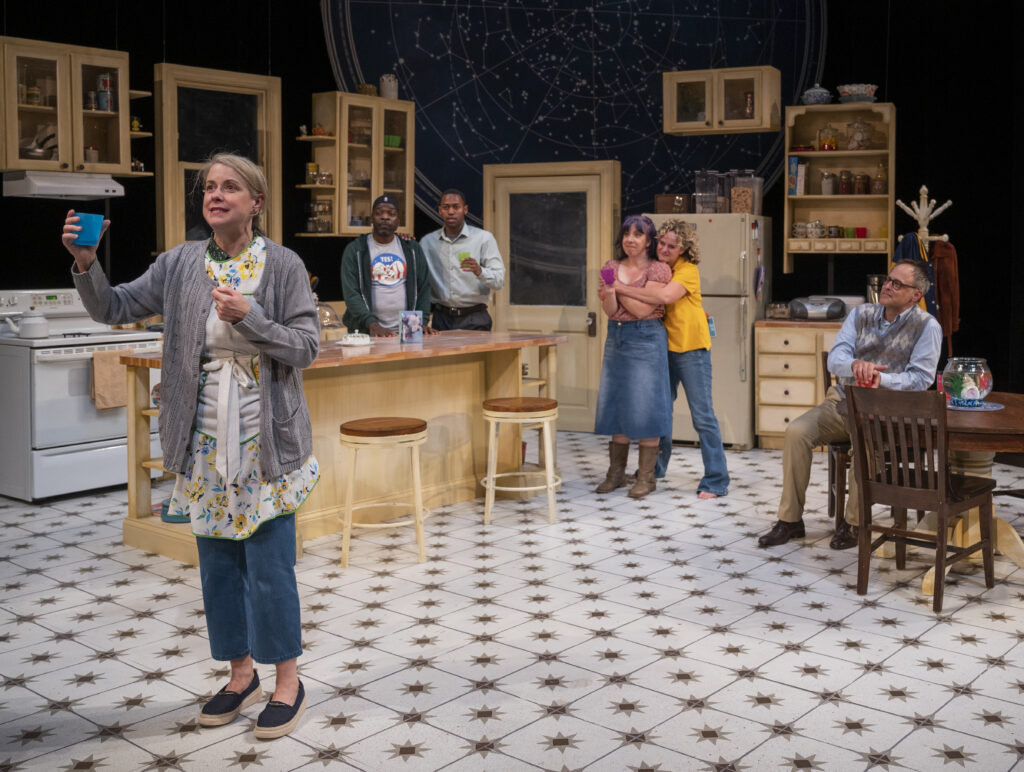 Ernestine Ashworth spends her 17th birthday agonizing over her insignificance in the universe. Soon enough, it's her 18th birthday and she is longing to find her place in the universe. Even sooner, her 41st. Her 70th. Her 101st. Five generations, an infinity of dreams, and one cake baked over a century.
Family, choices, unrequited love, loss, and other issues come into play as Ernestine must navigate what life brings her way, much of which she has no control over.
Determined to have a life outside of Grand Rapids, Michigan, Ernestine plans to fool G-d and live large. But, perhaps Ernestine is a "late bloomer." Living without her beloved mother might have contributed to her inability to move forward after high school. Eventually, though, she works to make her dreams come true and have the life she wanted.
Make no mistake, this is an ambitious play to stage, as it has no intermission, only darkness and the chiming of the clock to indicate that time has moved on.
Multiple award-winning actress Kate Fry plays Ernestine and she is remarkable, conveying a range of emotions as she grows older right before our very eyes.
From a young girl on the cusp of adulthood to an older, yet wiser woman, Fry captures the essence of a woman who has survived life's trials and tribulations.
The other cast members play a number of other characters including Cyd Blakewell (Alice/Madeline/Ernie), Chike Johnson (Matt), Samuel B. Jackson (Billy/John), and Corrbette Pasko (Joan/Alex/Beth). Timothy Edward Kane plays her long-suffering admirer and finally husband, (Kenneth) who is responsible for much of the play's humor and antics.
As the play concludes, the audience comes away with having experienced a very thoughtful and philosophical theatrical performance.
The Northlight Theatre, under the direction of Artistic Director BJ Jones and Executive Director Timothy J. Evans, is located at 9501 Skokie Blvd in Skokie. The production runs through October 8, 2023
The remainder of the 2023-2024 season includes "Dial M for Murder," "Selling Kabul," "Brooklyn Laundry and "2 Pianos 4 Hands."
For tickets, go to northlight.org or call 847-673-6300.
All photos by Jeff Kurysz.