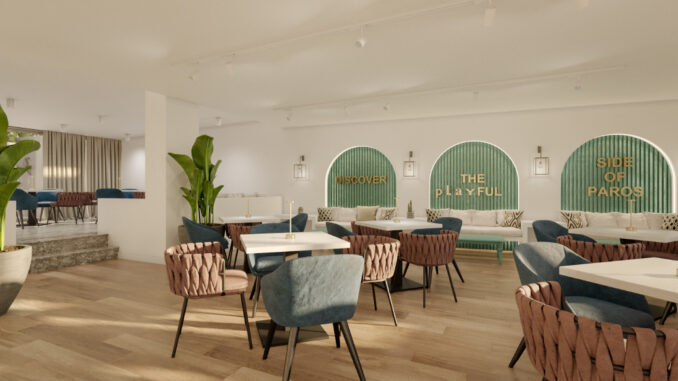 On the beautiful Livadia beach in Parikia, one can find the latest boutique hotel where I stayed. Fully renovated, in pop modern vibes, with clean lines that give you a feeling of happiness, all at once. This vibrant and contemporary small hotel offers stunningly decorated rooms, easy to use, with my favourite Nespresso machine present in each one of them. When we entered ours, a wonderful surprise was waiting for us, white wine to be precise, which was much needed after a long trip.
The main accent colours of this new hotel are blue and yellow. Yellow is the color of happiness, positivity, hope and rebirth! It provokes excitement, originality and enthusiasm, feeling that are necessary in this modern world. Blue is the colour of the Aegean Sea and the sky, feeling you with sentiments of inspiration, freedom, imagination and wisdom.
The Play Paros hotel invites you to break boundaries, connect to the local space of the island and enjoy every moment. Every single detail in the interior and exterior of this spot is meticulously crafted. The pool is my favourite scene. Always happy to find some greek organic fruit next to it. In our suite, apart from the softest linens I have touched in the last few weeks, we had spacious walk-in showers with carefully selected amenities. At Play Paros every moment of our stay was filled with comfort, relaxation, and joy.
To continue, this little gem in the middle of the Aegean Sea, is famous for its stunning beaches like Chrisi Akti and enchanting little villages like Lefkes, which are a must see. An island with incredible nature, positioned meticulously in the middle of Greece, within the idilic Cycladic group of islands, captivates the traveler that has arrived from any place in the world. The islands striking architecture and vibrant night life make this place a little getaway paradise.
When we visited Naousa, the most beautiful spot in Paros, we had the chance to dine at one of its finest restaurants, Barbarossa! Barbarossa was the epitome of great quality food with a twist. Every night after dinner, a little party was taking place and all customers, from all over the world, dance in the vibes of greek music like there is no tomorrow!
Our favourite beach Club on the island that we visited most of our time there, was Marcello beach bar. An amazing place with European standards that reminded me one of the best clubs in Cannes. Turquoise waters, amazing cocktails, uplifting music and so much fun!
Before we left the island, we had the chance to visit Antiparos, a nearby little heaven, with fine beaches and a cute little village were all the magic happens. There we couldn't resist try out the famous Klimataria restaurant, were pink bougainvilleas are hanging from the ceiling, with its delicious local delicacies that we still remember.
All in all, Play Paros hotel and Paros, offered us warm hospitality, exceptional facilities, and an unique opportunity to experience the genuine essence of joyful Greece!

Photos: Courtesy of the hotel