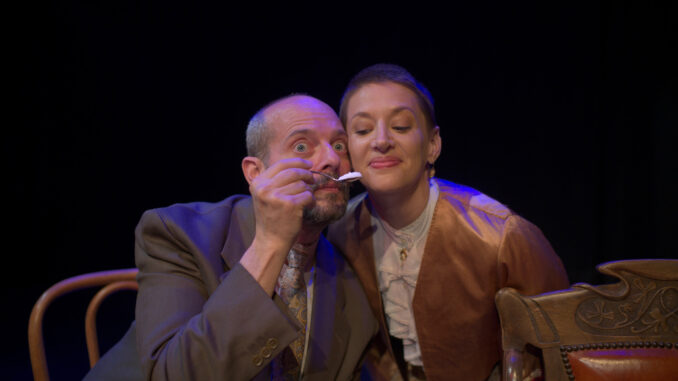 Based on Freud's "Cocaine Papers," FREUD ON COCAINE transfers Freud's own words – as contained in his letters, notes, dreams, and recollections about the therapeutic use of cocaine – to the stage. Many Freudian observations were published in 1884 under the title "Uber Coca." In 2023, the Whitefire Theatre proudly presents the world premiere of FREUD ON COCAINE. Written and directed by Howard Skora, FREUD ON COCAINE stars Jonathan Slavin in the comedic poke at the life and times of the brilliant Sigmund Freud.
Cast of FREUD ON COCAINE – Photo by Darren Rafel
The time is the last decades of the nineteenth century, and the place is Vienna. Freud (Jonathan Slavin) is hopelessly in love with Martha Bernays (Sara Maraffino), but he is a poor, struggling scientist who can ill afford to marry, much less to a woman who hails from a socially prominent German family. Unfortunately for Freud, Martha's mother Emmeline (Sigute Miller) is well aware of Freud's circumstances and has plans for her daughter to marry a well-heeled suiter. What to do?
Aaron LaPlante and Jonathan Slavin – Photo by Darren Rafel
It seems that Freud has been experimenting with an untried drug which he believes will become the panacea for pain, surgery, and depression – a drug called cocaine. His fellow physician and best friend, Ernst von Fleischl-Marxow (Aaron LaPlante) has become addicted to morphine (and then heroin) following a medical injury. Freud is convinced that cocaine will help Ernst kick the habit and return to his former fully functioning state. Soon, Ernst seems to be doing really well on cocaine, which Freud himself has begun to use – along with his girlfriend Martha. When her mother discovers the joyous effects of cocaine, her negative feelings about Freud evaporate and he morphs into a very desirable suiter who will certainly achieve fame and fortune. Soon, everyone is riding the cocaine train – with Freud as the conductor. Will the dizzying ride continue? You'll have to see FREUD ON COCAINE to see what happens next.
Cast of FREUD ON COCAINE – Photo by Darren Rafel
Playwright Skora helms the production, which aims for comic relief in the face of some pretty dark goings-on. To quote Skora, "Everything in this play that appears insane is actually true… the comedy comes out of looking at the past through the lens of the present. We see how even someone as brilliant as Freud was a slave to the science of his time…Freud insisted that cocaine was not addictive."
Aaron LaPlante and Jonathan Slavin – Photo by Darren Rafel
Kudos to the four principals, who do a bang-up job of portraying Freud, Martha, Emmeline, and his best friend Ernst. Skora attempts to stick to the facts while twisting and turning them into very funny lines. In reality, Freud used up to a gram of cocaine daily for at least a decade – a decade which saw him become the king of cocaine – but also a decade which largely preceded his seminal work on dreams, psychoanalysis, and the id, ego, and superego. One hopes that audiences are sufficiently savvy to realize that Skora has taken only one piece of Freud's story. It should be noted that FREUD ON COCAINE is a two-act play. It seemed to be somewhat overlong and might have benefitted from tighter writing – perhaps yielding a shorter one-act play with a powerful punch.
Jonathan Slavin – Photo by Darren Rafel
FREUD ON COCAINE will surely appeal to those interested in the history of psychology more generally and psychoanalysis in particular. It will also appeal to those wondering about the evolution of thinking that happens in the movers and shakers of science. This is a fascinating study of a brilliant scientist who shaped thinking for generations to come. While you're watching the show, just remember: "Trust me; I'm a doctor."
FREUD ON COCAINE runs through November 4, 2023, with performances at 8 p.m. on Saturdays (dark 10/21) and at 2 p.m. on Sunday, 9/10/23. The Whitefire Theatre is located at 13500 Ventura Blvd., Sherman Oaks, CA 91423. Tickets range from $40 to $50. For information and reservations, call 818-687-8559 or go online.