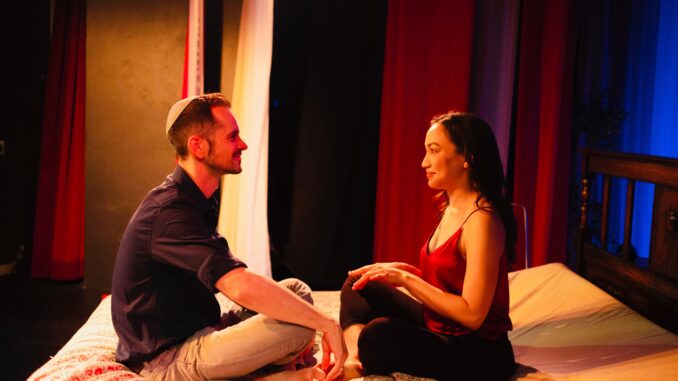 Premiering in Connecticut in 2001, AN INFINITE ACHE was later published in 2003. The romantic tale consists of multiple scenes, some only moments long, telling the story of a couple in bits and pieces (while possibly omitting any of the dull stuff in between). As playwright David Schulner examines the lives of two strangers who become a couple, audience members become flies on the wall in their bedroom. The show has been produced frequently, often in small theaters, a testimony to its capacity to entertain. In 2023, the Crimson Square Theatre Company essays the play at the Beverly Hills Playhouse.
Luka Oida and Miles Logan Cooper – Photo by Katerina Kim Podell
The place is a bedroom, and the time is difficult to pin down. The play opens as Hope (Luka Oida) and Charles (Miles Cooper), a lonely pair of twenty-somethings, are just about to end their first, disappointing date – when suddenly life offers them the myriad possibilities that their future might bring if they shared it together. Years go by at a feverish pace as the two love, argue, cry, fight, share the loss of a child, and rush towards the end of their time on this earth. In a blink, past, present, and future flicker and merge while the duo battle their fears and ghosts, all the white trying to keep the relationship together. Nothing and everything happens in the fluttering wink of an eye.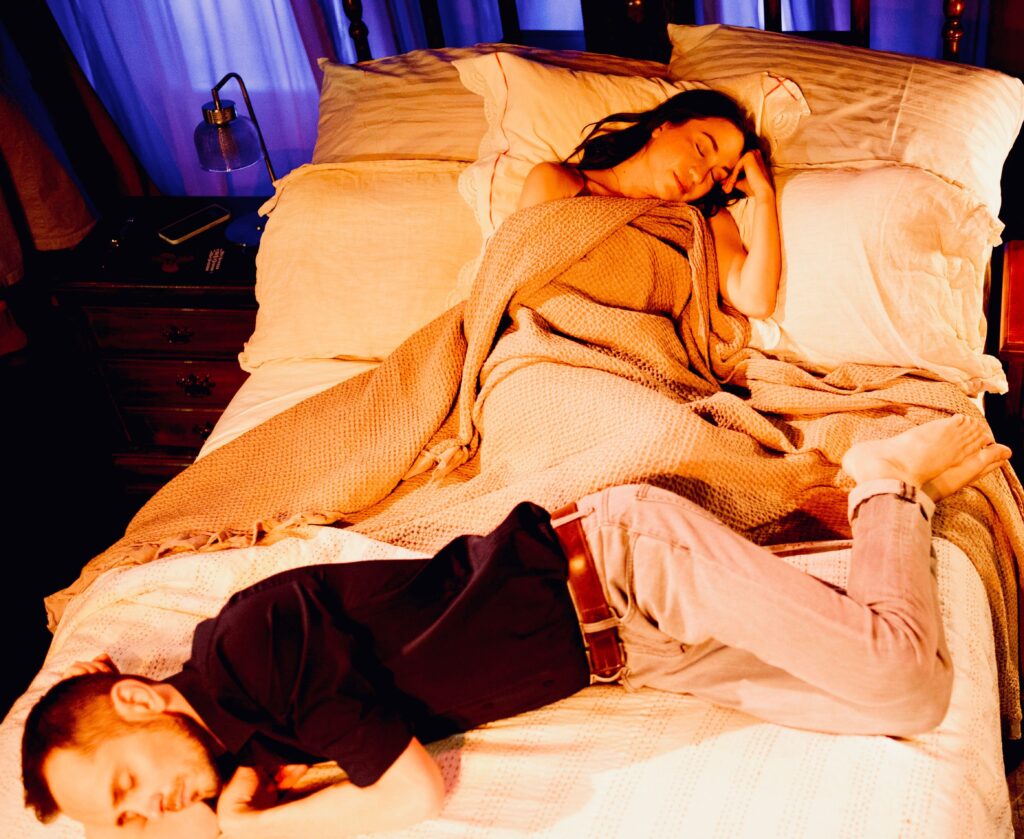 Luka Oida and Miles Logan Cooper – Photo by Katerina Kim Podell
Skillfully helmed by Mia Christou, AN INFINITE ACHE blends humor with the poignant as the talented Oida and Cooper keep the story hopping. While the audience might wish for more depth in the characters, they will never be bored as AN INFINITE ACHE dashes on. This is a story told by reflecting on moments in time – short spurts of life tumbling together in the inexorable march of time. There are also lots of chuckles woven into this tale of love, loss, and human need. This is a play which will resonate with anyone searching for "the one," sometimes successfully and sometimes unsuccessfully. It will also appeal to individuals who want to become couples – and people who are already couples living through life's ups and downs.
Luke Oida and Miles Logan Cooper – Photo by Katerina Kim Podell
Director Mia Christou also takes credit for music selection and set design (with the aid of assistant set designer Arzu Auzzy). Jeffrey Sun's sound and Derrick McDaniels' lighting help to keep the time line fluid. In a combination of drama, comedy, and fantasy, AN INFINITE ACHE is a fascinating journey.
Miles Logan Cooper and Luke Oida – Photo by Katerina Kim Podell
AN INFINITE ACHE runs through October 1, 2023 with performances at 8 p.m. on Fridays and Saturdays and at 7 p.m. on Sundays. The Crimson Square Theatre Company performs at the Beverly Hills Playhouse, 254 S. Robertson Blvd., Beverly Hills, CA 90211. Tickets are $35 (students $15). For information and reservations, call 323-365-7592 or go online.