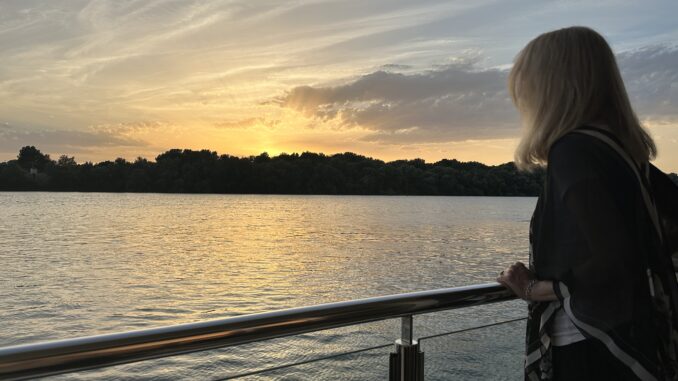 By Gerry Barker
Photos by Gerry Barker
Pam and I have traveled by train from Paris to Arles, in the south of France, headed for the AmaKristina, docked nearby. Launched in 2017 by AmaWaterways, a longtime leader in the river cruising space, it will be our home for the next eight days as we embark on "The Colors of Provence" wine cruise.
We are warmly welcomed by their staff, who check us in and secure our luggage, which they'll deliver to our stateroom. As we board the ship, the crew is waiting to greet us with a glass of champagne We are off to a good start.
Our Stateroom
Our stateroom, 202, was located just off the elevator lobby on the Cello Deck, and size-wise, is the second largest available at 235 square feet, with both a window balcony and French doors. Having the balcony was a real plus.
In terms of décor, fixtures and amenities, it was much like staying at an upscale hotel. It featured a large, marble bathroom with double sinks and a modern shower equipped with both a rain bath and wand, featuring Pure Herbs toiletries. As for the all-important question of storage, no problems there. Along with a large closet and shelves, there's also a large, pull-out drawer under the bed.
It has both European and U.S. power outlets, and two USB ports, but we always pack our own adapter and power strip for our devices — you can never have enough, right? Along with the flat-screen TV, there's an Apple computer with options for using the Internet, music channels, movies and more. The Wi-Fi, which is included, worked well throughout our cruise.
Getting to Know the Ship
The first thing to know about the AmaKristina is that she is beautifully appointed and designed, gleaming with a sparkle that looks like she just left the shipyard. Like modern river ships, she is long (443 feet) and narrow (38 feet). Guest capacity is 156, with 51 crew. There are 78 staterooms on three decks, grouped in eight categories, plus suites.
AmaWaterways places an emphasis on wellness and well-being. If you're a fitness buff, there's an exercise room and daily classes taught by their resident trainer from Romania, Erni. You can sign up for yoga, wellness walks, core strengthening and more. The ship also has bicycles you can use either personally or on designated excursions, as well as a Hair Salon and Massage Room.
The top Sun Deck includes a swimming pool, the Wheelhouse and lots of seating options for sharing a drink with friends or silently watching the world go by. Availability here can be limited depending on how many low bridges the ship has to navigate. To summarize, you'll easily learn your way around in short order.
The Food and Service
The first thing to know is there are designated dining times: Breakfast is 7:30-9 am; lunch is Noon-1:30 pm and dinner is 7-8:30 pm. Late night snacks are also available at 10:30 every night in the Lounge. Dress is resort casual, although some guests dressed up for special dinner events. Either way, you'll feel at home.
There are three dining options: The Main Dining Room, the Lounge and the Chef's Table. All are included in the fare, and the only one you have to reserve is the Chef's Table, which features a tasting menu with wine pairings. You'll definitely want to plan a special night to experience the latter. Also note there are two rooms off Main Dining where you can gather your friends for a more intimate dinner, no reservations required.
If you've cruised since COVID, you know one of the changes cruise ships have made is the elimination of buffets. At every meal, you'll order from a menu, although breakfast does feature a station for parfaits, pastries and bakery items.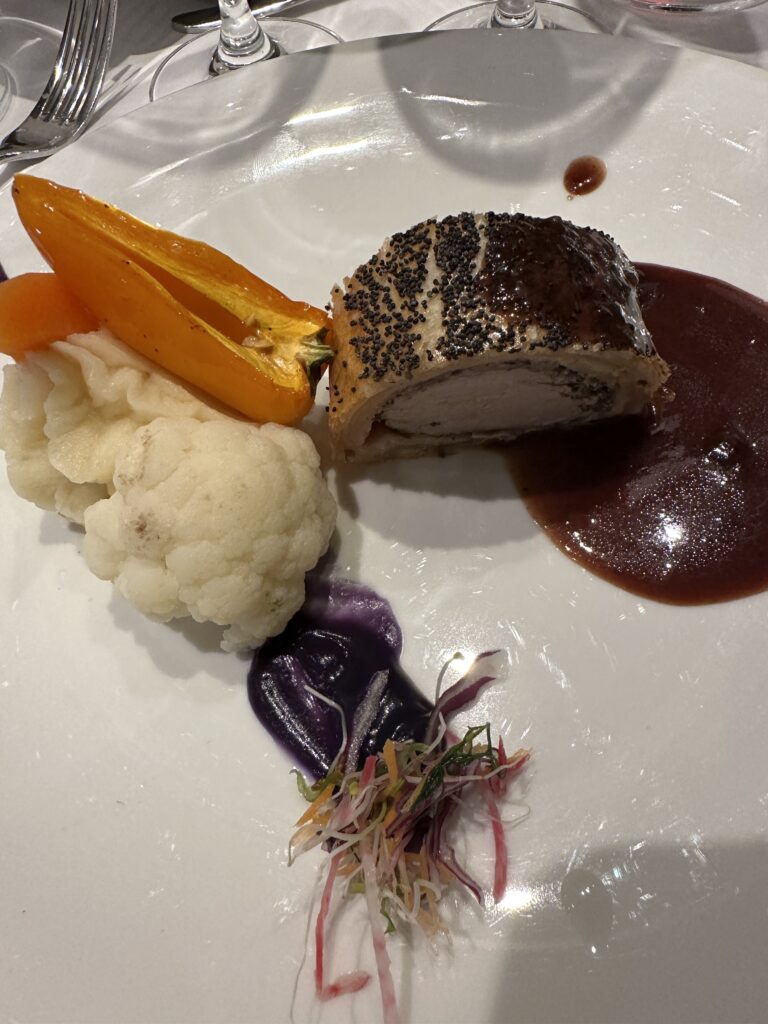 Our food throughout the week ranged from very good to excellent. Breakfast always featured a daily special, and lunch and dinner included an opening round of appetizers. While we don't eat beef, we had options for fish and chicken, and there was a menu for vegetarians as well. One suggestion: Add a chicken sandwich and veggie burger to the lunch menu, along with the hamburger.
Wine, beer and sodas are included with every meal, but note there is a charge if you order those outside the mealtimes. Coffee and tea lovers will find gourmet coffees always available in the Lounge.
There's also the daily "Sip and Sail," a happy hour that runs from 6-7 pm where designated cocktails and spirits, along with a drink special, are free. It's a great way to meet your fellow guests and unwind after the day's activities, and includes entertainment from the ship's resident musician, Roberto, although it would be better for conversations if they opted for light background music in lieu of singing.
Another food event is Afternoon Tea, scheduled most days on our sailing. It features an assortment of finger sandwiches and desserts, along with your choice of tea. It's very informal, so don't expect white-gloved waiters and string quartets.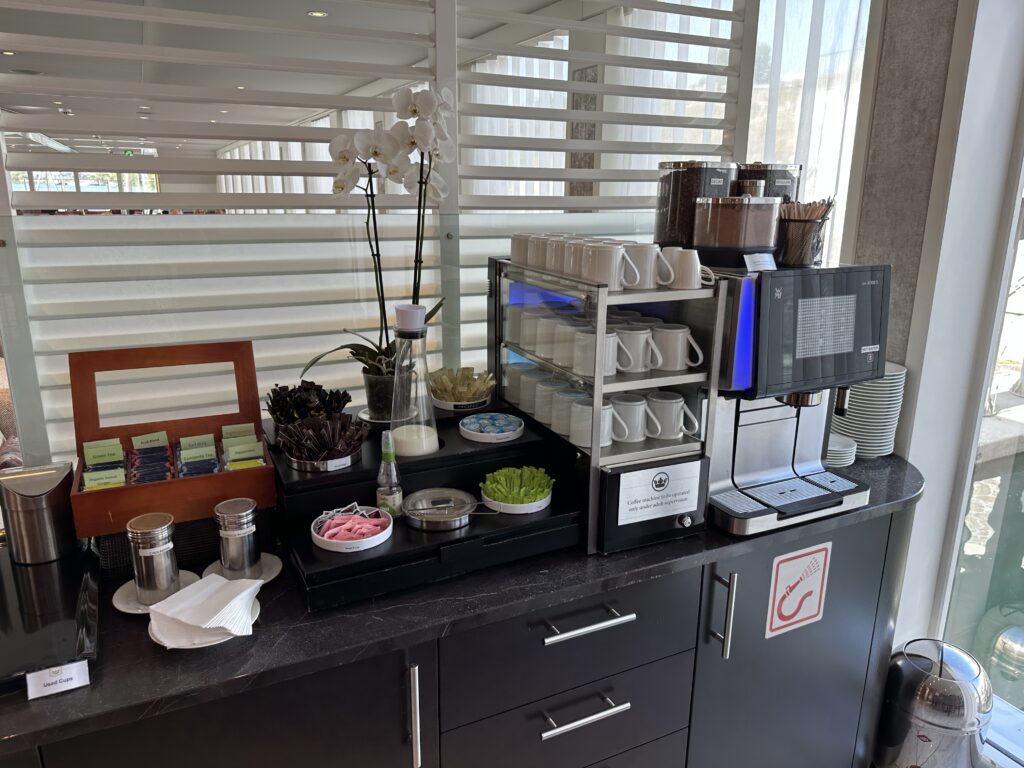 AmaWaterways takes special pride in their service, and it shows. Many of the crew we met have been long-term employees of the line, and the feeling they are more like family than workers is genuine. I have to give special props to Philip from the dining staff, who cheerfully refilled my tea more times than I can count — he even had it ready and waiting after the first day. Impressive!
The Excursions
At this year's Seatrade conference in Miami, Ms. Karst made the point: "Ocean cruise lines take you to countries; we take you through countries." That couldn't be more true or evident than on our AmaWaterways wine cruise in the South of France. Starting from Arles, we visited Avignon, Viviers, Tournon, Vienne and Lyon.
Every destination featured multiple excursion options, all included in your fare. It's a major reason river cruising is such a great value and fits perfectly with today's traveler's desire for authentic experiences. On some days, there were both morning and afternoon tours, tailored for everyone's personal activity level.
Each day offered a new opportunity to learn about this region that the Romans claimed as their first province beyond the Alps, dubbing it "Provincia Romana," which became the present name of Provence. In Arles, we walked the same paths as Vincent Van Gogh, who painted some of his greatest works there; that afternoon, a trip to an olive farm to learn how olive oil is made; we sampled wine and cheese at the market in Avignon, followed by a visit to a winery where they have been producing wine for 13 generations; in Viviers, we visited a truffle farm and watched as a dog dug up the precious delicacy; we were treated to an evening wine and chocolate pairing at a villa in Tournon, while in Vienne we rode an historic train through a scenic gorge, followed by a Beaujolais wine tasting in the countryside outside Lyon. And just about every city we visited featured Roman temples, amphitheaters and aqueducts that were amazingly well-preserved.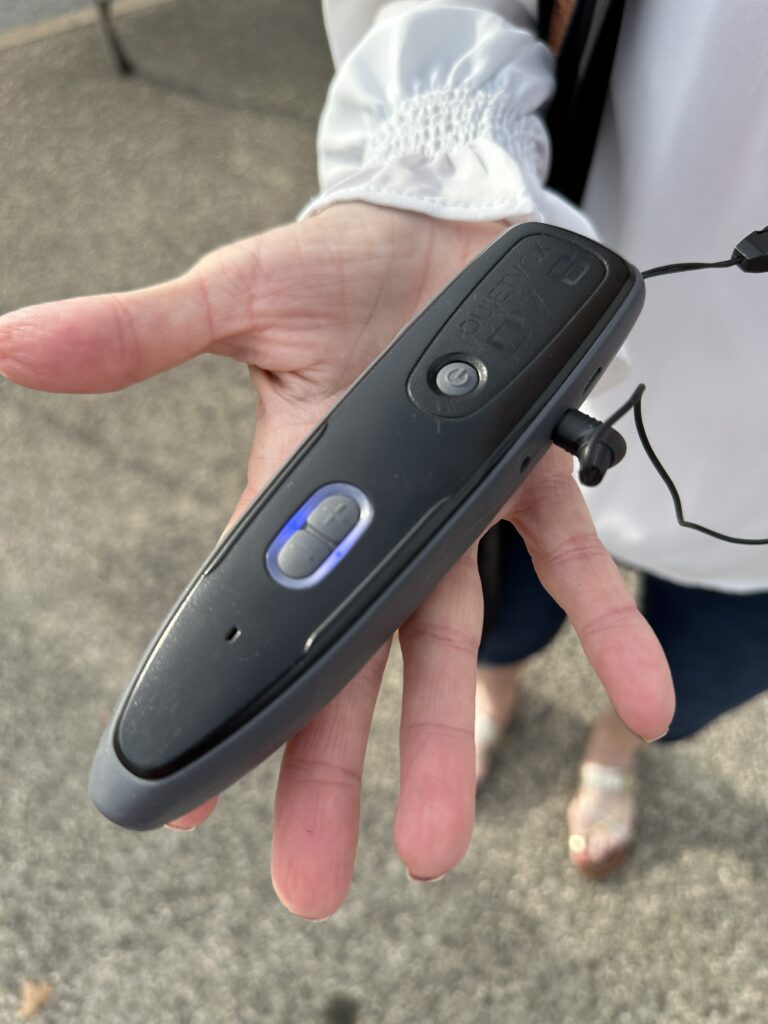 On the tours, each of us had a wireless audio device to listen to our guide's commentary, and kudos to our tour guides, who were uniformly excellent. When we needed buses, they were modern and comfortable.
Of course, you always want to prepare by choosing comfortable walking shoes and the right clothes for the weather, which in our case was hot, even for Provence. Most days, temperatures were in the 90s, heading toward 100 later in the week. The water they offered as we left the boat was much appreciated, and my hat is off to those intrepid bicyclists.
Notable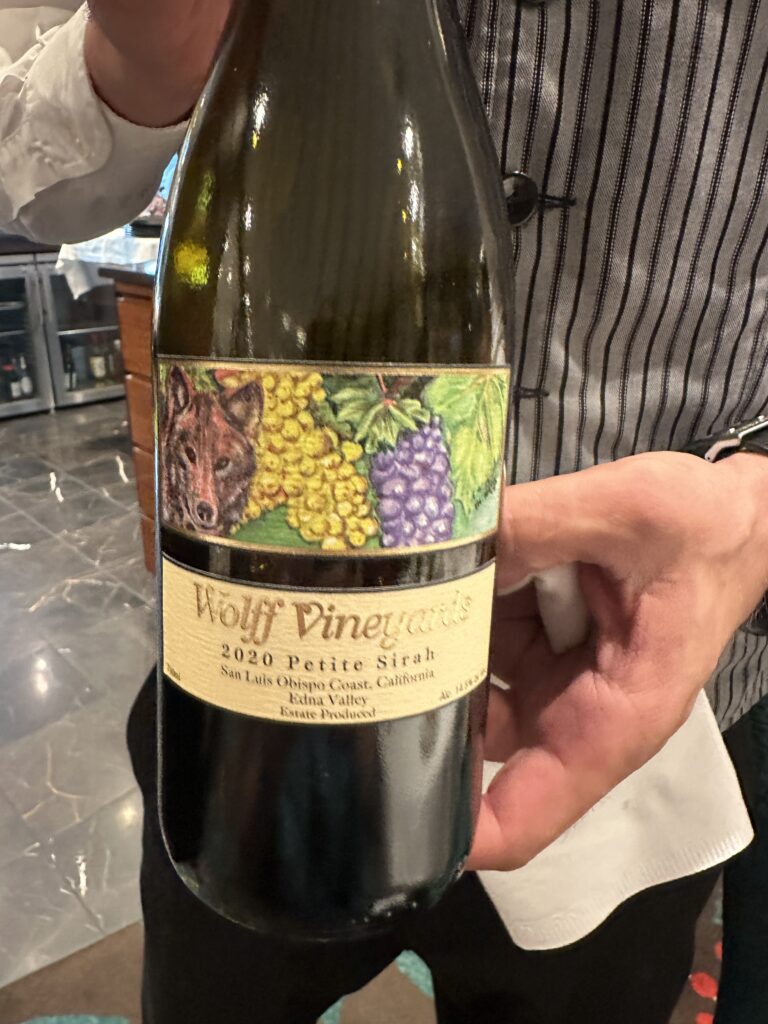 — This was indeed a dream cruise for wine lovers. Most days it seemed we had tastings from morning to night. Belgian-born Jean-Pierre, whose grandfather served in the French Foreign Legion, brought wines to sample from his vineyard, and provided fascinating insights about how different soils, barrels and weather affect wine production. He told us Hitler wouldn't allow his planes to bomb Burgundy to spare the Pinot Noir he loved so much.
— Don't be surprised if you see river ships double or even triple-parked at the city centers. With more and more ships launching, it isn't unusual to walk through a neighboring ship to get to shore.
— The entertainment was quite good, ranging from spirited guitarists to boogie-woogie keyboardists. Roberto, the resident entertainer, has a magnificent voice that would be at home in any opera house. But he can also get down and party with a bevy of disco favorites. Pam and I joined our new friends, Trish and Judy from Australia, to get our late-night groove on more than once. Roberto also wore great ties that Pam had to memorialize in photos.
— We went through 12 locks on our cruise. The process of taking a ship from one water level to another is fascinating if you haven't seen it.
— Early in the cruise we got a surprise: Gifts. In our stateroom was a lovely scarf for Pam, while I got an AmaWaterways hat. It's something they do for all their guests as a special welcome aboard.
— AmaWaterways also offered optional land packages for this cruise that included days in Barcelona pre-cruise and a stay in Paris post-cruise. Whether you take this option or not, they do an impressive job of helping you with all your travel arrangements. On our day of departure, Kriss, the cruise manager, ordered our taxi that would take us to the train station in Lyon for our trip back to Paris and our flight on French Bee back to Miami.
Last Thoughts
You won't find anyone who's more enthusiastic or a bigger cheerleader for river cruising than AmaWaterways' Kristin Karst, the ship's godmother and co-founder and co-owner of AmaWaterways. After cruising on her namesake ship, it's easy to see why. Having grown to a fleet of 29 ships, navigating waters from Africa to Vietnam — and next year, the first river cruise line in Colombia, South American — they bring all their experience to bear to ensure their guests have unforgettable memories to take home.
If you haven't taken a river cruise, you should give it serious consideration. The smaller guest capacity, the easy on-and-off in the heart of historic cities, the chance to immerse yourself in the culture of the places you visit — all good reasons that the river cruise sector is booming
.
On our last night aboard, we opened a bottle of wine Pam purchased in Beaujolais and were joined on the Sun Deck by Trish and Judy, as well as Stephanie from England, to toast new friendships against the twinkling lights of Lyon. It was the perfect ending to our eight days on the Rhone.
Ms Karst once described cruising this way: "You open a storybook and every day you fill a blank page with your adventures."
After this cruise, one thing is certain: We're going to need a bigger storybook.
Our thanks for AmaWaterways for hosting us.
For more information, visit the AmaWaterways website.