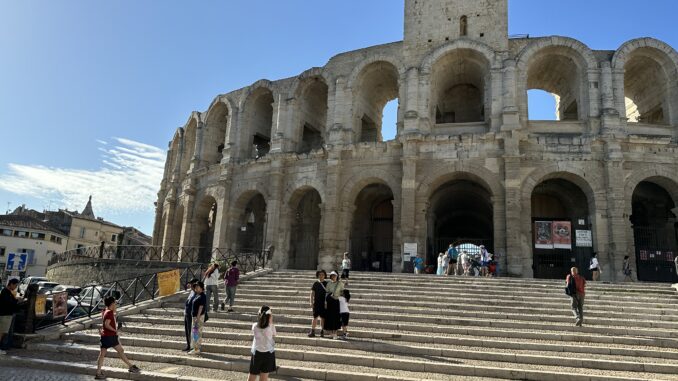 By Gerry Barker
Photos by Gerry Barker

We are in Arles, France, where our 8-day "Colors of Provence" wine cruise on the AmaKristina begins. Included in our AmaWaterways cruise are daily excursions, tailored from ":gentle," "regular" or "active" for their guests. In many cases, our ship is parked near the heart of the Rhone River cities we'll visit. All we have to do is grab a free container of water and step off the ship. It's just one of the many reasons European river cruising is such a good value.

Arles (pronounced "aarlz" — I couldn't ever master the hard "r"), a coastal town in the South of France, is geographically the largest city in France — seven times the size of Paris, but with a population of only 50,000. It has a long history, dating back to 800 BC, and become a key city of the Roman Empire in 123 BC. But much of its fame today is tied to artist Vincent Van Gogh, who lived here in 1888-1889 — two of the most prolific and eventful years of his life.

Pam and I have signed up for the "Van Gogh Walking Tour," where we'll "stroll through the same squares and cafes that inspired many of Van Gogh's most famous paintings." Each of us on the tour has a Personal Audio Device, called a QuietVox, which allows us to hear our guide via an earpiece.

Our guide, by the way, was excellent, and had copies of Van Gogh's work to illustrate how we were seeing in many cases the same places he painted. We learned while he lived here, he completed 200 paintings and more than 100 drawings and watercolors. Van Gogh was particularly inspired by colors and light in this region.

One of our first stops is the famous Yellow House, where Van Gogh lived — except it's not there anymore. It was damaged by an Allied bombing raid and later demolished. But via his painting, you can imagine Van Gogh coming and going here. In fact, the city has embedded special markers in the pavement so you can follow in his footsteps.

We also get to walk in the Summer Garden adjacent to the hospital where Van Gogh was committed after slicing off his ear and delivering it to a woman at a brothel. Sadly, the tormented artist only sold one painting during his lifetime. If only he could know how they have become the most prized paintings in the world.

Our tour also stopped at the Foundation Van Gogh, a museum dedicated to his life and work. The building has an interesting history. It was originally built as a private residence in the fifteenth century. In 1924, it became offices for Banque de France and now serves as a museum. Don't miss the wood-paneled room on the second floor where Van Gogh originals hang on the walls.

Besides Van Gogh, Arles boasts well-preserved Roman ruins, including an imposing amphitheater. Where at one time, 20,000 Roman spectators cheered chariot racers and watch gladiators fight to the death, today it hosts bullfights and concerts. What the Romans built, they built to last.

One of the more interesting factoids our guide shared was that Arles was the home of the world's oldest-recorded human, Jeanne Calmet. Born in 1875, she died in 1997, at the age of 122. As a girl, she claimed to have sold pencils to Van Gogh. True or not, hers is an amazing story.

Arles city scenes
Something visitors have to be aware of is the mistral — "a strong, cold, northwesterly wind that blows from southern France into the Gulf of Lion in the northern Mediterranean." Reaching almost hurricane levels at times, it occurs as winter goes into spring. During our August visit, all we had to worry about was the heat.

If you love history, and love art, and love small town charm, make time for Arles. Like Van Gogh, you will fall in love.