By Bob Nesoff
Satchel Paige, the famed Negro/Major League baseball player coined the phrase: "Don't look back. Something might be gaining on you."
WPIX-TV's Marvin Scott never had to look behind him because no one was ever close enough to his tail for him to even think about.
In a business where reporters and anchors come and go faster than most people change undergarments, it takes a heap of talent and ability to stay in the toughest media market in the country and Scott has outlasted any competition for more than 40 years.
His beginnings came about as a 14-year-old Bronx, New York teen doing homework in his family's apartment.
"I heard fire engines racing down the street and looked out the window. It looked like night had turned to day as flames shot from a nearby catering hall. I grabbed my camera and raced down the street to get some photos. The fire was huge and I got some great shots."
What does a 14-year-old do with such pictures? Scott called the New York Daily News, then the biggest circulating daily newspaper in the country. He offered the photos to the paper.
"The editor told me to 'come on down' and I raced to the paper. The next day the Daily News ran my photo in a quarter page…with a photo credit. I was hooked. When I returned to the apartment all of my neighbors crowded around asking about the fire. You could say that was my first news report. That, combined with the hustle and frenzy of a major newsroom, the activity, the excitement of being in an active newsroom truly inspired me."
Graduating New York University Scott was offered a job as the number two reporter in Charleston, WV.  for station WHTN-TV."
In those days, especially in a smaller media market, reporters not only reported the news, they were also cameramen, film processor and filled in most everything in the newsroom.
With the flux of a newsroom Scott left and was hired by a local radio station to be a DJ at night from a local burger fast food. But he knew that was not what the future had in store for him. He landed a job with the Mutual Broadcasting System, first as reporter, anchor and then assistant bureau chief.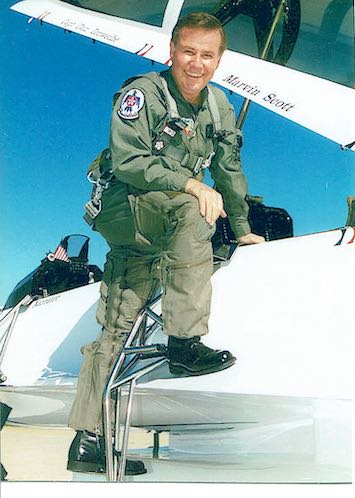 On the move again, this time upward, Marvin Scott joined WNEW-TV (now WNYW Channel 5), remaining there for a decade before joining his long-time home PIX-11 in New York in 1980. He has been there ever since as reporter and anchor. He has covered stories that have made other reporters glow with envy. But he never sat back and wait for the stories to come to him. He was ever on the lookout for the personalities and stories of interest. And boy did he ever find them. By his own estimate he has covered some 15,000 stories and done some 30,000 interviews. Never one to only focus on the prominent, his mantra was to find stories of importance and not to look away from the smaller ones.
Covering the 1966 "March Against Fear" in Mississippi after James Meredith was shot, he filed a report when he spotted Martin Luther King Jr. sitting along on a dirt road by himself. Scott walked over and asked if he could join the famed civil rights leader. King motioned for him to sit down and Scott offered him a Coke, a welcoming gesture on a very hot day. The two were relaxing and chatting when Scott asked King why would he put his life on the line in view of all the death threats he had received.
"There was what could only be described as a 'pregnant pause' when Dr. King looked at me and said,
"For the children. For the children."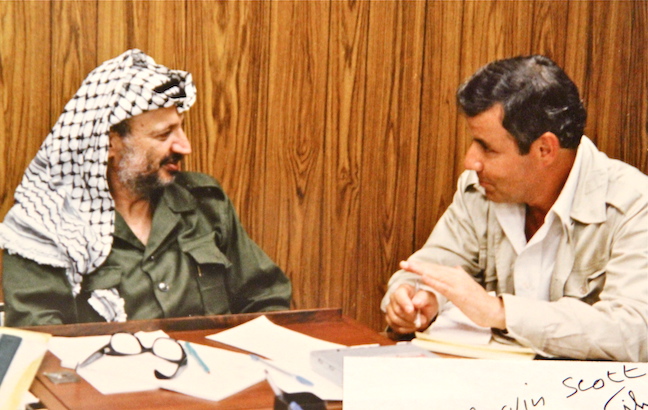 Last year Scott did a piece on that meeting for PIX and has been nominated for a writing Emmy. His list of interviewees extends from PLO chief Yassir Arafat, interviewed in a basement at 11:30 P.M. in Beirut. One that almost threw his concentration was Sophia Loren.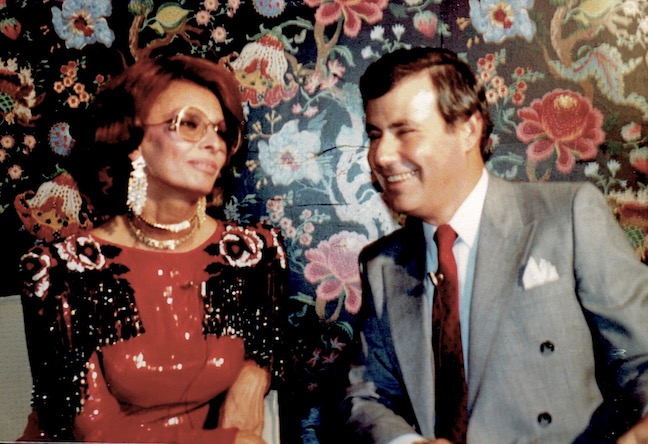 "She was so beautiful I had difficulty focusing on my questions.
"One of my favorite interviews was with Abraham Zapruder who took the famed film of the JFK assassination. It was one of only five interviews he ever granted. That interview is a chapter in my book. On the 40th anniversary of the assassination I took a part of the interview and synched it with the 26-second Zapruder film. I sounded as though he was narrating it. My original cassette of the interview has been donated to the Sixth Floor Museum (the location where Lee Harvey Oswald fired the fatal shots from the Texas School Book Depository in Dallas and it is now a part of the archives of the assassination.
Scott remembers meeting actress Mary Martin in Boston where she was appearing in a show. He spent the weekend there and "bonded with the famed singer and dancer. He had an interview for Parade Magazine. They ended up singing a duet and she inscribed her book "To my adopted son." Scott later on interviewed Larry Hagman, Martin's son. When Marvin told the "Dallas" actor that they were "related," Hagman responded: "Fine. So long as it doesn't affect my inheritance."
Not all interviews went well. Impressionist Frank Gorshen fell flat. Scott wanted to discuss the impressions Gorshen was famed for, but all he wanted to do was talk about a show that his publicist represented. Scott called it "A real bore."
His most exciting assignment was meeting with the famed military precision flying team, the Thunderbirds and even got to fly in the back seat of one of their F-16s. Not t be outdone, the Navy had him aboard a nuclear attack submarine on a dive below Long Island Sound. But with all of that, the self-effacing Scott said the proudest of any assignment was five Christmas visits with local soldiers in Iraq and Afghanistan, bringing a taste of New York with bagels, hot dogs and cheesecake and then putting them on the air to send a message to family back home.
His book, "As I saw it-A Reporter's Intrepid Journey," details his multiple awards that include 12 prestigious Emmys. And he has been inducted into the New York Broadcasters Hall of Fame.
Not bad for a kid who rushed to take pictures of a burning catering hall.
Hey Satchel Paige, Marvin Scott does not need to look over his shoulder to see who might be catching up. There's no one in sight.
Photos are courtesy of Marvin Scott