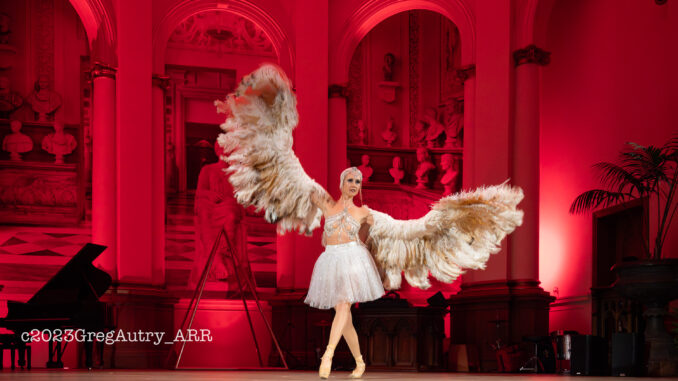 August 22, 2023
On Friday, July 7, 2023 `Birthday Suit,' a Black Tie Affair of Apothecary: Raree burst forth at Saint Joseph's Arts Society, in San Francisco. San Francisco is famed for its Electroswing and Neo-Vintage Cabarets where Music, Burlesque, and Cabaret combine into an all-grand people circus. Presented by Master Apothecarian and Producer, Jain Dowe the performers created a visual Panacea!
Sorry for the tardiness of this article, it was "as they say," out of my control. Nevertheless, I'll tell you that a `Rar•ee Show' is a small display or scene viewed in a box; Peep Show Broadly: an unusual or amazing show or spectacle.
Although this was the fourth anniversary of Apothecary Raree, it was indeed my first. Patrons were told to dust off our glitziest black-tie attire so as to indulge in fine wine, cocktails, and bites, as the most extraordinary burlesque, variety and circus performers the Bay Area and beyond has to offer. All were showcased at the fabulous Saint Joseph's Art Society venue.
The enticement began as; "Take in a little bit of that creative curative power. Welcome the evening while we entertain you with some of the best burlesque, variety, and circus performers in the Bay Area. Revel to the sounds of top-notch electroswing and neo-vintage DJs so you can dance your cares away into the blissful night."
The Night Featured: Jamie DeWolf, Frankie Fictitious, The Beautiful Jewels, Maggie Powers & Max van der Sterre, Juliano Wade, Sgt. Die Wies, Dreyma Dance, Qu'in de la Noche, Polly Amber Ross, Mz. K (of Flux Vertical Theater fame), Angela LaFlamme and the MegaFlame Band, Kippy Marks, Shovelman, and Christopher Kenji.
Other Special Guests joining the festivities included included: Fou Fou Ha, Jim Sweeney (Watch for my upcoming article about the Hubba Hubba Spectacular featuring J Sweeney,) Jess's Jazzers, The Door Quings, and pop-ups: Tinsel Arcade, along with The Burlesque Coloring Book.
With stunning lead vocalist Angela LaFlamme San Francisco Band MegaFlame is a throwback to a bygone era-with an edgy modern twist. Think 1920's film siren meets Tom Waits.
Maggie Powers is a classically trained dancer turned circus performer. After moving to San Francisco, she joined circus company Vau de Vire Society in 2009 and has been performing with them ever since. She has performed at venues in Las Vegas, various Festivals and Events, and has enjoyed modeling for clients such Fiat, lululemon, RePower (Italy), and Dark Garden Unique Corsetry.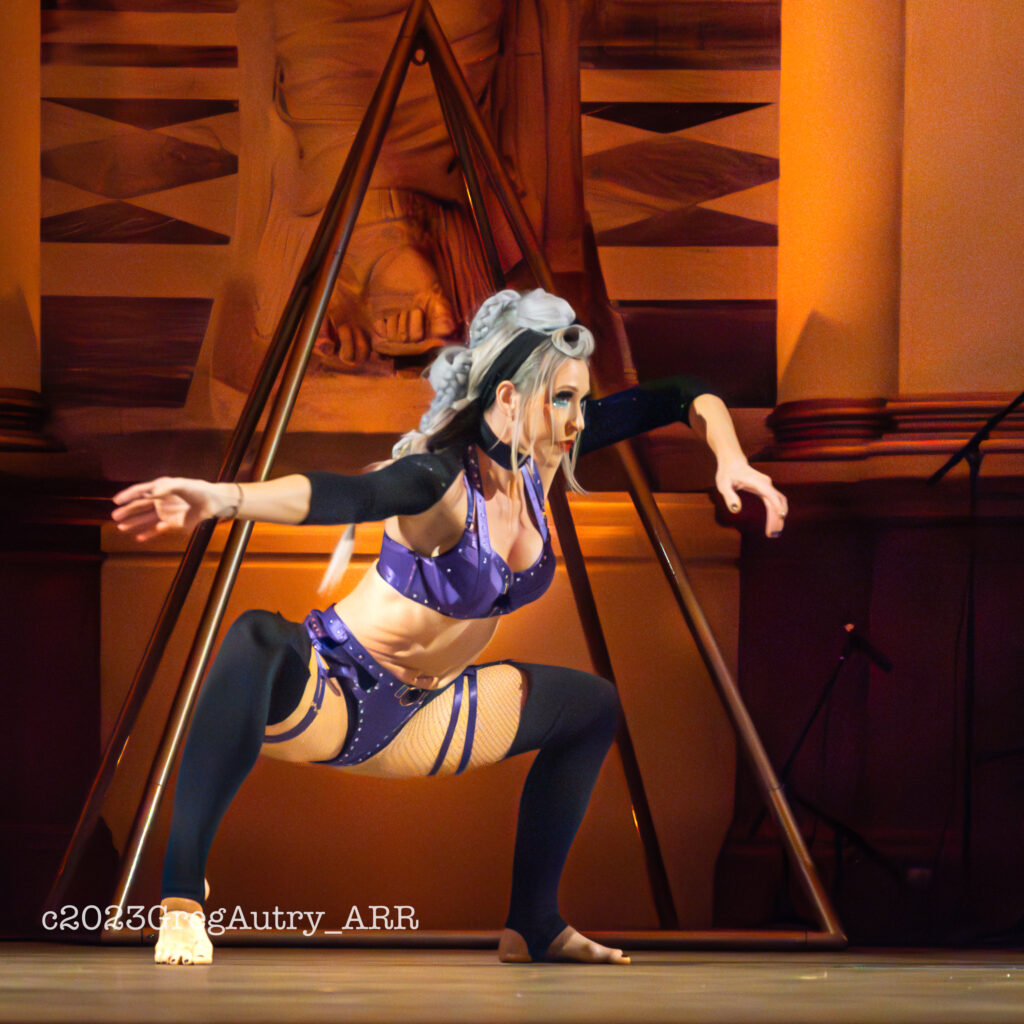 Frankie Fictitious has become a world renown Burlesque Superstar since I first photographed her for a Splash Magazine article at the Burlesque Hall of Fame in Las Vegas in 2015. She now holds such titles as Miss Exotic World 2019, Best Small Group at the 2017 Burlesque Hall of Fame, and Miss Viva Las Vegas in 2017. She was at her sensational alluring best at Apothecary Raree.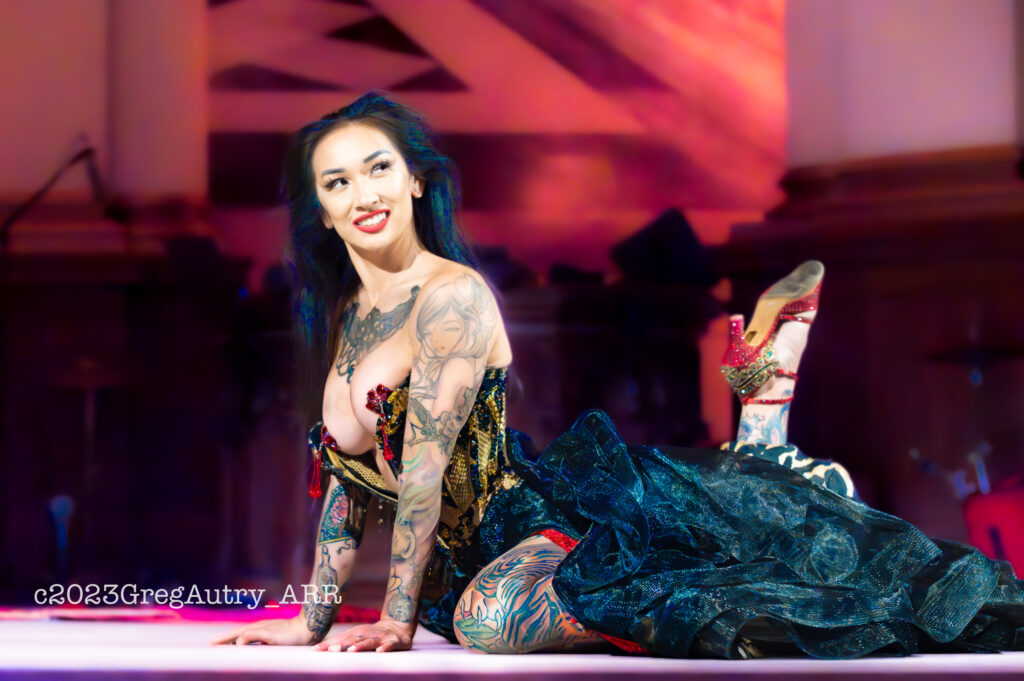 Qu'in de la Noche was scintillating in her full-length feather trimmed burgundy peignoir, moving in sensual undulation to the guitar accompaniment of Christopher Kenji. And you can catch more pics of this fab duo in my upcoming Splash article about the 20th anniversary for the Hubba Hubba Spectacular.
Producer Jain Dowe is a genderfluid dancer, choreographer, burlesque performer, and event producer based out of the San Francisco Bay Area. She/they currently performs with the Bay Area's avant-cabaret circus company, Vau de Vire Society and psychedelic trixtr clown troupe, Fou Fou Ha! As a producer, Jain is behind the Bay Area punk rock burlesque show Anarchy in the T&A, and gothic Americana burlesque show Gothic Americana.
Saint Joseph's Arts Society is run by the Saint Joseph's Arts Foundation. It is an arts charity located at 1401 Howard Street in the South of Market neighborhood of San Francisco, California. in the restored, historic Romanesque style, 22,000 square foot St. Joseph's Church. [Wiki] It is also a fabulous venue to shoot in, which you can see in a previous Splash article featuring Dark Garden's Fete de Cupid.
At the time of Publication I have no information as to future Apothecary:Raree events. Sorry. For more photos from Apothecary:RaRee be sure to check out my Social Media Post, and leave a comment please.
Connect with Greg Autry
Instagram @gregautryphoto,
Facebook Facebook.com/GregAutryPhoto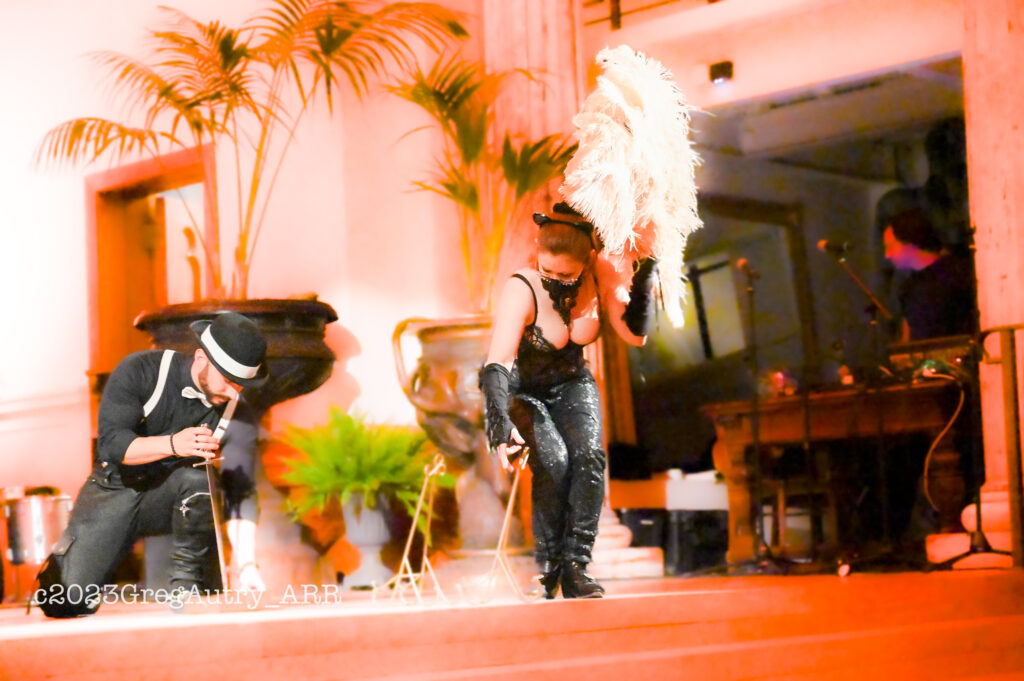 *Photos Copyright Greg Autry All Rights Reserved.