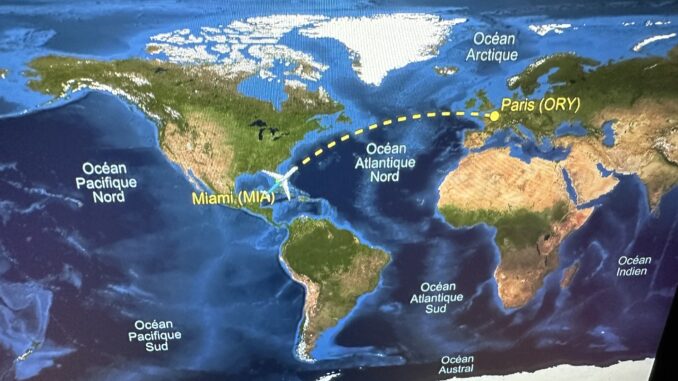 By Gerry Barker
Photos by Gerry Barker unless otherwise noted

As soon as we learned we would be taking an AmaWaterways "Colors of Provence" wine cruise on the Rhone River in France, the next task became getting there from South Florida. As we looked into flights, a newcomer caught our attention: French bee.

Billed as the "leading affordable, long-haul airline based in Paris," they had just initiated service from Miami to Orly Airport last December. A direct flight on a budget-friendly carrier? As the British say, that's "just the ticket."

Founded in 2016, they expanded service to the United States in 2018, and currently offer flights to Orly from New York, San Francisco, Los Angeles and Miami. Additionally, they fly from San Francisco to Tahiti and from Orly to Reunion Island off the coast of Africa. They are the first airline to exclusively fly Airbus A350s.

Here's a recap of our French bee experience:

There are three flights a week from Miami to Orly. At Miami International, the French bee ticket counters are located at Terminal E, and departures are from Terminal F. The airline recommends arriving three to four hours ahead of your flight, and check-in starts four hours prior. Check-in deadline is 90 minutes before departure, and the boarding deadline is 30 minutes prior. Also note French bee is not part of TSA Precheck, so factor that as well. We utilized their online check-in on their website.

Trust me — take heed when they say "bee on time." While the Miami check-in was relatively easy — we breezed through security — our experience at Orly was just short of chaotic — but more on that later.
There are three basic ticket categories: Basic, Smart and Premium (currently the Miami-Orly fare posted on their website starts at $274 one-way). With Basic, you get one carry-on bag, no more than 26 pounds; Smart gives you one 50-lb. checked bag and an in-flight meal while Premium includes two 50-lb checked bags, a premium meal, complimentary beverage service, cabin seat choice, line jump, priority boarding and and priority luggage delivery.

We are flying Premium, which is their equivalent of first class. This section has 35 seats arranged in a 2-3-2 configuration (total number of seats on the plane is 411). For an extra charge, you can reserve a seat on the front row.

About the plane: The Airbus 350-900 is sleek, modern and functional, with wide, leather seats that featured an adjustable headrest, foot rest and a full menu of entertainment options on a seatback, 12-inch HD screen, which also had USB and headset connections. Besides movies, TV series, games, Wifi and flight tracker, there's also an option to view external cameras, which is pretty cool, especially for take-off and landing. We also had extra legroom, but that can quickly feel lost if the passenger in front of you reclines their seat all the way back — which was the case on our flight back from Orly.

As we settled in, they brought us a welcome glass of champagne, served in real glass and not plastic, which was nice. As a French airline, announcements are first made in French, then repeated in English. Before take-off, we were given a travel packet that contained a sleep mask, blue socks, earplugs, toothbrush, toothpaste and earbuds ($12 if you aren't in Premium), along with the blanket and pillow that was on our seats.

We had more than enough overhead space, partly no doubt due to the limited number of seats in Premium. There was one restroom to service our section; we found out the other was reserved for the pilots.

Following what's become a trend in air travel, you can tailor your flight through some 20 "a la carte" selections, including seat placement, extra bags, meals, "line jumping," use of the airport lounge, snacks, WiFi and more. It just comes down to how much you want to spend.

Premium travelers are served a heavy snack and later, a full meal created by a double Michelin-starred chef. My white fish and ginger mashed potatoes were excellent, much better than the last meal I had on an airplane. And it was accompanied by real metal utensils instead of the plastic — imagine that.

Once we landed at Orly, there wasn't a gate available so we parked on the tarmac, where a waiting bus took us to the terminal to claim our baggage.

Another nice benefit of flying French bee is their partnership with SNCF (The French National Railway Operator) to offer air/rail packages. In our case, they arranged for us to take the train from Lyon to Orly, via the Massy station, where we took a bus to the airport.

As mentioned earlier, the scene at Orly was a little crazy as the whole of France seemed to be leaving for the annual August holiday. It didn't help that I failed to do my homework on the French bee website, where they clearly tell you what to expect, such as using a kiosk to print your luggage tags. If it wasn't for some airport personnel who took pity on us, we might have easily missed the flight. Also, be prepared to show your passport a half-dozen times through several different security lines.

But all's well that ends well. We did make our flight after a frantic rush through the airport, and after two glasses of champagne later, we were bidding Paris au revoir.
(Our thanks to French bee for hosting us)