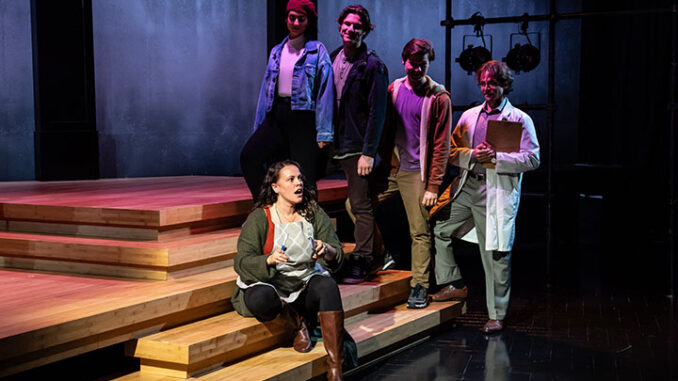 I don't think I've ever seen a musical that requires trigger warnings before I attended the Pulitzer Prize-winning musical Next to Normal now playing at the Copley Theatre in downtown Aurora through September 3rd, but it certainly should come with them.
And if I tell you what they all should be, it's spoilers, because I'm certain most of those attending will not have seen this musical before even though it's been produced in Chicagoland since its debut in 2008 Off Broadway. Its brief Broadway run in 2009-2011 garnered it not only three Tonys for the Best Original Score by Tom Kitt and Best Orchestration but also the Best Performance by a leading Actress for Alice Ripley in the role of Diana. Additionally, it became only the eighth musical in history to win a Pulitzer for its book by Brian Yorkey.

And I don't want to dissuade people from seeing it. I mean the opposite. You absolutely should go, but be prepared for a very heavy time superbly sung and acted.
Broadly, it deals with a family plagued by the wife and mother's mental illness. But it's the source of the mental illness, gradually revealed through the course of the play, that is one of the reasons for a trigger warning. Another would be the realistic depiction of modern psychotherapy, drug therapy, and electroshock therapy for mental illness. And still another for the neglect of a child because a family is all wrapped up in one member's sickness.
This musical hits hard and so does every actor in the brilliant six-person cast.
The anchor is of course Donna Loudon in the demanding role of Diana. She is convincingly ill, but clearly well-meaning. Or well-meaning enough. She's trying to hold it together for her family because that's what everyone is supposed to do, right? As a wife and mother, it's literally her job to sacrifice herself for her husband and children, isn't it? So, she goes to doctor after doctor and has therapy after therapy in order to get "well." Loudon is an incredibly strong singer and is likeable as this very damaged and human woman who has meant well, but done so much harm to those around her.
Barry DeBois is stalwart and sensitive as Diana's long-suffering husband, Dan. He's faithful through thick and thin, again trying to hold it together for his family while tamping his entire personality down into "getting Diana well."
As Dan and Diana's daughter Natalie, Angel Alzeidan, is the one that shows us where the family has broken down and failed. In their utter absorption with Diana's illness and delusions, Dan and Diana have neglected Natalie to the point where all she can think of is getting away from them and being on her own, seeing she already is. To do so, she has to win an important musical scholarship to get a full ride to a college far away. And to do that, she has to be perfect.
I don't know if it's intentional, but it's almost like the musical itself forgets about Natalie. Her songs are the least compelling, despite being beautifully performed. Her big moments are the least impactful. It's like the show is ignoring her as much as her parents do.
Natalie's boyfriend is Henry, another musical prodigy, but a stoner and laid-back natural philosopher. Jake DiMaggio Lopez plays him with great charm, but again, their storyline is the least compelling and they often get a bit lost in the shuffle here, which is a pity because both actors are so strong and Natalie's neglect by her parents is a massive issue in this play.
Devin DeSantis ably plays the roles of both psychologists, Dr. Fine and Dr. Madden with great sympathy and pipes for days. His job is really thankless as Diana as much as she wants to get well really doesn't want to get well for spoilery reasons. But she does submit to treatment.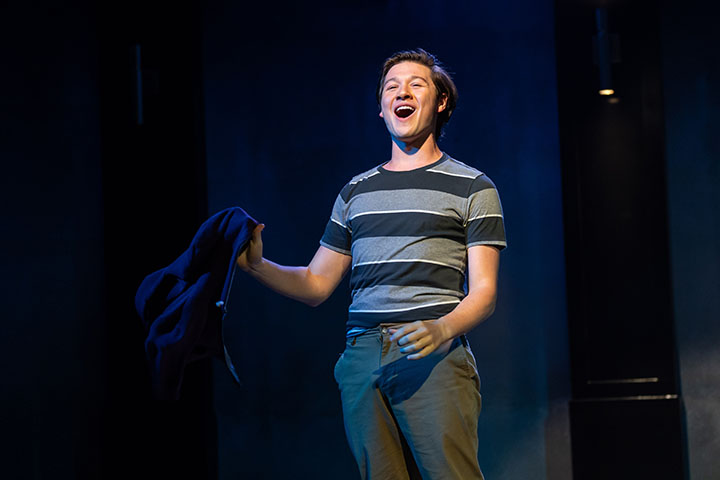 And then there's Jake Ziman as Gabe, whose relationship to everyone above is a giant spoiler. He has some of the best songs in the show and Ziman absolutely kills it. He's weirdly the most vivid and compelling character of all and I think the show is structured to support that.
Paramount Artistic Director Jim Corti directed this superb cast and on their minimalist set no one put a foot out of place. It's really a triumph all around. You should absolutely go, but maybe read up on the plot if you are someone who has experienced mental health-related or child-related trauma.
Performances run through September 3 at Paramount's Copley Theatre, 8 E. Galena Blvd. in downtown Aurora. Tickets: paramountaurora.com or (630) 896-6666
Photos by Liz Lauren