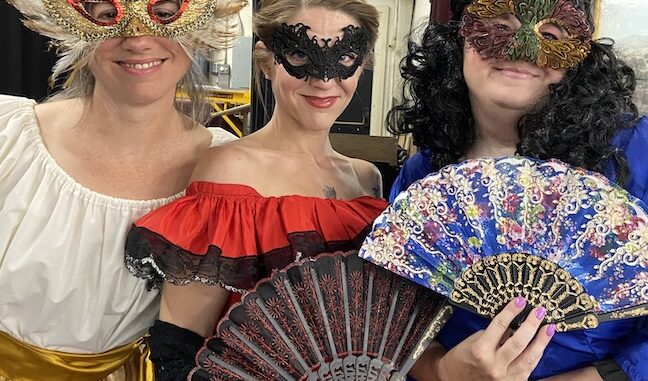 It was my good fortune to visit the Winters Theater in Winters, California and to see the last performance of Shakespeare's "Much Ado About Nothing". This theater is locally known and loved and has been delighting theater goers for 44 years. They must be doing something right.
My companion and I were captivated by this production. As a community theater operating with volunteers, it is very interesting to see the makeup of the cast. In this case they were all sizes and shapes. And they all did a great job of managing the words of Shakespeare so they were clear and understandable. The comedic moments were especially well done. We were impressed with the staging, props and costumes and even the music. These were minimal but more than adequate. We were aware of the sense of joy and positive energy with is delightful. Germain Hupe's introduction to the performance was very interesting and helpful in setting the tone for the play.
Germaine and Howard Hupe were influential in creating the Winters Theatre Company, along with Linda Glick, Shirley Rominger, and others. As a Shakespearian enthusiast in the educational arena, it only seems fitting for Germaine that she helped produce and write plays in Winters since 1980. She choreographed many creations during her 40 years with the Winters Theatre Company. She has written original plays for the WTC with a special emphasis on melodramas.
I had some questions Winters Theater and Linda Glick was kind enough to answer them:
How did the founders of the theater come together in 1980 to start Winters Theater?
In 1976 Linda Glick came to Winters hoping to rent a farmhouse recently vacated by friends. Glick sat down with her prospective landlady, Evelyn Rominger for an impromptu interview. "Can you tell me what you can contribute to our little town?" Rominger asked. Glick, slightly taken aback, remembers she was unprepared for the question. She had wanted to rent the farmhouse, unaware a responsibility to help a community thrive would come along in the rental. I must have said something that impressed her, because we moved in."
A year later Shirley Rominger became Glick's landlady and they became friends. When Glick got the bright idea to both satisfy her joy of theater and enrich the fabric of Winters. Linda grew up in community theater in Massachusetts, and it was an important part of her life. She wanted to bring that to Winters.
It was Shirley that gave Linda a list of about 15 community members. Linda called each one, and in the meeting room of the Heart Federal Credit Union, the Winters Theatre Company was born. Like minded, creative people envisioned creating community theater for everyone in Winters. Germain and Howard Hupe, who were active members of the community, along with Shirley Rominger herself, and Jeanne and Angus Vaughn were key participants of the group in the early years. Germaine, a prominent Winters High School teacher and theater aficionado, along with Howard, who was involved with almost every civic group in Winters, were instrumental in helping WTC thrive. They were the "movers and the shakers".
The first production was in December 1980, a benefit performance for the Family Services Agency. The production was held at the newly built Winters Community Center, (bathrooms and kitchen not yet completed). After 44 years in operation, the Winters Theatre Company has produced over a hundred twenty productions. Linda directed the first 3, and additional productions throughout the years. Howard got the "itch" and took over skillfully directing the majority of productions for many years. Other directors of note have been Anita Ahuja, Jesse Akers and Gil Sebastian. Many of the shows financially benefit various community groups, as well as serve to enrich Winters with a stronger culture and sense of togetherness.
Currently, WTC is the oldest drama group in Yolo County and has operated during its 44year lifetime continuously in the black. Since its inception in 1979, Winters Theatre Company has presented over 150 varied plays to the community and region. Audience surveys conducted showed that one-third of our audience was from Winters, one-third from Davis and one-third from outlying regions. Audience size averages 40-70 people per performance. Attendance figures vary depending on the recognition value of the production. We have had audiences as large as 150 people for some shows. We modestly calculate that over our 44 year history we have entertained approximately 70,000 attendees.
More importantly, we have engaged local and regional people in productions, giving opportunities for involvement in the community and opportunities for artistic experience in a rural environment. Where else are local people going to see a Tom Stoppard play? Shakespeare? Neil Simon? Live theater? We estimate that we have interacted with at least 2000 people in the community over the years. That would include not only actors, but electricians, set builders, painters, prompters, sound and lighting persons and auxiliary personnel such as ticket takers, ushers and refreshment coordinators. WTC productions provide vital living experiences totally unavailable elsewhere in this community.
In short, Winters Theatre Company is not only a vehicle for artistic expression within the region; it also is a resource for expanding the practical skills of its rural residents.

When you began what was the vision of the group?
The Winters Theatre Company is a non-profit performing arts organization which offers the community a wide range of quality theatrical experiences while supporting local arts and education.
Our mission statement reflects who we are right now. Key points that the group wanted to include are recognition that we are a community-based, non-profit, performing arts organization, that we consistently present quality performances, that we support community organizations, and that we provide a wide-range of theatrical experiences, and we support arts and education in the local and regional communities.
Could you have imagined that you would be entertaining the community 44 years later?
I'm not certain we knew at the outset what to expect. The fact is, there are community members who have had opportunities to "grow up" in WTC. Over the years we have had some generous donors who have helped us thrive. Community members who believed in our mission. We recognize our contribution to the community and to the region. And the commitment of the WTC family is great, to keep the group thriving. As long as new people join and participate, they bring new energy to the company.
Can you account for the sustainability of Winters Theater?
This theater is forever growing and changing so there is always new energy. And finally, my favorite quote from our wonderful friend and supporter, Maggie Burns:
"Winters Theatre Company (WTC) is a gem in the crown of amenities Winters offers. Not only is it the oldest profitable theatre company in Yolo County, it offers a forum for regional actors and entertainment for the whole family"
Photos: Courtesy of Winters Theater
HOT OFF THE PRESS:
December 2023 will mark a momentous occasion for the Winters Theatre Company (WTC) as they take over the lease for the Historic Opera House on Main Street in Downtown Winters. This move will provide the local theatre company with an opportunity to share more productions with the community, as well as provide a venue for other performing artists and performing arts groups in Winters and the surrounding areas.
The Winters Opera House, constructed in 1876, has long been an important venue in the Winters community for performing artists. Situated on the second floor of a historic brick building originally constructed as a grocery store, the Opera House has been home to many over the years, including The Palms Playhouse which moved into the Opera House in 2002 and operated as a prominent live music venue for nearly two decades.