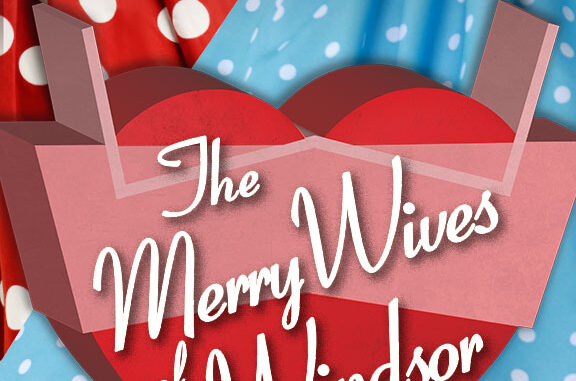 By Kathy Carpenter
"Setting aside the attractions of my good parts, I possess no other charms," quotes Shakespeare's Falstaff. The Old Globe Theatre presents a fabulous and fun fifties spin on the Shakespearean classic "The Merry Wives of Windsor." Directed by James Vasquez, this production is the perfect choice for your summer Shakespeare fix – a delightful romp of love and laughter.
"The Merry Wives of Windsor" invites us into a world of mischief and merriment, where two vivacious wives take center stage to outwit a conniving suitor. Falstaff, a portly and self-centered man, finds himself in a real financial jam. Seeking a quick financial fix, he concocts a plan to woo two married dames, Mistress Ford and Mistress Page, simultaneously. However, these savvy gals are wise to his deception and cook up a scheme of their own. As the plot unfolds, we're treated to hilarious antics as the gals plan to give Falstaff a taste of his own medicine.
Beyond the giggles, this blast from the past explores themes of trust, loyalty, and relationship harmony. The dames demonstrate solidarity and intelligence, proving that they're nobody's pushovers. Shakespeare's script seamlessly blends slapstick humor with deeper insights into human behavior, making it a hit for audiences of all generations.
The cast breathes life into the characters, capturing the essence of each personality with impeccable timing and delivery. The costume and set design exude a definitive fifties vibe, enhancing the play's authenticity and charm. The set boasts an incredible three-sided rotating stage, featuring a fifties diner, a house interior, and an outdoor side.
The Old Globe continues to cast impeccable actors. My favorite character in this show has to be Mrs. Quickly, Jenn Harris rocks a blend of enthusiasm, and goodwill. Her quirks and antics provide comic relief and serve as a reminder that even amidst the chaos of the play's events, there are characters whose genuine intentions and eccentricities bring a touch of humanity and charm to the stage.Tom Mcgowan does a masterful Falstaff. Angela Pierce, and Ruibo Qian, as Mistress Ford and Mistress Page In a play filled with larger-than-life personalities, Mrs. Ford and Mrs. Page stood out as the anchors of humor and authenticity. Their performances were a testament to their skill as actresses and their dedication to bringing Shakespeare's characters to life in a way that resonates with modern audiences. It's safe to say that their wonderful performances added an unforgettable layer of magic to the production, leaving the audience with smiles on their faces Jesse J. Perez plated Dr. Caius With another noteworthy performance. A stellar ensemble cast brings Shakespeare's characters to life with flair and finesse,
In "The Merry Wives of Windsor," Shakespeare showcases his comedic prowess, giving us a timeless masterpiece that continues to tickle the funny bone and remind us of the enduring power of wit and laughter. Must-see Shakespeare.
THE MERRY WIVES OF WINDSOR
The Old Globe Theatre
Balboa Park, San Diego
Through September 3, 2023
CABARET
opens Septerber 1, 2023