Fora Restaurant, located on the ground floor of The Emily Hotel in the heart of Fulton Market, has a new, delicious brunch menu. Fora is well known for its global cuisine, summer patio and overall amazing vibes.
According to the website, "Fora is a premium casual restaurant and patio in Chicago's culinary capital, Fulton Market District, serving up a globally-inspired menu. Using fresh, high-quality ingredients, the chefs create unforgettable dishes that pay homage to traditional techniques. A space and menu designed for togetherness, the dining experience at Fora promises to enliven your senses. So settle in, indulge in every sip and surprise yourself with every bite."
The above description sums up my first experience at Fora, which was unforgettable. The interior dining space and outdoor patio are beautiful, scenic spaces for dining on delicious food and beverages. Here is a bit more about the Fora interiors from the Emily Hotel:
Art & DesignDesigned by award-winning firm, Ste. Marie Design Group, Fora's space echoes The Emily Hotel's commitment to embracing artists from near and far.
The restaurant's entrance and waiting area features a painted work by Chicago based artist, Raspy Rivera, the hotel's inaugural Artist in Residence. Textile work in the space comes from Vita Boehme's artist, Jessica Alejandra, who is originally from San Juan, Puerto Rico, and currently resides in Palm Beach, Florida. Fora's mirror piece was created by Candice Luter, an Iowa-based fiber artist and interior designer. The plates that adorn the restaurant's walls were gathered from sources, including Every Story Studio of Nottingham, England, YomYom Ceramic by Joseph Malca from Israel and Pottery Props by Paula in Madrid, Spain.
When I first walked into the Emily Hotel lobby and saw the Fora Restaurant, inside and outside, I felt as if I was taking a sensory journey around the world. All of the architectural components are culturally influenced from different countries, which makes the overall space very unique.
My group's brunch was served alfresco out on the Fora patio, which was a lovely outdoor space, yet still separated with large windows that brought in abundant sunshine and natural light. Our long tables were simply decorated with colorful flowers and menus. On both opposite walls were small garden champagne fountains, The Chandon Garden Spritz, where everyone could help themselves to some bubbly! There were green plants and flowers decorated everywhere for a lovely, summer dining scene.
Before we all sat down to eat, there were some more unexpected surprises including an amazing artist, Delia Jean, who we could sit for and have our portrait drawn, and Kristy, who made beautiful custom flower bouquets. She showcased beautiful plants and flowers so we could make our own personal bouquets to take home.
The brunch menu itself was the crown jewel of the experience. I had not sampled such a variety of delectable breakfast selections in quite a while. It was wonderful to get a sneak peak of Fora's new brunch menu. We began with a basket of Fora pastries (house made banana bread and coffee cake), which came with whipped cinnamon brown butter. The bread and cake were moist and not too sweet. The whipped butter sealed the deal.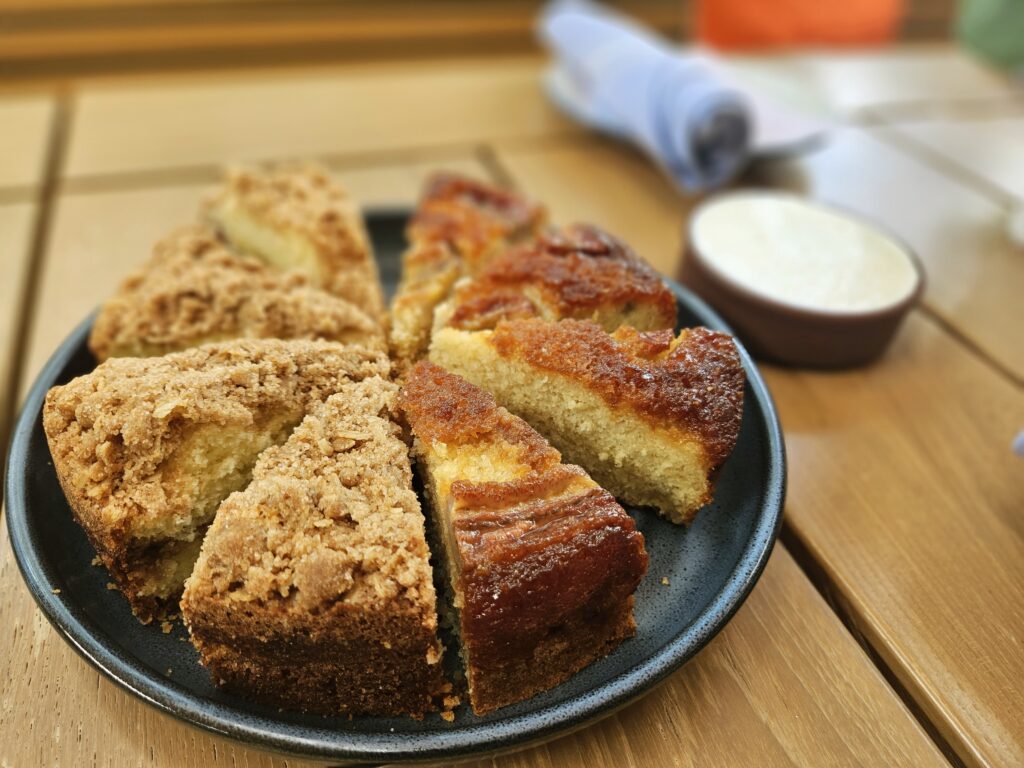 We were also able to sample the most amazing espresso martini I have ever tasted.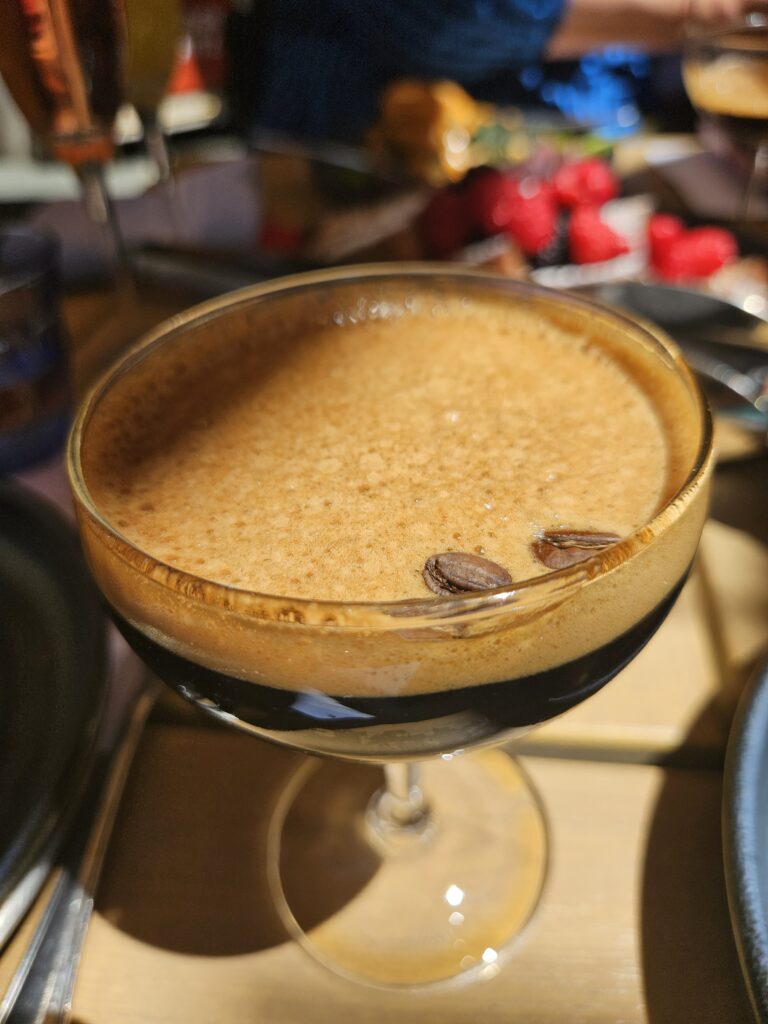 The next two courses were much lighter, consisting of yogurt parfait (fresh fruit, honey, pumpkin seed granola) and a green apple and squash salad (herb and avocado vinaigrette, pumpkin seeds, mint). The yogurt in the parfait was creamy with crunchiness from the granola.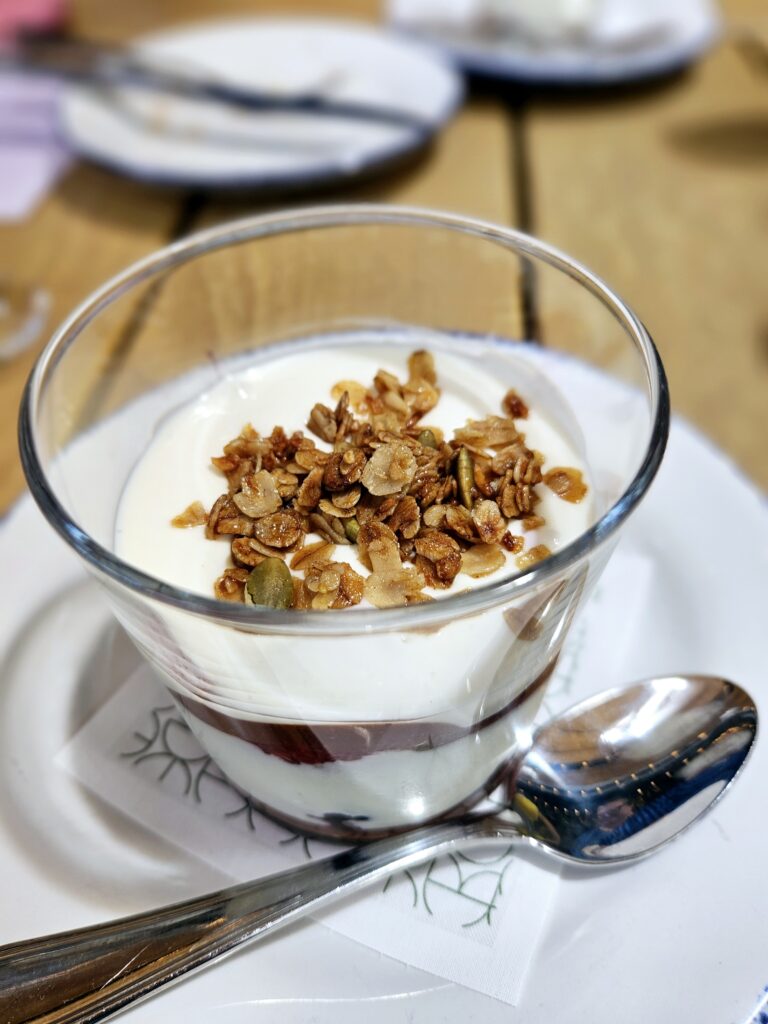 As for the salad, I felt it was missing something. One of the guests suggested black pepper. We both sprinkled some on top and the pepper brought the flavors of the salad to new heights.
The heartiest portions were the Fora French toast and eggs benedict (pibil pork belly-I requested a meatless version, poached egg, wilted greens, guanjillo hollandaise).
The French toast was perfectly prepared with the whipped butter, fresh berries and pure maple syrup. The eggs benedict was surprisingly light and delectable with each bite on the bed of wilted greens and hollandaise sauce.
The dictionary describes the word "fora" as the plural form for the word forum, which means a place or meeting where ideas in a group can be discussed.
The Fora restaurant is definitely a place where a group of breakfast loving foodies can gather on a mutual note for good food, beverages and overall culinary experience.
Photos: Jennifer Lunz
To book a reservation or for more information on Fora, please call 312-764-1919 or visit the website.
Address:
311 N MORGAN ST,CHICAGO, IL 60607