By Gerry Barker
Photos by Gerry and Pam Barker

This month, Tommy Bahama marks the 30th anniversary of its founding. The Seattle-based company, which embodies the casual island experience — some might call it an upscale version of Margaritaville — has enjoyed great success teaming its retail shops with restaurants.

Several years ago, they took another step in that direction with the debut of the Marlin Bar, a downsized version of their full-service restaurants that features food and drink with a Happy Hour vibe. Since it launched in Estero, Florida in 2016, it has expanded to San Diego, Las Vegas, Hawaii and multiple cities in Florida, including Jacksonville, Ft. Lauderdale, and Dania Beach. Now, you can add Palm Beach Gardens to that list.

The newest Marlin Bar and Tommy Bahama shop recently opened in The Gardens Mall, and this week they marked the occasion with a grand opening private event for media.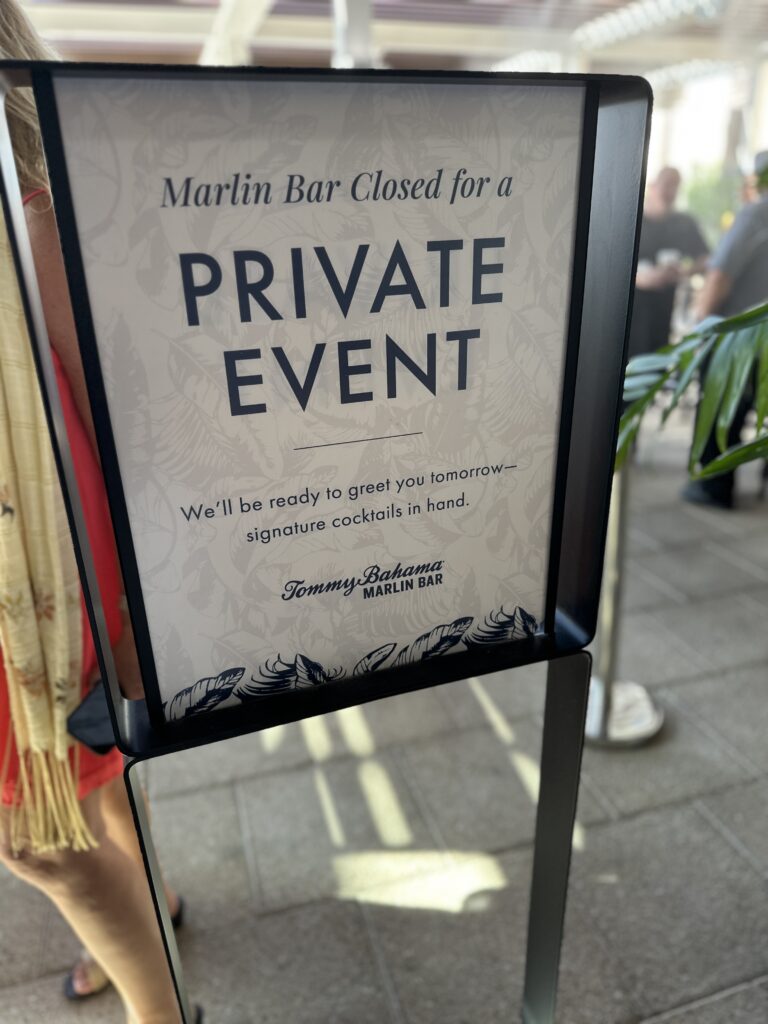 One thing guests will note different from the Tommy Bahama restaurants: You place your order at the bar, to be delivered by a server at your table. Along with the bar seating, there's an adjacent covered patio where there are two "self-serve" stations where guests can get water, eating utensils, napkins, etc., so don't expect the same full service you would get at a restaurant.
The menu, while reduced, still has a fairly wide selection, ranging from "Snacks," "Tacos" and "Handhelds" to "Salads and Bowls" and "Treats" (desserts). There's also a wide selection of cocktails and wine, as well as a few "Zero Proof" drinks.

At the grand opening event, attendees sampled a variety of food items, as well as four drinks. Among them:

— Their "World Famous Coconut Shrimp," prepared with papaya-mango chutney; Cajun-fried Buffalo Cauliflower; "Nashville" Hot Chicken Sliders on Hawaiian sweet rolls; Hurricane Tots and All-American Burger Sliders. All were well-prepared and are mostly priced in the $10-20 range.

— Cocktails we sampled included a Mai Tai, the Coconut Cloud Martini (their signature drink), topped with coconut shavings, a Grapefruit Basil Martini and a new drink, the Guava Lago. Happy hour is featured daily from 3-6 pm, offering a selection of cocktails at around $10, along with well drinks ($7) and draft beer ($5). You can find all their drink recipes in the book, "The Marlin Bar: Cocktails With Tommy Bahama."

— For desserts, there was Key Lime Pie and Pina Colada Cake, both quite delicious.

While we enjoyed everything we sampled, I did appreciate our bartender, Dom, making me what's become my go-to drink at Tommy Bahama — a Pineapple Paradisio Martini, with Bacardi Pineapple and St. Germain Elderflower. Good job, Dom!

By the way, if you're worried about sitting outside during the Florida summer, they have installed overhead misters that hold down the heat. Another regular feature is live entertainment. At the event, we had a guitarist/singer perform.

Whether you want to relax after a day of shopping or just socialize with friends, the Marlin Bar is calling your name.