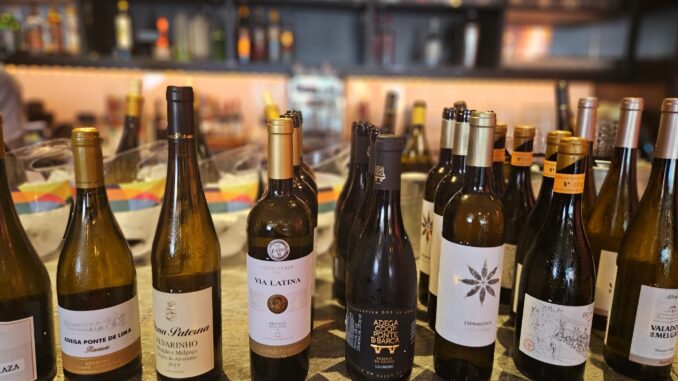 I attended the Vinho Verde Masterclass on July 18th at the Peruvian restaurant, Tanta (118 W Grand Ave, Chicago, IL 60654). During the event, along with a small group of others, my friend and I had the opportunity to taste and savor an amazing variety and range of high quality Vinho Verde wines. These exceptional wines were carefully curated to showcase the diversity and quality of this specific region of Portugal. Alongside the wines, there were exquisite, gourmet food pairings that featured Tanta's mouthwatering menu items that perfectly complemented the Vinho Verde experience.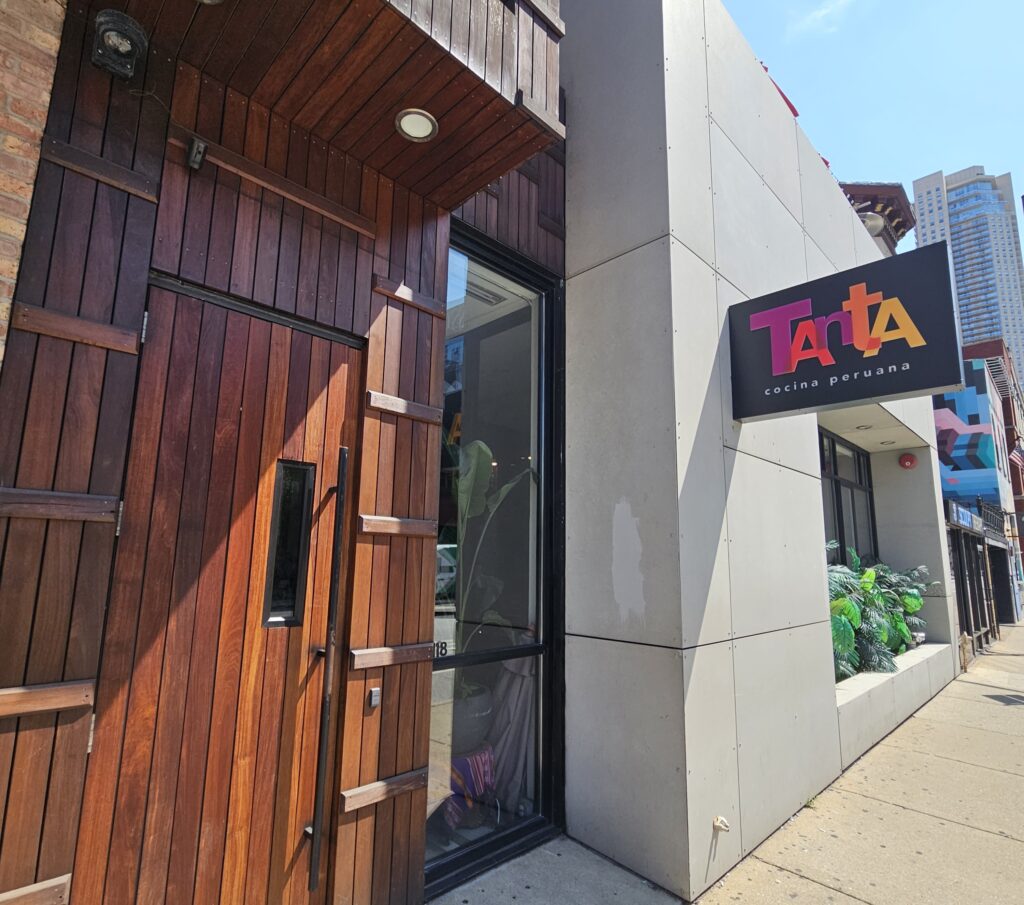 Entrance to Tanta
The in-depth master class and guided tasting allowed us all to explore and experience these special wines, which are not yet available for sale in the United States. Ten fascinating white wines from nine of the most sought-after Portuguese producers were introduced. The masterclass was hosted and led by wine expert, Jeff Harding, who showed us a beautiful PowerPoint presentation to learn about the wines and various regions.
Tanta tasting room
The entire event was a lovely afternoon of amazing wine, food, people and conversation. Harding was a fabulous host and impressed us with his extensive knowledge of the Vinho Verde wine region, the different grapes used the make the wines and how the different wines paired with each food dish.
Masterclass hosted and wine expert, Jeff Harding
Let's first learn a bit about what makes wines from the Vinho Verde region so special. We were educated on what makes the Vinho Verde region unique. It all comes down to the result of the natural characteristics of the production region, from its native grape varieties, to a long, fascinating history of traditional cultivation of vineyards and wine production. The Vinho Verde region consists of several diverse microclimates and variations in soil types, which results in the different grape types and such a large diversity of memorable, versatile, bright and young white wines. The wines have a low alcohol content, are fresh, quite complex in aroma and taste, and possess great potential to age in bottles.
White wine tasting placemat with food menu
The white wines sampled were as follows:
-Qta. Das Arcas Alvarinho Reserva 2021
-Quinta da Raza Family Collection no. 2, 2020
-Adega Pinterest de Lima, Loureiro Reserva, 2019
-Dona Paterna, 2019
-Quinta da Lixa, Alvarinho, 2019
-Via Latina, Grande Reserva, 2018
-Adega Pinterest da Barca, Reserva dos Socios Loureiro, 2018
-A&D Wines, Espinhosos, 2017
-Quinta da Lixa, Colinas do Avesso, 2016
-Valados de Melgaço Alvarinho Grande Reserva, 2016
Each of the ten white wines sampled offered its own experience and told a different story to me. First impressions play a huge role at times, and the very first one I tried, Qta. Das Arcas Alvarinho Reserva 2021, stood out to me the most, with a high 13% ABV. It was lovely and dry, with a slightly acidic taste, lots of minerals and a slate/graphite aftertaste that lingered on the palate. My first thought and intention was where I could buy this amazing bottle, but then I reminded myself that these wines are not not readily available in stores or restaurants in the US yet.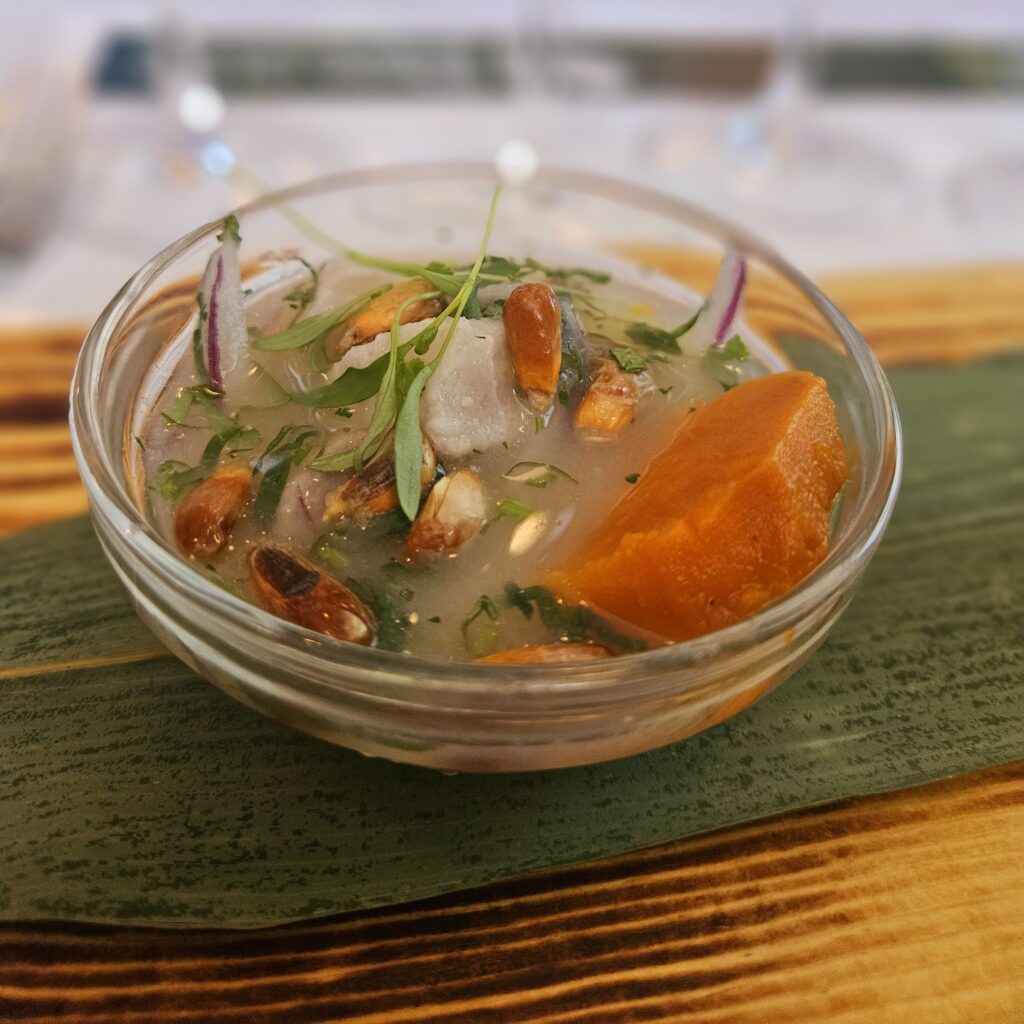 Ceviche Clasico
My next favorite was the second one we tried, Quinta da Raza Family Collection no. 2, 2020. This one possessed a sweeter aroma than the first, pairs well with food and exhibited lovely bubbles. Other wines in the group were bright, fresh, rich, yet also subtle. Some paired well with food, like the A&D Wines, Espinhosos, 2017, which went well with the salmon dish, while others stood out on their own, like the Valados de Melgaço Alvarinho Grande Reserva, 2016.
Nigiri Bachiche
The gourmet Tanta pairing food menu:
First course: Ceviche Clasico (chef's selection fish, red onions, cilantro, leche de tigre), Nigiri Bachiche (scallops, parmesan leche de tigre), Causa Cangrejo (red beet causa, red crab meat salad, ikura, cebichera sauce)
Causa Cangrejo
Second Course: Tuna Tiradito (yellowfin tuna, squid ink garlic chip, red onion coulis)
Tuna Tiradito
Salmon Tatar (aji amarillo-yuzu kosho dressing, rocolo granita, rice cracker)
Salmon Tatar
Octopus Al Olivo (charred Spanish octopus, olive sauce, piquillo chips), Bao Chicharron (Bao, sweet potato, criolla, rocoto cream)
Octopus Al Olivo
Third Course: Salmon Nikkei (Faroe Island salmon, rocoto miso glazed, baby bok choy sesame seeds, fried kale)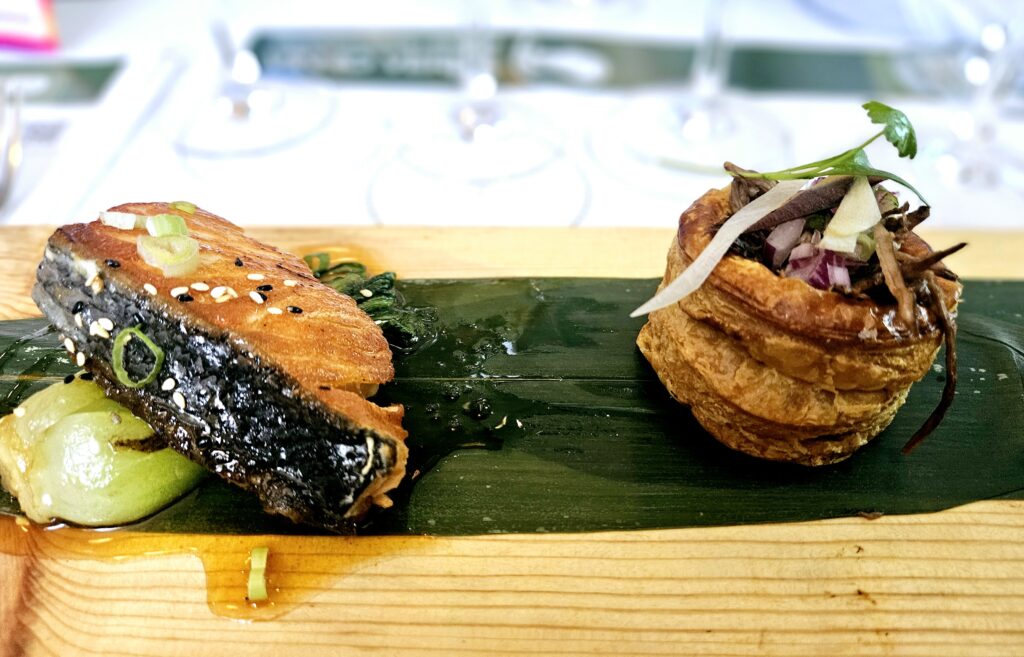 Salmon Nikkei and Shirt Ribs
Short Ribs in adobo sauce, Steak and Eggs (waygu steak, chorrillana sauce, grated cured egg)
The food was simply delicious, unique and paired perfectly with each wine we tasted. Some of the dishes actually assisted with bringing out the more subtle wine's nuances. Our favorite dishes were the Nigiri Bachiche (the scallops and parmesan were heavenly), the Ceviche Clasico (I highly enjoyed the smooth, flavorful fish and broth), the Salmon Tatar, where the aji amarillo-yuzu kosho dressing was the standout ingredient, and the Salmon Nikkei, which offered some of the best salmon I've ever tasted. It was flaky, tender and juicy.
The Vinho Verde Masterclass at Tanta was truly an original, ethereal experience that I would recommend to anyone interested in rare, delicious white wines and marvelous food. I am hoping that more exposure over time and getting the word out about these wines will speed up the process of bringing them over to the United States.
Photos: Jennifer Lunz
For more information on the wines of the Vinho Verde region, please visit the website.
For more information on Tanta, or to make a reservation, visit the restaurant website.