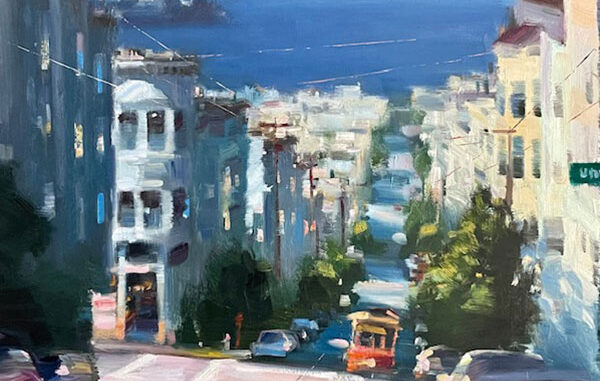 2121 Art Space has joined forces with the Thomas Reynolds Gallery for the month of August to present San Francisco: Still Beautiful, an exhibition of cityscape paintings by San Francisco artist, Veerakeat Tongpaiboon, The opening reception will be held on Saturday, August 5, 2023 from 4:00 to 6:00 pm and continues through August 26, 2023.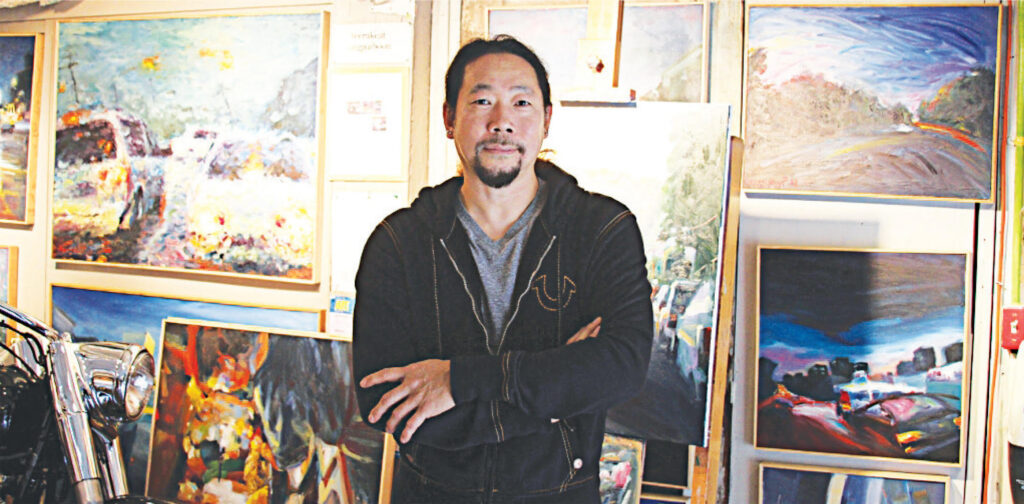 Included in the exhibition are two dozen recent paintings featuring scenes of San Francisco, the city which has provided inspiration for the artist for three decades. His work is an explosion of color in rich harmony, with lots of paint moved about, rendered in perspective showing imaginative use of graphic design, and composed to maximum effect to draw the viewer in and keep the viewers eye moving about the art. In the artist's own words: "I like speed, I like buildings, I like cars. The energy of the streets of San Francisco continues to inspire me."
Veerakeat was born in Khon-Khan, Thailand in 1965. When he was 14 his work was submitted for international competition, where he won three awards; "I knew in my heart that I wanted to grow up to be an artist. This was the first time I aimed my future toward art, but everything wasn't as easy as I thought. My family was concerned about my future. I changed my direction to architecture school. After I graduated with a degree I decided to come to America, to follow my dream as an artist." Veerakeat worked at his Aunt's restaurant for four years until In 1992 he was able to attend the Academy of Art College in San Francisco, where he completed his Masters in Fine Art and graduated in 1994, and has been a full-time painter since. His work is in collections throughout the U.S. and abroad.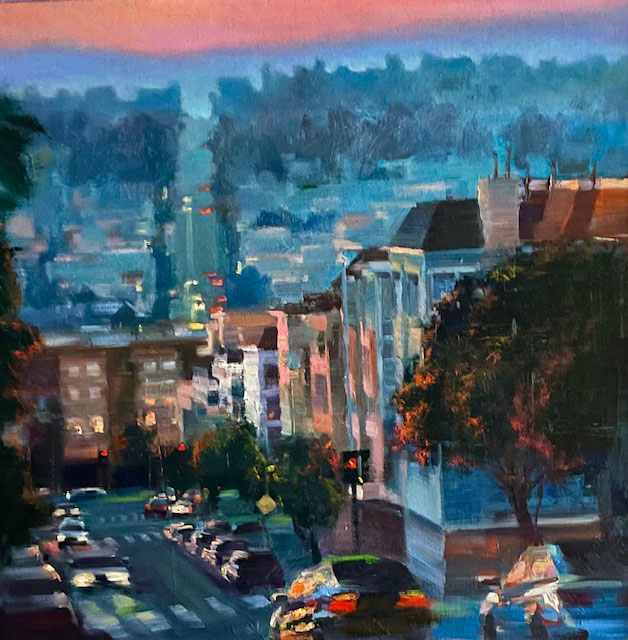 Jennifer Blot wrote in ART MATTERS;
"The destiny of artist Veerakeat Tongpaiboon had a lot to do with the windows of Academy of Art University's Sutter Street gallery in downtown San Francisco.
Though he's now a nationally recognized cityscape painter, the first time he walked by the gallery nearly 25 years ago, he was a waiter and recent emigrant from Thailand. Captivated by the painting of a nude in the window, he set about learning more about the artist, Craig Nelson. When he found out Nelson was director of painting in the School of Fine Art, he decided to enroll at the Academy.
Fast forward a couple of years to an evening when Thomas R. Reynolds, the editor and publisher of a San Francisco legal newspaper, passed by the windows and felt a similar connection to a painting he saw. He entered the gallery, inquired about purchasing two of the works on display and left a business card for the artist, an Academy M.F.A. student who went by one name: "Veerakeat."
These serendipitous moments happened more than two decades ago, but Veerakeat's relationship with both Nelson and Reynolds endures — as has his popularity as a San Francisco cityscape artist."
This exhibition marks a return to San Francisco of the Thomas Reynolds Gallery, a fixture on Fillmore Street for 25 years before it relocated to Santa Barbara in 2020. The show will also feature Small Treasures, represented by Reynolds and to include artists; Francis Livingston, Joe Ceballos, Stevan Shapona, Gary Bukovnik, and Ken Auster (from the Auster Estate.)
2121 Art Space. Located at 2121 Harrison Street at 17th, San Francisco CA 94110
2121artspacesf (Facebook)
Connect with Greg Autry
Instagram @gregautryphoto
Facebook Facebook.com/GregAutryPhoto
Images provided by Thomas Reynolds Gallery and used with permission.