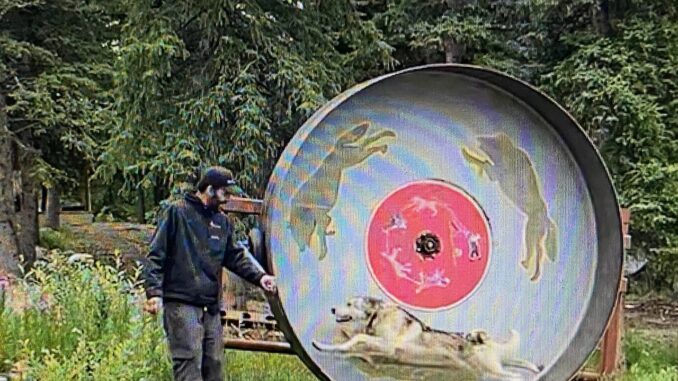 The puppies we held in our arms might likely be the Iditarod stars of tomorrow. Approximately 40 of us had journeyed to Husky Homestead in Denali Park in Alaska to meet these lovable dogs and learn more about their training for sled dog racing. We were part of Viking's Pristine Alaska Tour, a post excursion that continued on to incorporate more Alaskan adventures after completing Viking Ocean Cruise Line's "Alaska and the Inside Passage".
One highlight of the tour was the opportunity to get up close and personal with dogs that were being trained to run the Iditarod or other races. We were greeted by handlers who immediately put three month old puppies into our waiting arms. The dogs were cuddly and we were assured that our loving handling helps condition them to be around people. After all, there are always scores of people at the start of a race.
The Iditarod can best be described as the Alaskan Super Bowl for dog mushers. The annual event starts in Anchorage on the first Saturday of March and ends 973 miles and11-20 days later in Nome.
Our Viking post excursion tour director Alex took us to the Husky Homestead where we learned about the training for sled dog racing. The facility was founded and managed by Jeff King, a four time winner of the Iditarod. It is well described as a birth place, boarding school, and training facility for Alaskan Husky sled dogs.
April told us that the puppies are taken on walks which grow increasingly longer to build their endurance. Even at an early age, they are being judged for their racing potential. Some dogs are best suited to pull sleds in shorter sprint races whiich are less than ten miles all the way up to 300 miles while others do best in the longer competition.
Handler April said that the pups go on walks, run in the run in the park area, and on hotter days go into the pond. When we were there, they had a litter of six and a litter of seven puppies. She showed us the wheel that they use, "when they have a little excess energy."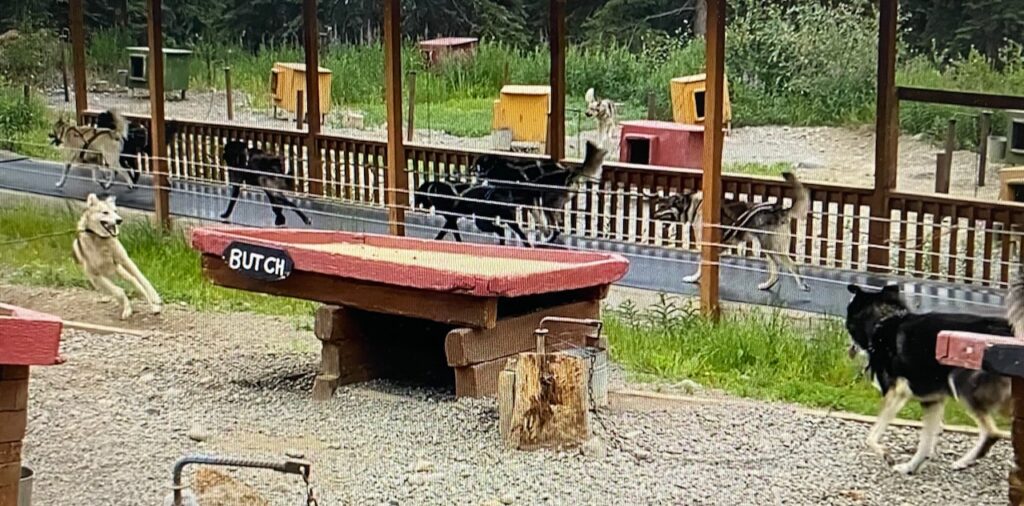 As the dogs get older, they are trained in the art of teamwork. Another handler, Stephani, explained that the canines seem to love what they do. We watched as they ran on a treadmill while pulling a sled. We were reminded that in the past, dog sledding was often the only means of winter transportation in our 49th state of Alaska.
Amanda Otto talked to our group about the difficulties of participating in the Iditarod which she has done. In fact, she told us that mushing is one of the few sports that find men and women competing equally. Women have repeatedly won the Iditarod. In fact, many may be seen sporting shirts that read, "Alaska – Where men are men and women win the Iditarod"
And she said that, "Dog sledding is our state sport according to our state charter." She went into fascinating detail as she discussed the design of the racing dog sled. She reviewed the equipment and supplies that the racers needed to carry to handle Alaska's winter.
We were told that sometimes dogs – much to their displeasure – had to be removed from the race, but would be returned to their kennels. In fact, as part of the entry fees, owners must escrow funds to fly their dogs back to them when they are no longer in the race. Remember, this is not an area with automobiles and highways. Amanda told us that mushers had to be well conditioned since their primary focus was to steer their sled and take care of the dogs. The dogs are family to them.
We were told that the March start of the Iditarod in Anchorage is a huge happening. It compares to tailgating before a football game. Scores of tourists from the "lower 48" journey up to see the start of the race. Many then head further north to experience Alaska's winter and view the Northern Lights.
Our visit to Husky Homestead gave us a taste of some unique events and activities in Alaska and an appreciation of the spirit of some of the people who live there.
This post excursion took us by modern bus and then domed luxury railcar from Seward to Fairbanks, with overnight stays in Talkeetna, Denali, and Fairbanks. It was a great way to see another part of the Alaskan interior after our regular Viking Cruise.
Article by Burt Davis and Dianne Davis Photos by Dianne Davis or Burt Davis