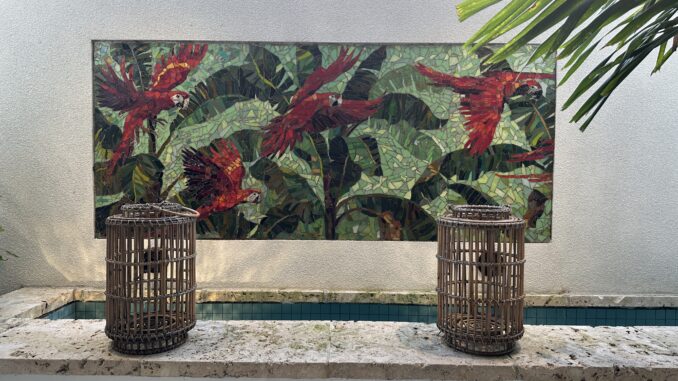 By Gerry Barker
Photos by Gerry Barker
Since it opened in February, Le Colonial's Delray Beach location has been a rousing success, serving Vietnamese delicacies in an atmosphere reminiscent of 1920s Saigon.

This week, media was invited to experience a selection of food and drink available during "Saigon Social," — their own version of happy hour, 3-5 pm, Monday-Friday — as well as choices from the Lounge Menu.

Pam and I both started by ordering a Vietnamese Mojito ($17), a mix of Orgeat, Giffard Lychee, fresh lime and pomegranate, with a garnish. It was not only beautiful to look at, but also a delight to the palette.

As different food dishes arrived, we learned Le Colonial's executive chef prepared some special presentations just for us. Among them: Cha Gio / Crispy Shrimp and Pork Rolls (jumbo shrimp, Heritage pork, Asian mushrooms, mint, cilantro and chili lime sauce — $10 for Saigon Social, $15 regular), Bo Bia / Chilled Vegetable Rolls ("Mr. Greens" carrots, jimaca, cage free eggs. Leasa Farm bean sprouts and aromatic herbs, served with peanut plum sauce ($14) and Sui Cao Chien / Pan-Seared Chicken Dumplings (Cook's Venture chicken, scallions, ginger and black vinegar sauce – $16).

The shrimp and pork rolls were perfectly fried, while the vegetable rolls were presented in towers that formed a skyline of culinary goodness. We are both fans of pan-fried dumplings, and these did not disappoint.

As our server, Rayana, took more drink orders, the kitchen staff continued to bring more food to sample. This time, we were treated to Ca Song / Spicy Yellowfin Tuna Tartare (Hass avocado, sweet chili, Pexco Farm cucumber, red shiso, soy caviar and taro chips — $24), Goi Ga / Vietnamese Chicken & Cabbage Salad (Lemongrass poached chicken, grapefruit, C&B Farms cabbage, peanuts, crispy shallots and sweet chili garlic vinaigrette — $16) and Com Chien Dac Biet / Signature Fried Rice (ginger poached Cook's Venture chicken breast, Vietnamese pork sausage, broccoli, free range organic eggs and scallions – $19).

The tuna tartare was almost too pretty to eat, while the fried rice was among the best we've had, as was the Vietnamese chicken and cabbage salad. Speaking of pretty, so was my second drink, a Mai Tai (Cruzan Blanco Rum, orgeat, pineapple, fresh lime, fresh pineapple and Myers Dark Rum Floater – $17).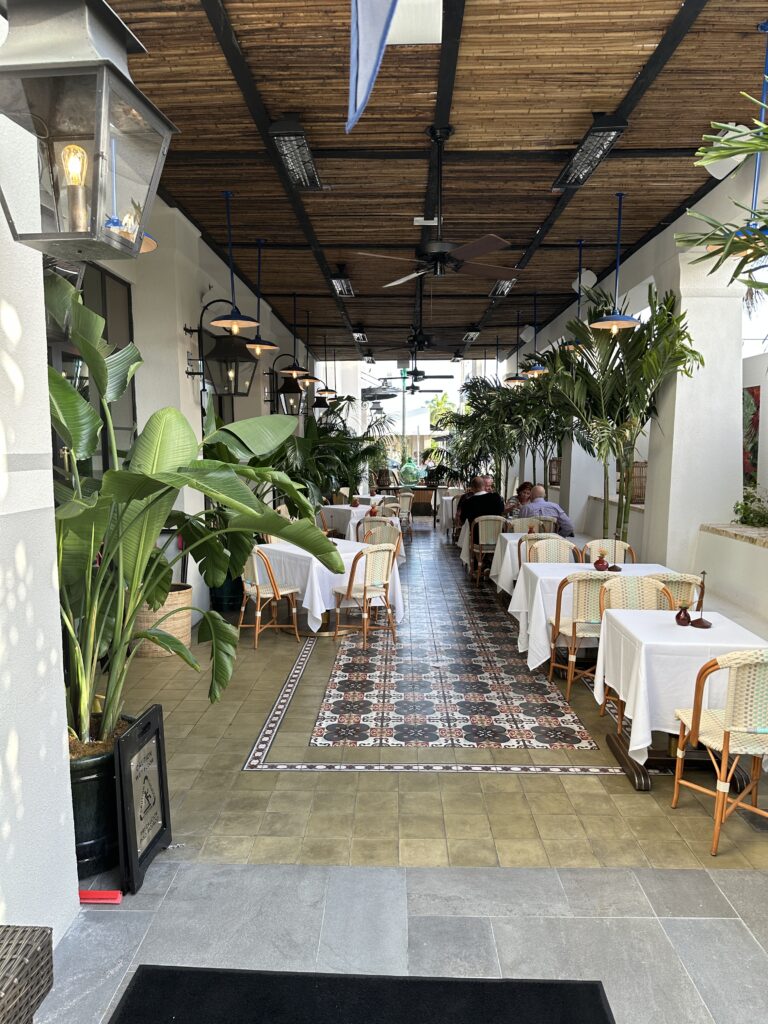 Delray Beach is Le Colonial's fifth location, joining Chicago, Atlanta and Houston. Later this year, Le Colonial will open their sixth restaurant in downtown Naples. Judging from the kind of business Delray is doing, folks in Naples might want to go ahead and get their names on the wait list.

Le Colonial is located at 601 East Atlantic Avenue in Delray Beach. For more information, visit www.lecolonial.com or call 561-566-1800.