By Ross Warren
Today's world is fraught with the dangers of escalating military action from Ukraine to China and Taiwan, daily stories on television and in the newspapers paint a picture of a world that could explode in war at any given moment. The novel Spyder Hole could be in the middle of that intrigue. The killers unknowingly opened a can of worms that will haunt them. One of their victims, a young woman on her honeymoon, is the bride of an Israeli Mossad officer and he will go on a rampage seeking revenge.
Former Green Beret Staff Sergeant Bob Nesoff has penned a novel that could easily been the day's headline news.
Spyder Hole takes the reader from a terrorist attack on a beach in Eilat frequented by Israelis and Muslims in peace and harmony until both are shattered by terrorists who swooped down on them firing automatic weapons, killing men, woman and even little children with no regard for who they are.
But that's only the beginning. Two Mossad officers in New York with information of an impending attack, are in New York for a security conference after they receive information of a pending attack. While they had the information, they didn't connect the dots and witness the destruction of the World Trade Center by terrorists.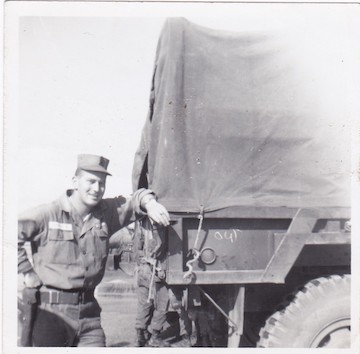 Officials of the United States, Great Britain and Israel form a "Ghost Force" of highly trained commandos, led by a former Green Beret officer, and grant them authority to act with "Extreme Prejudice" against terrorists who threaten their nations and world peace. Their authority could be James Bond's "License to Kill."
With this extraordinary authority, the Ghost Force is on high alert for any terror activity that could impact their nations and they soon learn that a shadowy terror organization is planning attacks that could destroy New York and London with nuclear bombs obtained from the mad man leader of North Korea.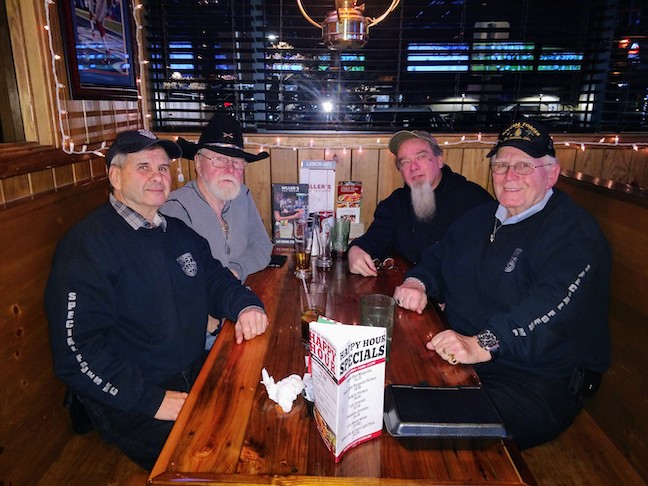 "Bob Nesoff is a gifted and experienced writer who knows his subject. His knowledge of tactics and techniques is phenomenal. The story held my attention and had me waiting for the next chapter to learn what the Mossad, CIA andMI-6 operative were up to in their quest to block an international terror plot. It was reminiscent of actual incidents hidden under a cloak of "Eyes Only" material. Bob Nesoff knows his subject and keeps the pace moving like an Indiana Jones movie. In fact, if Hollywood is smart, this wil be made into a movie." Maj. Gen. Thomas Needham (Ret.)
Maj. Gen Needham, a Vietnam veteran and Green Beret, was the officer who planned the invasion of Panama and was later named by the president as chairman of the Joint Task Force seeking POWs in Vietnam. The Vietnamese would not deal with him as he had only one star. He was then promoted over more than 30 other generals and given as second star. He is familiar with the type of operations in Spyder Hole.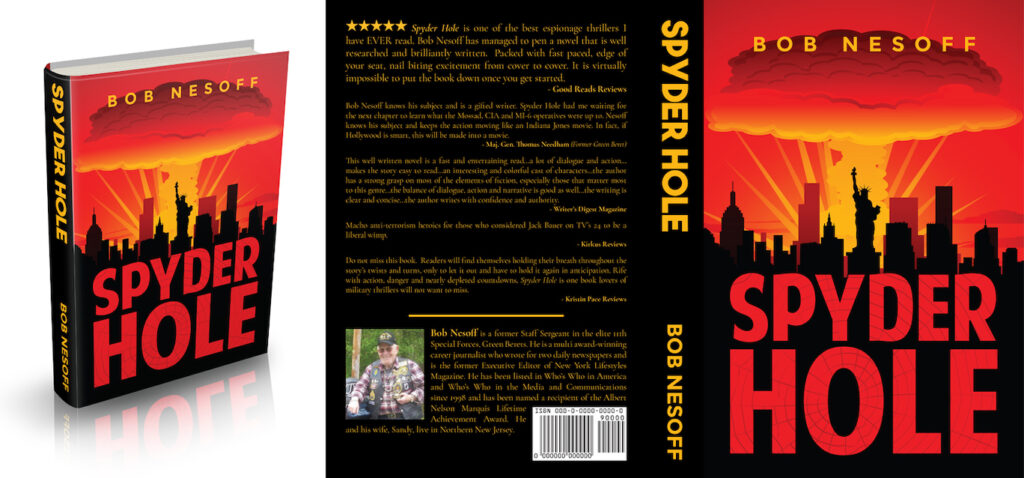 Kirkus Reviews, the gold standard of book reviewers said about Spyder Hole: "Macho anti-terrorism heroics for those who considered Jack Bauer on TV's "24" to be a liberal wimp."
And Writers Digest Magazine called Spyder Hole: "Well written and a fast-paced entertaining novel…the story if fast-paced and easy to read. The author has a strong grasp on most of the elements of fiction…the balance of dialogue and action…is good as well. The writing is clear and concise…the author writes with confidence and authority."
Reviewer Kristen Pace urges the reader: "Do not miss this book. Readers will find themselves holding their breath throughout the story's twists and turns only to let it out and have to hold it again in anticipation . Rife with action, danger and nearly depleted countdowns. Spyder Hole is one book lovers of military thrillers will not want to miss."
Nesoff, an award-winning (more than 40 from a variety of journalism organizations) newsman who reported for two major daily newspapers and was executive editor of New York Lifestyles Magazine, currently spends his time writing books. His current book is a non-fiction "History Lovers Guide To Bergen County." He has been named to Who's Who in America and Who's Who in the Media and Communications since 1998.
His next book, expected in late 2023, is Mysterious Mike Malone, the true story of the Federal agent who went undercover and lived with the gang of Al Capone for more than a year-and a-half before providing the information that brought the notorious gangster down. Malone was then brought in, at the specific request of Charles Lindbergh to investigate the kidnapping and killing of his son. Malone was instrumental in developing the information that ultimately resulted in the arrest and conviction of Bruno Hauptmann.
Malone was also instrumental in the case against Dutch Schultz and the real Nucky Johnson who was fictionalized in the TV series "Boardwalk Empire."
Nesoff is currently working on the sequel to Spyder Hole, called "Shaheed." You can purchase an autographed copy of Spyder Hole for $20 plus $2 S/H and sent to Nesoff at 626 McCarthy Drive, New Milford, NJ 07646-1029. Remember to include any special instructions. Checks should be made out to Bob Nesoff.
Photos: Courtesy of Bob Nesoff.
Editor's Note: Bob Nesoff is a regular correspondent to Splash Magazines Worldwide.