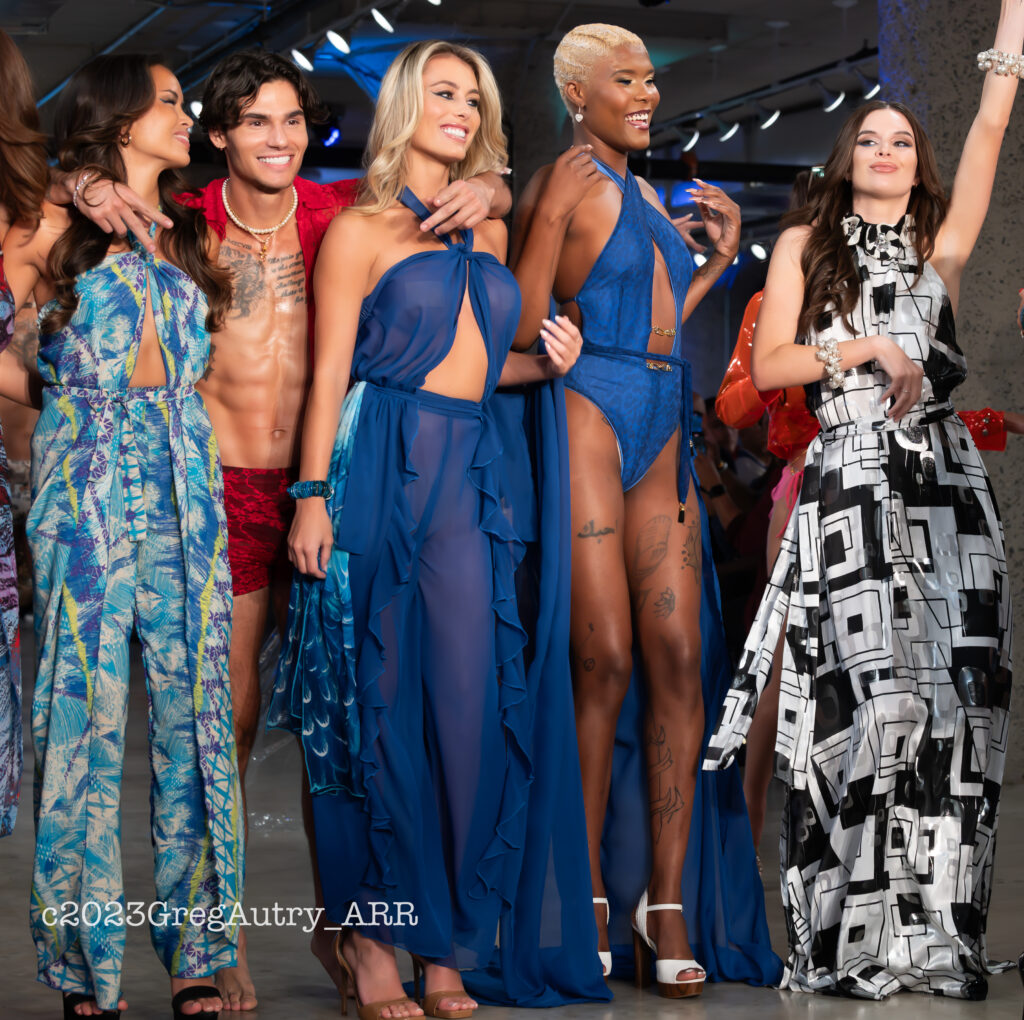 Over one hundred of the most beautiful models in the country participated in the Art Hearts 2023 Los Angeles Swim Week, June 9 through the 13th, at the New Mart in Downtown L.A.'s fashion district. The lines presented are the latest in swim, resort, and surf wear, and available at retail and online outlets everywhere.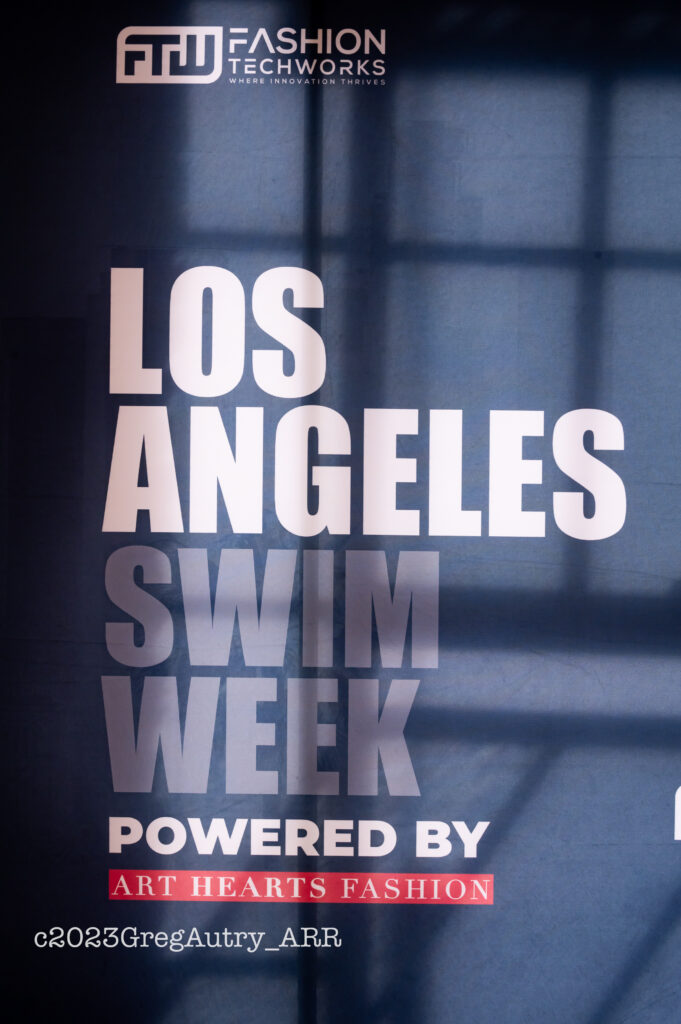 This Review showcasing the lines presented on runway, Monday June 12th, feature MY CLUB by Markia Soderlund, along with: SURF FETISH, LIVERPOOL LOS ANGELES, MERLIN CASTELL, CALLOWAY, and DESIGUAL.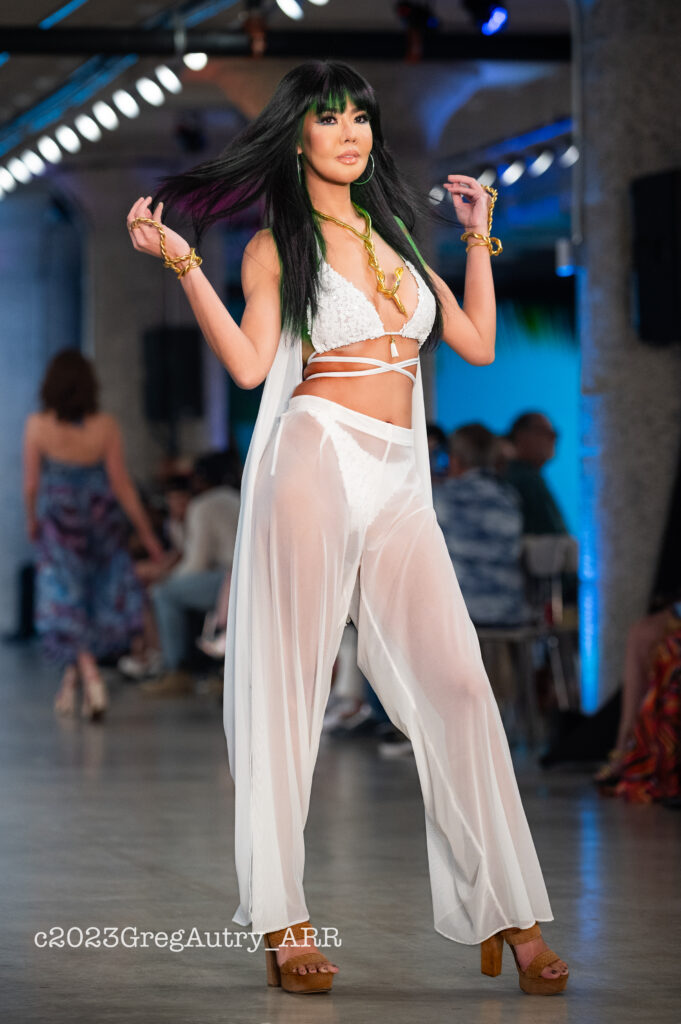 One of the true gifts of Los Angeles, and California for that matter, is the diversity of people we meet, and mingle with, and work, and play with every day. That diversity was beautifully present during all of LA SWIM WEEKS's runway shows. Southern California has always been at the forefront of surf and swimwear, setting trends worldwide, as evident by enthusiastic local buyers, as well as buyers and other designers from around the world.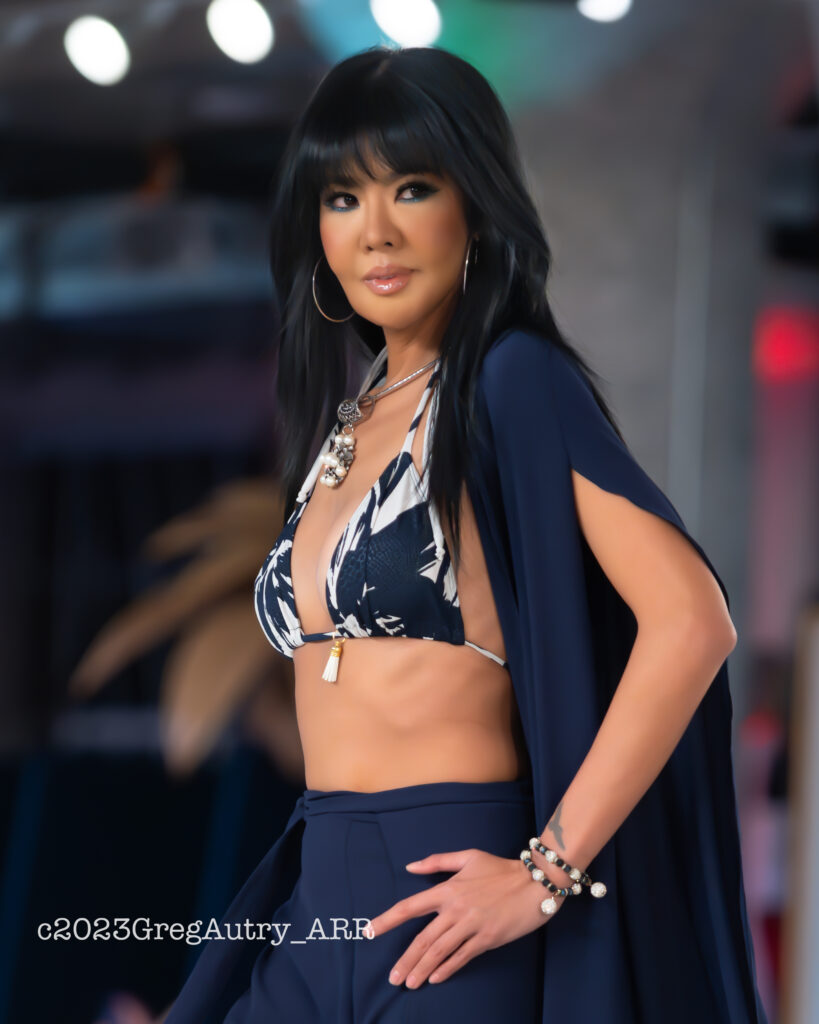 My showcase designer is Markia Soderlund, who presented 23 looks on the runway from her MY CLUB line, for the 2023 season. My Club is a stylish fashion-forward resort and leisure wear brand focusing on sustainable garments made from beautiful, soft, and colorful fabric prints. Designer Markia Soderlund told me that she drew inspiration for the MY CLUB brand, from mesmerizing and beautiful tropical destinations and has sourced these fabrics from around the world. You can find MY CLUB online and also on Instagram at @shop.myclub .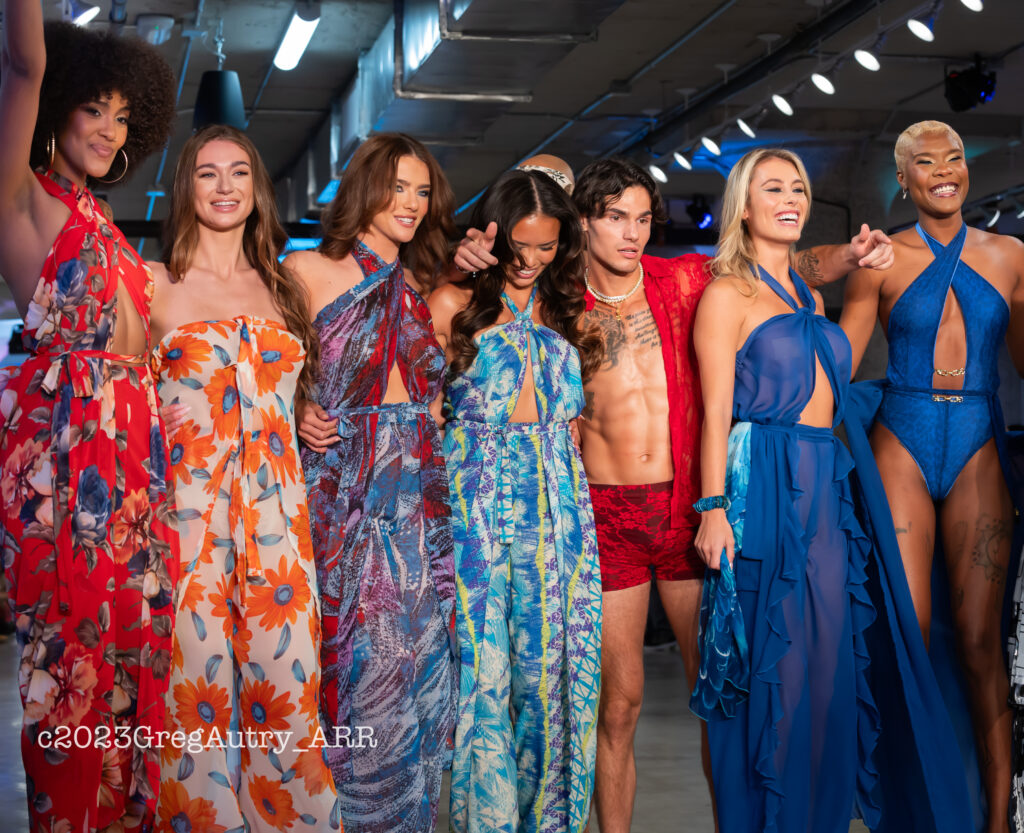 MY CLUB offers a revolutionary solution for vacation wardrobe with a convertible flagship garment that can be worn in at least 20 different ways, taking the customer seamlessly from a day at the beach to evening wear, allowing you to style it according to your preference. My Club offers a practical, fashionable stylish and eco-conscious solution for vacation wear.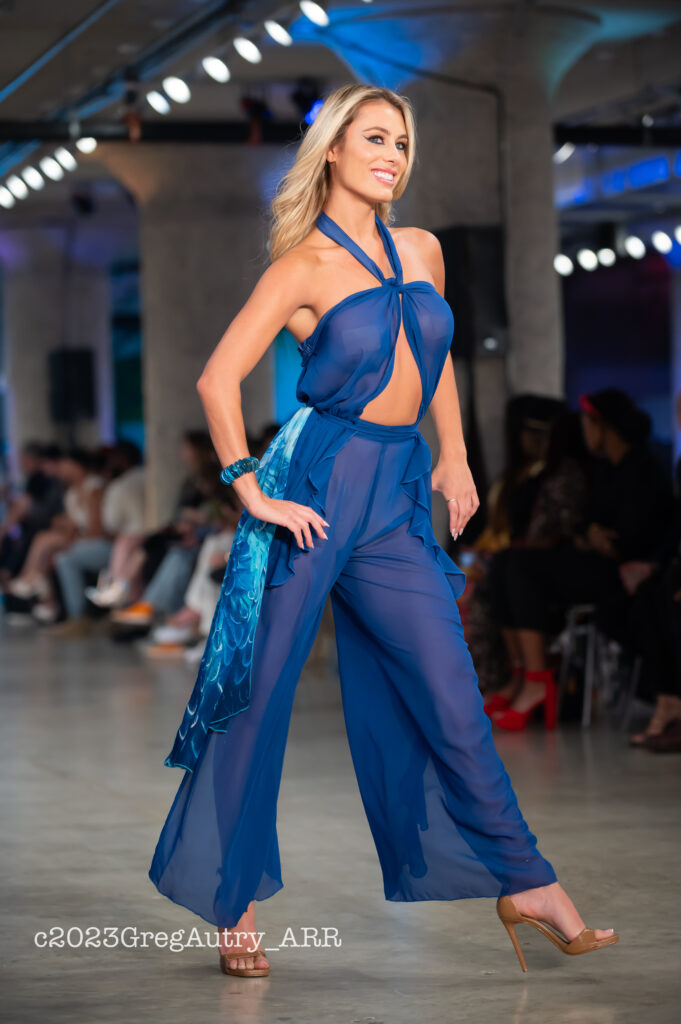 My Club's unwavering commitment to sustainability is not just a statement, it's a way of life. Throughout their entire supply chain, My Club strives to minimize waste and build a conscious and ethical lifestyle that aligns with their customers' love of travel and fashion. With sustainability at the heart of their brand, My Club's values transcend beyond just creating fabulous clothing, but also towards creating a positive impact on the planet.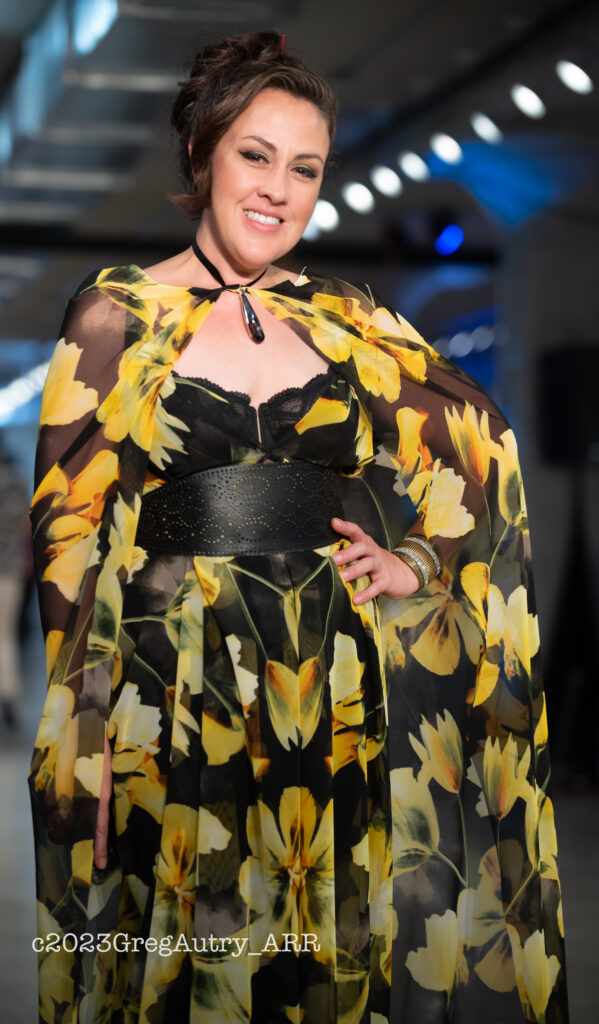 Above, Designer Moe Marks, supporting her friend and designer Marika Soderlund (MY CLUB). Dress by @madame_moes .
The night was filled with five designers presenting a fabulous range of swim and resort wear and accessories. From the mild to the wild I present:
SURF FETISH Runway Show, June 12th in Los Angeles.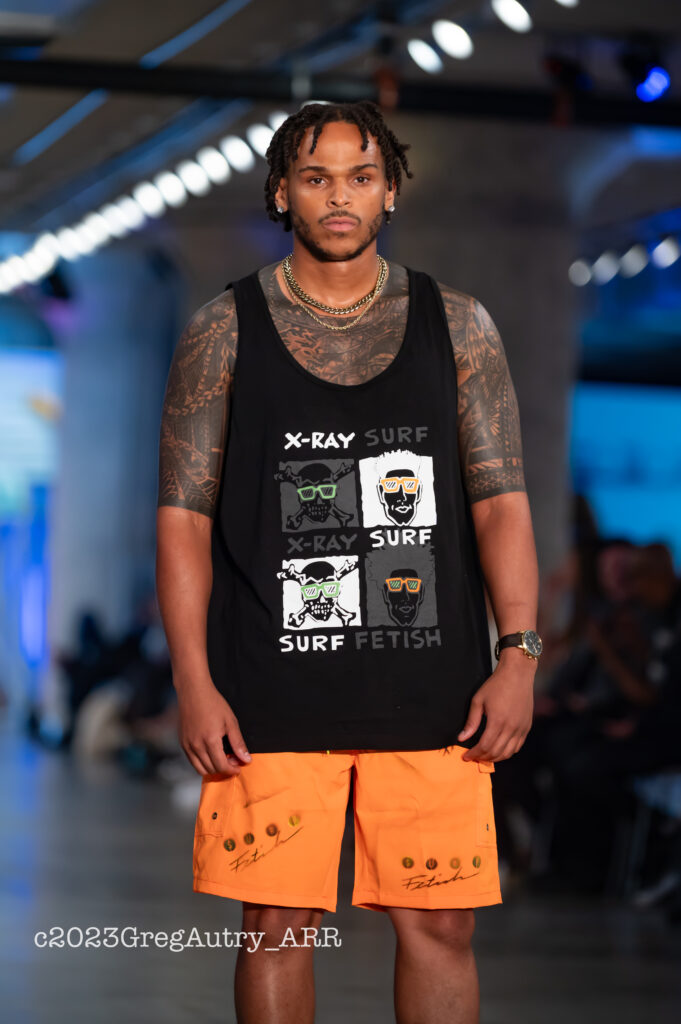 LIVERPOOL LOS ANGELES Runway Show, June 12th in Los Angeles.
MERLIN CASTELL Runway Show, June 12th in Los Angeles.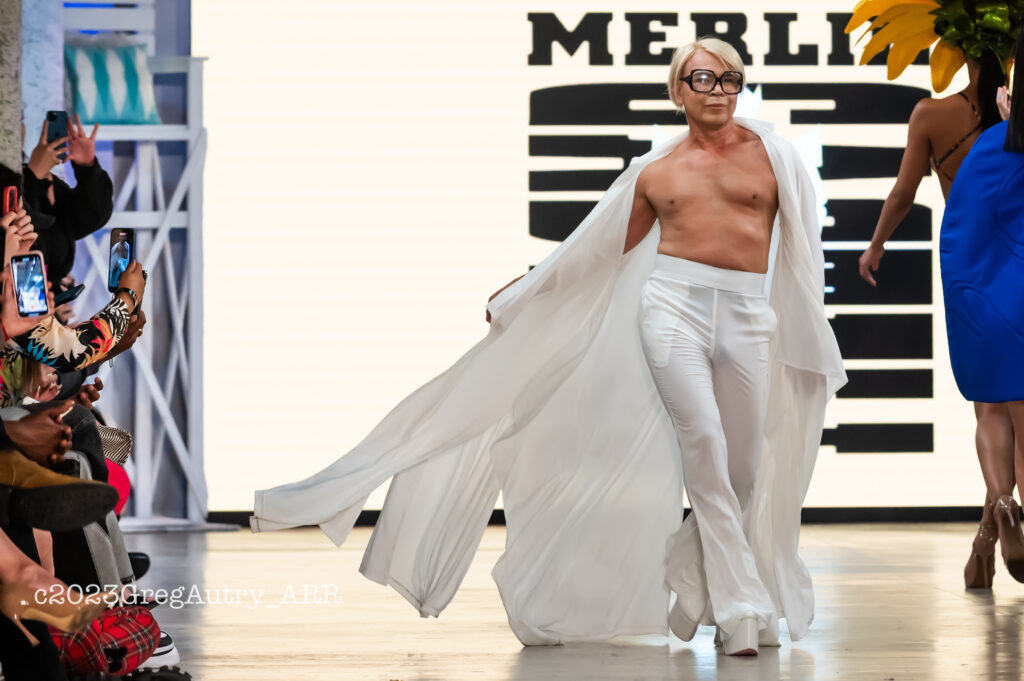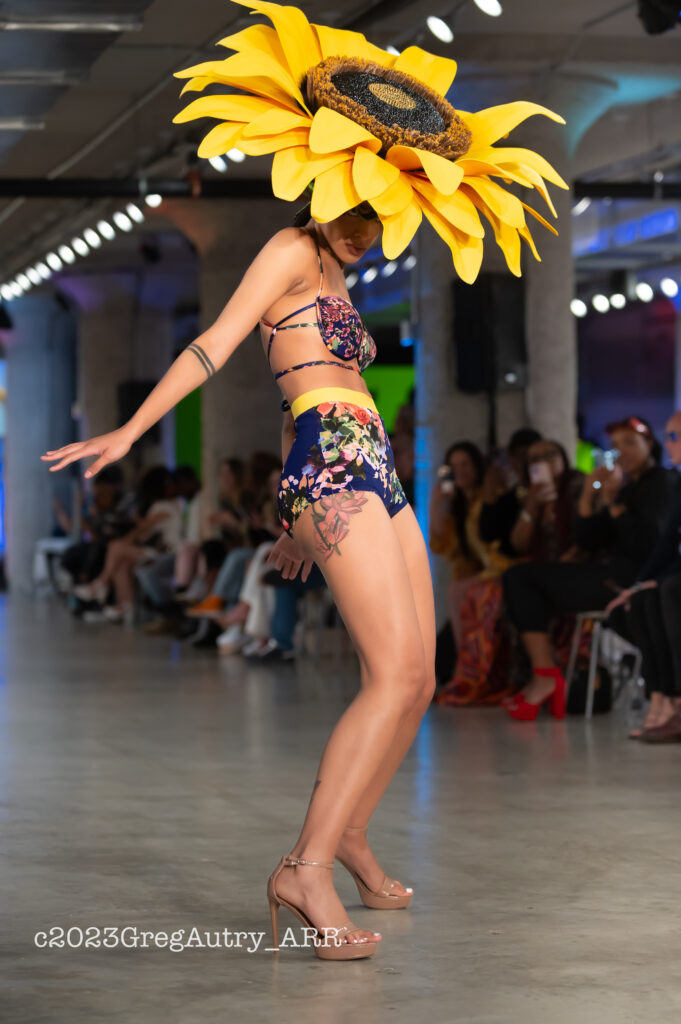 CALLOWAY Runway Show, June 12th in Los Angeles.
DESIGUAL Runway Show, June 12th in Los Angeles.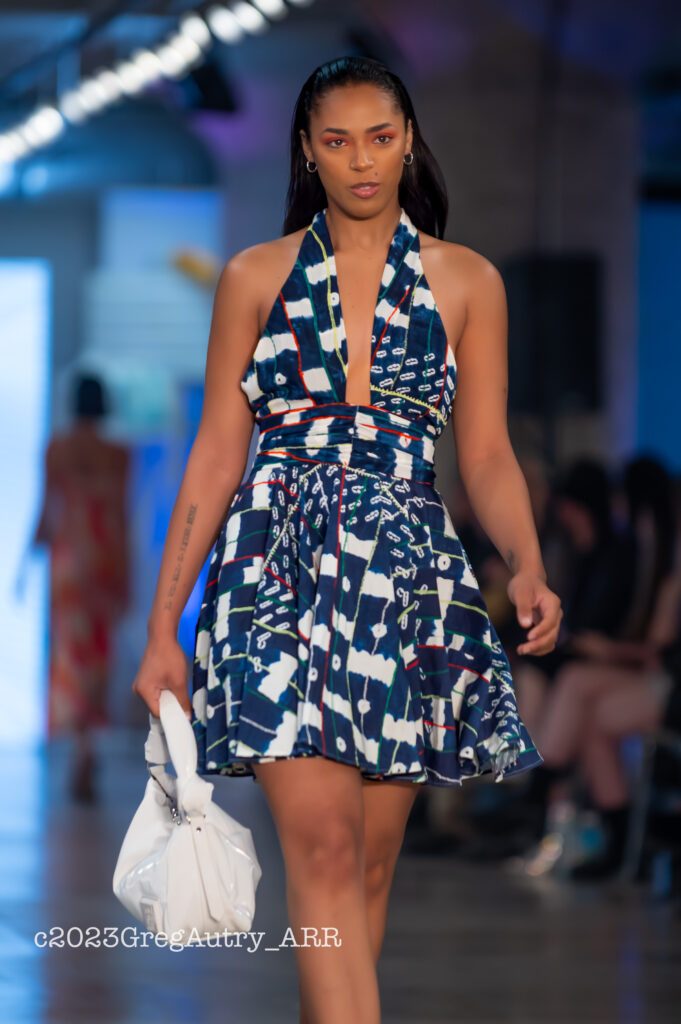 Due to the tremendous success of last year's L.A. Swim Week debut, Erik Rosete, founder and president of Art Hearts Fashion, announced the Art Hearts L.A. SWIM WEEK has become a permanent showcase and part of the annual L.A. Buyers Market Week, here in Los Angeles. This swim fashion festival in conjunction with L.A. Buyers Market Week will continue to provide buyers with a unique networking experience for all who participate.
Since 2011, Art Hearts Fashion has dominated the industry and become the fastest growing and largest bi-coastal and global producer of Fashion Week, with events taking place in Los Angeles, New York, Miami, as well as internationally. Art Hearts had the honor of being the grand finale show to take place at the Lincoln Center and was the final show ever of Mercedes Benz Fashion Week in New York.
Art Hearts has taken their New York Fashion Week events to new heights and have made enormous strides, connecting Art, Fashion, Philanthropy, and Inclusion, having even been named #1 in Forbes for milestones in the fashion industry & supporting Make-A-Wish along with many other amazing charity partners.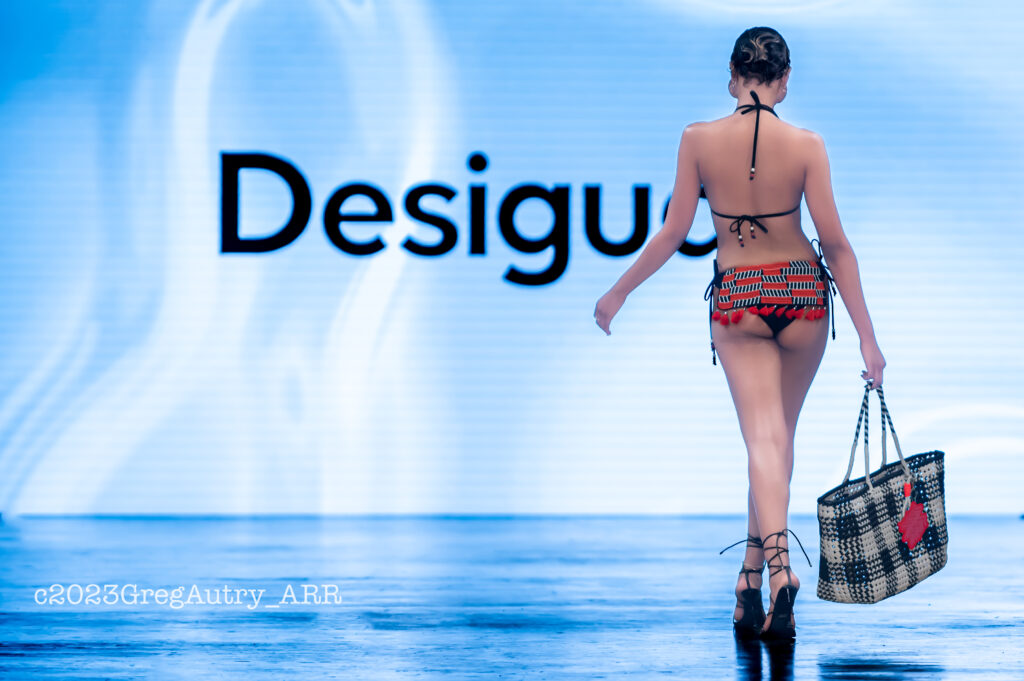 Art Hearts Fashion celebrated 10 years of making magic through art & fashion in collaboration with Fashion Tech Works and The New Mart.
The New Mart is located in the heart of the Los Angeles fashion district with 100 featured showrooms and over 500 world renowned fashion brands. With nearly a century of Los Angeles history, on twelve floors, The New Mart is located at 127 E. 9th Street, Suite 801, and has always been an innovator in the fashion industry. It was the first high-rise in downtown LA, evolving from a market leading apparel manufacturing building to a West Coast premiere wholesale destination.
Fashion Shows produced by Art Hearts Fashion , Producer: Erik Rosete.
Makeup, Hair, Stylist, and Glam Teams, include; for MY CLUB: Beauty Director: April Love @aprillovebeauty , Hair Key: Crystal Goins @crystal.gene_beauty , Makeup Key: Melanie Radu @miss_melanieelizabet.
MY CLUB Models: Casey Boonstra @caseboon, ˜Rylee Spinks @rylee.spinks, Tina Galze @tina_glaze, Payton Mcgaffigan @p810km, Net CH @anet1205, Mollie Hannah Gould @forevermollie, Jasmin Faye @jasmine_fbaby, Ivy Jaynes @ivyjaynes, Karly Salmon @karlysalmon, Mary @earty.mary, Jordan Allen @jordan.d.allen, Jamieson Nelvis @jamiesonnelvis, Wyatt Engelman @wyattengelman, Bath-Sheba Arlana Mc Mahon @sheba.mc, Jade @jadecoatsworth, Anastasia Novoslova @anastasiasupernova, Presley @presleycp, Valeria Verhovetska @valeriaasen, Riley Ashley Crosby @rileyyashley, Ryan Browning @ryan_browning, Tyren Redd @justtyren (Not All Models Pictured in Article).
2023 LA SWIM WEEK MODELS: Alexia Balistreri, Alexis Jane Perez, Alyssa James, Amelia Allen , Anastasia Novoselova, Angie Alcala, Anna Aferdian, Arena Zeynali, Arianna Grimes , Arianna Kyla Padrid , Asia Dean, Audrey Mikulaco, Bella D'Alfonso, Bella Duffy, Bianca Arvidsson, Camille Vidal, Carolina Derpienski, Chel Sgro, Daniela Popa, Diana Fedorova, Donna Nguyen, Ekaterina Lisina, Giovanna Alexsandra, Hannah Simas, Iriannis Lopez, Isbel Parra, Ivy Jaynes, Jade Coatsworth, Jae Alana Coy, Janelle Williams, Jasmine Faye, Jayden Yilmaz, Karly Salmon, Kelsey Heitzman, Lindsay Rienstra, MaKayla Diggs, Mary Smith, Miranda Jade, Mollie Gould, Morgan Cours, Morgan Furno, Natalie Vulevic, Nataly Aviles, Patience Taylor, Phoebe Davis, Presley Persson, RileyAshley Crosby, Samantha Morton, Seba McMahon, Shyane Faith Laas, Sophia Howling, Sophia Merrihue, Tara Boornazian, Tatum Blinn, Tayler Holcomb, Tiffany Walker, Tina Glaze, Valeria Verhovetska, Veronika Vozna, Viktoria Miede, Xitlally Romero, Adrian Cordova, Anatoly Grishko, Daniil Shelepnev, Daryn Anthony, Deven Fagan, Calvin Thomas, Chand Smith, Christopher Quartuccio , Edward Kim, Jacob Hazelkorn, Jamieson Nelvis, Jordan Allen, Jordan Williams, Kiernan Fagan, Hayden Jones, Henner Han, Matthew Wayne, Meihao Ryan Chang, Miles Nightingale , Ryan Browning, Shelby Durkee, Simon Okullu, Stan Ivakhnienko, Tommy Maksanty, Tyren Redd, Vjaughn, and Wyatt Engeman (Not All Models Pictured in Article).
Last and not least, I want to congratulate a big group of professional photographers and videographers who worked tirelessly and do not get enough credit, nor get paid nearly enough for their work.
For additional coverage and images, connect with and Follow Greg Autry on Instagram (www.instagram.com/gregautryphoto), and Facebook (https://www.facebook.com/gregautry.cga).
Credits for models and staff provided by Art Hearts and My Club. Used with permission.