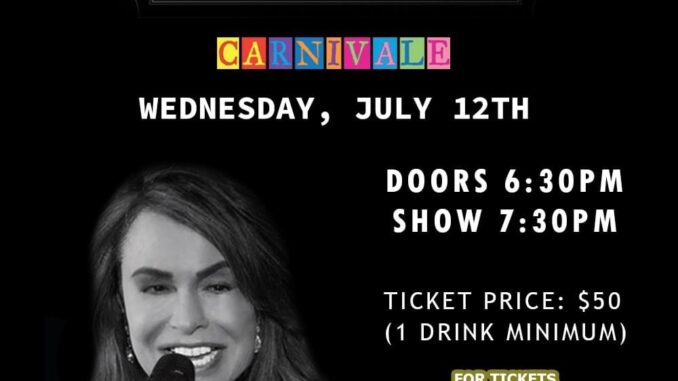 Irene Michaels and The Our House Band will be forming live at The Alley at Carnivale on Wednesday, July 12th, 2023.
The Alley at Carnivale, 702 W. Fulton Street, Chicago, Illinois, Back Alley Entrance
Doors 6:30 PM, Show 7:30 PM
Guests will be treated to a night to remember, with a performance from world-class talent Irene Michaels & The Our House Band, with special guest Sonny Luca.
Irene Michaels has always been a part of the entertainment industry. Her artistic interest began early at age 11 as a dancer, taking lessons then eventually touring with a young dance group. They worked in state fairs, private parties, and even the circus! Ultimately she landed a part in an Off-Broadway production of A Chorus Line.
Irene became one of the top ten models in Chicago. She was in several local magazines and won several beauty contests. She built the Showtime modeling agency from the ground up and kept it running flawlessly for over two decades. She became known as the "leader of fashion shows".
Her career shifted from working in front of the camera to behind the camera as a producer, leading to the creation of two production companies that produced promotional events for corporations, hotels, and convention centers.
In the 1970s she appeared as a vocalist and played guitar at leading jazz restaurant clubs performing her own material.
As an actress, she appeared in television, film, theater, and most notably a recurring role in the popular daytime soap opera, General Hospital. Her film roles include Mickey One, Killer Klowns From Outer Space, Straight Talk, Cold Night Into Dawn,andRiver Made to Drown In. She appears as herself in the documentary, Live at Mister Kelly's. Irene was also an Executive Producer of the docudrama, Betrayal: When the Government Took Over the Teamsters Union.
Irene is a singer, songwriter, musician, and plays the guitar. She is an active member of Chicago Cabaret Professionals and has performed as a vocalist in many venues including Winter's Jazz Club, Davenport's, Le Piano, Arcada Theatre, The Chicago Fine Arts Building, and Jazz Showcase.
Produced by Chicago co-founder of Jam Productions, Arny Granat – The OUR HOUSE Band has been wowing Chicago audiences since its debut in March 2021 followed by several SOLD OUT performances at Le Piano in Rogers Park, Arcada Speakeasy in St Charles, the Fine Arts Building on Michigan Avenue, Davenport's and the historic Jazz Showcase.
Granat saw a burning desire for LIVE MUSIC kindled by the restrictions of the pandemic and went on to form OUR HOUSE which embodies an eclectic group of talented musicians.
Special guest Sonny Luca is a singer/songwriter/musician based in Nashville.
Get Tickets at https://www.carnivalechicago.com