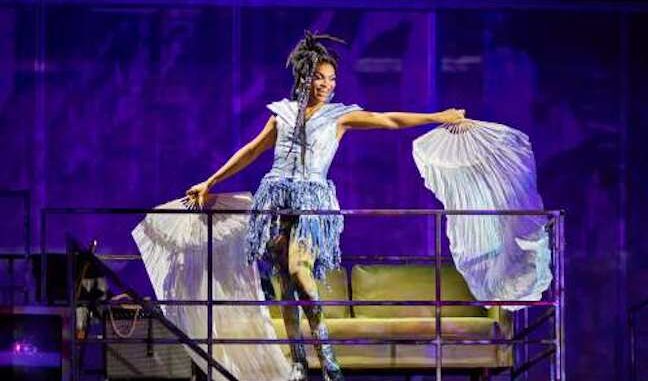 By Bob Nesoff
Paper Mill Playhouse's season-ending show comes from very successful Broadway run. It covers many bases from young people trying to make it in New York, to the Gay scene and most of its iterations. But how did it do?
Rent has been making big news lately with the hoopla about New York's Rent leveling Board raising it. That's not fun. But if you've been to or are going to Millburn's Paper Mill Playhouse, you'll see just how much fun it can be.
The Tony Award winning theater production of the Broadway hit is a lively show with a talented cast. But the book leaves something to be desired.
That being said, some in the audience were confused by the play. While they all said the choreography and music were superb, the book had them scratching their heads.
Rent was mentioned early on and then, so far as anyone could see, was not brought up again until the final few minutes. Many in the audience wondered what the connection was. There was frenetic dancing and singing; connections made and dissolved; drag queens and so much more that it all became a bit confusing.
There's little point to mentioning the individual players as there were just so many of them that at times it was difficult to follow.
The show is loosely based on the opera, La Boheme. Very loosely.
Playwright Billy Anderson had moved to Hell's Kitchen in the early 1980s. The homeless situation was a major force in The City at the time. That combined with AIDS had a major effect on youngsters. Anderson was at a performance of La Boheme, Puccini's masterful play. It was about penniless and starving artists in 19th Century Paris.  It's four main characters were sharing living quarters that often got so cold they had to burn their own works for warmth. Add to that Paris was in the throes of tuberculosis (make that AIDS in contemporary America). But with it all, they were a unit of friends.
OK, that's a bit of the negative. On to the positive. From the opening scenes the show was a flurry of frenetic song and dance. The cast are all professionals and their talent came through and was obvious.
The setting was the lower East Side of New York (not Paris) with an eclectic cast of characters. With a large cast some characters were in and out, off the stage and then back in again. But the movement was smooth, bringing with it some distraction to the audience.
For a few moments you might have felt that you were getting to know the character, but then they would slip off the stage only to be replaced by others. One outstanding character, Angel Schunard, played almost tongue-in-cheek by the oddly named performer, Olivia Lux; a female name for an actor who turned out to be male. But then Lux is a noted Drag Queen performer, absolutely nailed the role. At the curtain bow he/she comes out dressed not in female clothes, but male.
It is impossible to name all of the characters in such a large cast, unusual for an off-Broadway theater. But be that as it may, stellar performances Zachary Noah Piser (who identifies as "he/she")as Mark Cohen, Lauryn Alexandria as Mark's mom, Mackenzie Meadows as Maureen Johnson and the rest of the cast/ensemble.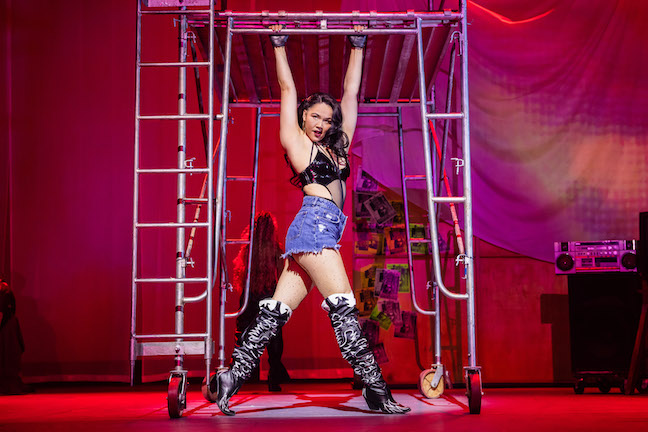 You can't blame Paper Mill for any negative. The show was a hit on Broadway and Paper Mill is dedicated to bringing such hits to the hinterlands. Nothing is perfect and Rent certainly was not. But it was most certainly an entertaining performance with choreography as good as any theater in New York. 
Photos courtesy of Paper Mill Playhouse