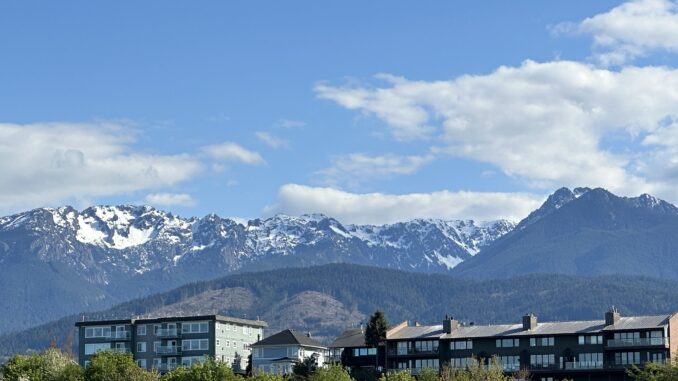 By Gerry Barker
Photos/Video by Gerry Barker

Much like the movie, "If It's Tuesday, This Must Be Belgium," practically every day was a new port of call on our Puget Sound cruise on American Constellation. Most were small towns the larger cruise ships would never visit, but each had a bounty of history and charm just waiting to be discovered.

That's just one of the joys of small-ship cruising, when you have the luxury of having these destinations almost all to yourself — not fighting a horde of hundreds or thousands of passengers rushing off the ship.
This was our first time to experience the San Juan Islands, an archipelago of some 175 islands between Washington State and Canada in the Pacific Northwest, all part of Washington State. It's where you can find the country's largest concentration of bald eagles, and the waters here host whales and orcas.

Let's take a closer look at four of the historic towns we visited on our cruise:
Poulsbo, Washington

While our official port of call was Bremerton, Washington, once ashore we boarded a bus for the 30-minute ride to nearby Poulsbo, a town of some 12,000 that has the title of "Little Norway."

This area was originally inhabited by the Suquamish, Native Americans whose history here can be traced back more than 5,000 years. The town itself was founded in the 1880s by a Norwegian immigrant, Jørgen Eliason. He and his fellow Scandinavians, who relocated here from the Midwest, thought it closely resembled their home country of Norway.

That same Scandinavian influence is clearly in evidence today as we exited the bus to begin a walking tour of the downtown area, which fronts a scenic bay and park. Historically-themed shops, restaurants and museums line the main Poulsbo thoroughfare, and our walk first takes us up Front Street to the Maritime Museum, which chronicles the area's long association with the sea. Next door is the Heritage Museum, where you can learn about Poulsbo's history.

While the culture is interesting, if you look down the street the other way, you'll see a line of people waiting to go into perhaps its most famous landmark: Sluys Poulsbo Bakery. Owned by the Sluys family since 1966, its Poulsbo Bread bread has achieved worldwide fame. While we didn't sample the bread, we can offer first-person testimony about their donuts, which are outstanding.

We didn't have time to stand in the line, but fortunately, our tour guides were kind enough to buy donut holes for everyone on the bus, as well as boxes of the donuts to take back to the ship for the crew to enjoy. We got to sample the full-size version as well, and they are huge, both in girth and flavor.

If you can't make the trek to Norway, Poulsbo may be your second best option. Just make sure you get here early to stake a place in line at Sluys.
Anacortes, Washington

This city of nearly 20,000, located on Fidalgo Island, home to the Washington State ferry service, has a history that dates to 1891, when it was founded.

The ship is offering a number of interesting excursions here, including a "Walking Experience" of this seaside port town, a "Hiking Adventure," along a coastal trail that skirts the Salish Sea, a "Jet Boat Adventure" in an open-air boat or making a local loop in a bus. We opt to layer up and strike out on our own to discover the town my late brother used to call home.

​It's a gloriously sunny day with temps in the 50s — the weather gods are indeed smiling — and it's a short walk past the pier to the town's main street, with its charming mix of historic buildings and shops. Our first stop is the combination Hardware Store/Alley Cats Antiques, and when I say they have everything you can imagine, believe it.

There's all manner of marine items, garden art, glassware, furniture, books, postcards and vintage jewelry, and much more (there was even a large, yellow cat curled up sleeping by the cash register — not for sale, by the way). Pam zeroed in on the jewelry, and found several pieces that will be accompanying us back to Palm Beach.

Just down the street is a coffee shop/bookstore, where we learned about the people and murals painted on many of the shop walls. Seen throughout the historic district, they depict persons who have historical ties to the city.

Speaking of history, our next stop was the Anacortes Museum, just a few blocks off the main drag. Housed in a 1910 building that was at one time the city library, admission is free. There's a major exhibit on "Photographing Anacortes," which spotlights the photographers who captured the city through the decades. Adam, the docent on duty, told us many thousand of the photos have been digitized and are available online.

We could have spent a lot more time exploring all the specialty shops and sampling the food at the various restaurants, but we had to make our way back to the ship. If you embrace a laid- back lifestyle and appreciate small-town charm and history, mark Anacortes on your map.
Friday Harbor

This scenic harbor town on San Juan Island, the second largest island in the group and a major commercial hub for boating, tourism, commerce and seaplanes, is home to some 2,500 people and holds the distinction of being the only incorporated city in the San Juan Islands.

It got its name from a one-time, Hawaiian sheepherder, Poalie Friday, who worked here in the mid-1800s. The island earned another place in history as the site of the Pig War, when the shooting of a pig sparked an ownership clash between American and British soldiers. After that got settled, Friday Harbor was designated the county seat.

Today we are taking the much-anticipated "Whale Watching Cruise," where we need to be assembled on the dock by 8:30 am. Passengers can either take a 10-minute walk to the tour boat or a one-minute ride in the ship's tender, otherwise known as a motorized launch. We opt for the latter, along with most of the other 54 people going with us.

The tour is sold out, so word again to the wise: Reserve your chosen tours as early as possible.

Whale watching is big business around these parts, as the Puget Sound waters are home to Orcas, Humpbacks, Minke and Gray whales, along with a wide range of aquatic mammals, such as sea otters, sea lions and seals. Sharp-eyed birders can also see bald eagles and sea birds that inhabit this region. We are welcomed aboard "Odyssey" by Captain Pete, assisted by two marine biologists, who will tell us more about what we'll see during a three-hour-plus tour.

​The spectacular scenery we pass, including the rocky, tree-covered shores of islands in the stream, are the result of glacial activity thousands of years ago. Go just a little ways offshore and the water can be over 800 feet deep.

It wasn't long before one of the biologists pointed out a harbor seal over to our right. Wait — false alarm. It was a piece of wood. Everybody back to their seats. Later on, the captain gets a report about a humpback in the area, and sure enough, we find it. It's a juvenile, and comes to the surface every 3-5 minutes for air. By law, boats have to keep their distance, but even so, we get some photos as we follow it on its journey. By this time, two other whale-watching boats have joined us.

It's distressing to learn about the plight of these magnificent animals, whose numbers have steadily declined due to lack of food supply, which also affects many other life forms up and down the food chain. We can only hope the work of dedicated scientists and institutions can turn the tide, so future generations can enjoy their beauty.

After the cruise is over, we strike out to explore Friday Harbor, whose marina looks like a picture postcard, ringed by a number of shops and restaurants where you can stop and admire the view. A totem pole in a park overlooking the harbor reflects the area's heritage.

After stopping at the Rip Tide Cafe for a cappuccino, we find an outdoor table where we watch the Washington State ferry depart while seaplane take off and land. It's one of those idyllic moments you want to bottle and take back home, to enjoy again and again.
Port Townsend

Our last stop is Port Townsend — once a bustling maritime hub in the late 1800s, it has survived boom-and-bust, and now serves as a charming, seaport community that has preserved its historic past. Its downtown streets are lined with art galleries, specialty shops, restaurants and museums. What you won't find are any of the fast food chains that dominate most American cities.

We are signed up for the "Legends and Lore," excursion, a walking tour that covers about 10 city blocks. It's another bright, sunny — you could even say "hot" — day (forecast high is around 80), and I really should have brought more of my Florida wardrobe. As we walk along, our guide refers constantly to a script. You have the feeling this is her first tour.

At one point, we encounter a rusted-out, old elevator standing by itself on a city lot. We learn that it once served as an ice cream shop named "Elevated Ice Cream." It has since become a robust enterprise that offers both ice cream and candy. The town also lays claim to a haunted hotel — ghosts seem to have a fondness for historic hotels.

​After lunch, we venture out on our own to visit the Jefferson Museum of Art and History, in the 1892 City Hall building, and climb a set of stairs to see the 1868 Rothschild House. Set on a hill overlooking the harbor, it's the second smallest state park in Washington. The docent tells us the smallest is the Ranald MacDonald's Grave State Park Heritage Site, honoring the teacher credited to helping open Japan to the West.

But the highlight of our visit was finding the PT Soda Fountain and Diner, an authentic, old-school soda shop where you can make your jukebox selections from your booth while sipping a float or shake. Talk about a trip back in time. One last note: Port Townsend has one of only two remaining bell towers in the United States. Standing 125 feet tall, high on a hill, it was used to alert volunteer firefighters.

Bottom line: Whether you arrive by boat or car, lovers of history and local culture will find a lot to discover — not to mention the area's natural beauty and wildlife — in the San Juan Islands.

(Our thanks to American Cruise Lines for hosting us.)