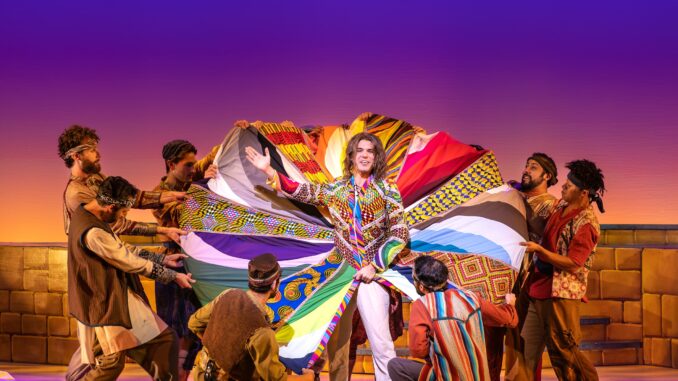 When Andrew Lloyd Webber was only 17 years old and Tim Rice was 20, the two collaborated for their first sung-through rock musical based on Joseph from the Bible's Book of Genesis. The musical languished through the following seven years, presented as 15-minute and 35-minute music pieces until finally it was featured at the Edinburgh Festival in 1972; and critics began to take notice. In the meantime, Webber's music and Rice's lyrics achieved fame for a later collaboration, "Jesus Christ Superstar." It was not until 1974 that the first full modern format for JOSEPH AND THE AMAZING TECHNICOLOR DREAMCOAT was produced in England; in 1982, the production finally reached Broadway, where it received seven Tony nominations. Thereafter, it was revived a number of times and was a popular amateur go-to musical. In 2008, it was estimated that 20,000 schools and amateur theater groups had staged productions. In 2023, La Mirada Theatre for the Performing Arts and McCoy Rigby Entertainment proudly present their production of JOSEPH AND THE AMAZING TECHNICOLOR DREAMCOAT.
Kelli Rabke and the "Children's Choir" – Photo by Jason Niedle
Joseph's father Jacob (Peter Allen Vogt) is proud of his 12 sons – but he's especially close to his younger boy, a young man he feels may have special otherworldly talents, including dreaming about the future. When he gifts Joseph (Chris McCarrell) with a beautiful coat of many colors, Joseph's brothers can barely contain their jealousy over their dad's favoritism. And so they hatch a plot to get rid of Joseph – permanently. At the last minute, however, they have a change of heart and decide that – rather than murder him – they will sell him to a passing trader; and he will leave Canaan forever. Thus Joseph ends up in Egypt, the slave of a rich Egyptian named Potiphar. Unfortunately, not only does Potiphar quickly recognize Joseph's strengths, but Potiphar's wife (Ellie Barrett) takes a shine to the young slave. It is only a matter of time before Potiphar discovers a reluctant Joseph in a compromising situation with Potiphar's wife – and so off to prison for life Joseph goes.
The cast of JOSEPH AND THE AMAZING TECHNICOLOR DREAMCOAT – Photo by Jason Niedle
It just so happens that Joseph soon has two cellmates who were part of the Pharaoh's staff, a baker (Edgar Lopez) and a butler (Kurt Kemper). When Joseph predicts that the butler will soon go free – and the baker will be executed – he achieves some degree of notoriety among the inmates. Meanwhile, the Pharaoh (Daniel Dawson) is having vivid and strange dreams which no one can interpret. When his butler, Joseph's former cellmate, tells the Pharaoh about Joseph's ability to interpret dreams, Joseph is quickly called to the palace, where he does a bang-up job of letting the Pharaoh in on the future of Egypt. As a reward for his perspicacity, Joseph is soon given high rank, wealth, and power second only to the Pharaoh. But what of his treacherous brothers and his mourning father? What will happen to them during the seven-year famine?
BT Nichols, Chris McCarrell, Daniel Dawson, and Gerry McIntyre – Photo by Jason Niedle
Director and choreographer Gerry McIntyre does an excellent job of keeping the stage jumping with vitality and excitement. The cast does a ively and vigorous job of keeping the songs coming and the dance numbers hopping. Not only is Joseph's Dreamcoat amazing – the dancing feats of cast members are equally amazing. Given that the musical contains well over a dozen numbers, credit must also be given to musical director Jennifer Lin, who keeps the music in the forefront. Sets and props (3-D Theatricals), opulent vibrant costumes (Ryan Moller), Co-Hair/Wig/Makeup (Kaitlin Yagen and Madison Medrano), lighting (Jean-Yves Tessier), and sound (Josh Bessom) – all contribute to a musical extravaganza not to be missed,
Joseph's Brothers (cast) – Photo by Jason Niedle
JOSEPH AND THE AMAZING TECHNICOLOR DREAMCOAT runs through June 25, 2023, with performances at 7:30 p.m. on Thursdays, at 8 p.m. on Fridays, at 2 p.m. and 8 p.m. on Saturdays, and at 1:30 p.m. and 6:30 p.m. on Sundays (no performance on June 4 at 6:30 p.m.) La Mirada Theatre for the Performing Arts is located at 14900 La Mirada Blvd., La Mirada, CA. Tickets range from $19 to $89. For information and reservations, call 562-944-9801 or go online.