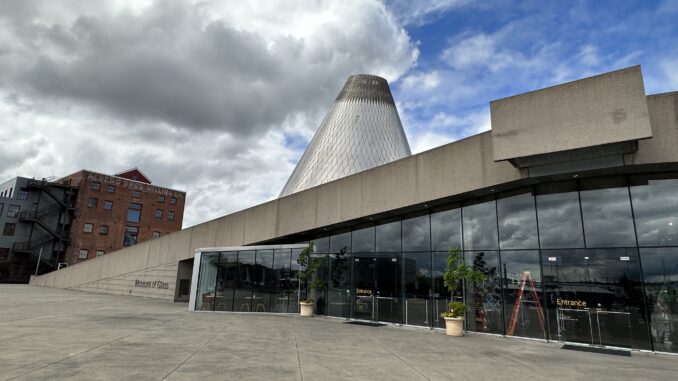 By Gerry Barker
Photos/Video by Gerry Barker

The first thing you notice about Tacoma's Museum of Glass is the cone.

Rising 90 feet in the air like a glistening, contemporary smokestack, its 2,800 stainless steel shingles are tilted 17 degrees. Designed by Canadian architect Arthur Erickson, who took his inspiration from sawdust burners around the Washington State region, it houses a glass blowing studio where visitors can watch glass artisans at work.

Opened in 2002 and located near the Thea Foss Waterway, it is rated one of the five top glass museums in the country. Pam and I had a chance to pay it a visit as part of recent a cruise ship excursion, and if you love glass at art, like we do, it should be on your list, too.

Once inside, we started our visit at the Jane Russell Hotshop, the glass blowing facility housed under the giant cone, named for Jane Russell, who co-chaired, with her husband George, the museum's founding Board of Trustees. The shop's amphitheater seats 138, and we watch as a trio of glassblowers make a pitcher while a docent describes the process and answers our questions.

Over the two furnaces — which melt 15 tons of glass annually — is a large screen projecting their work and providing factoids about the glass-making process. We note a chalk drawing on the floor of the pitcher that the artists can use as guide. The museum hosts glass artists year-round as part of a residency program, and some of their work will make it to its permanent collection.

Because time is limited, we can't stay to see the finished product, so we head for the exhibitions. Our first stop is "Boundless Curiosity: A Journey With Robert Minkoff," which runs through Fall of 2023. Taken from the arts patron's Foundation Collection, it "tells vibrant stories of glass's evolution from a studio craft material to an innovative contemporary art medium."

Even more visually striking is "She Bends: Redefining Neon Legacy," devoted to neon art. Many of these works occupy large spaces, the museum walls reflecting their glowing, bright hues. It's noted the artists represented "express their voices in luminous form and breathe life into meditations on identity, existence, memory, and healing."

One part of the museum houses an iconic glass sculpture from one of the world's foremost glass masters, Dale Chihuly, himself a Tacoma native. In fact, near the museum you'll find Chihuly's "Bridge of Glass," a 500-foot pedestrian walkway that links Thea Foss Waterway and the Museum of Glass. A gift to the city, it houses three separate installations and is open 24 hours a day.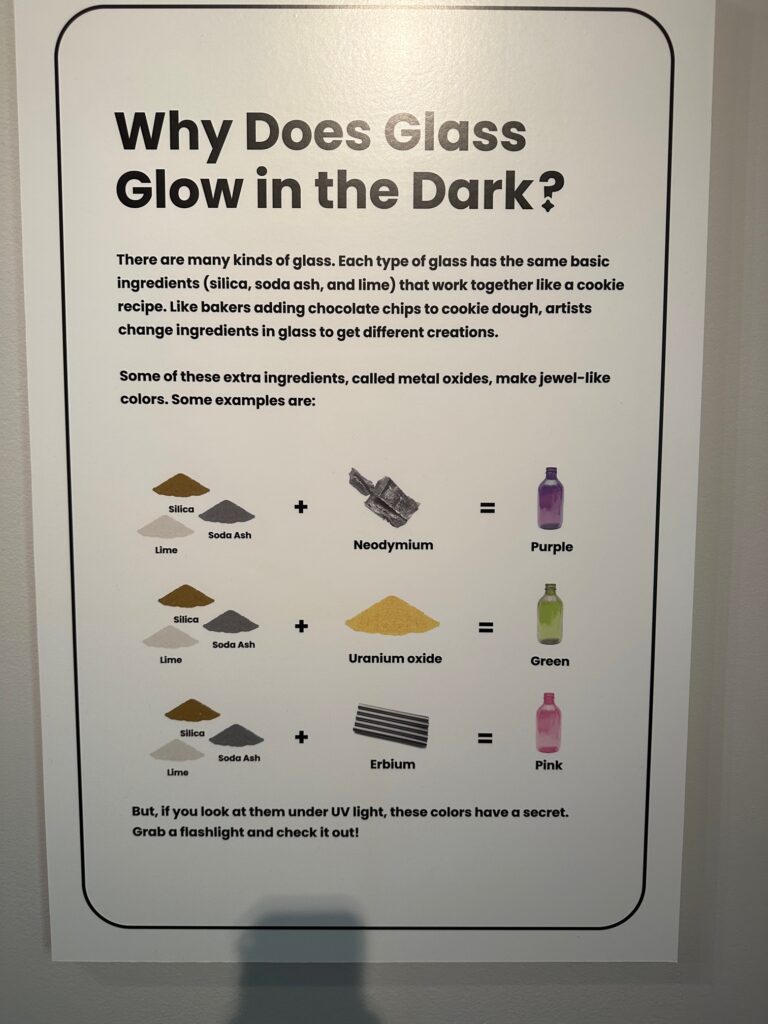 Toward the end of our visit, we got an unexpected surprise — an exhibit of uranium glass. By chance, a few weeks before our trip, Pam ran across an article on uranium glass, so-called because starting in the late 1700s, glassmakers added uranium to glass to make it glow. It achieved worldwide popularity until the second world war, when the use of uranium was sharply restricted.

Today, they are sought after by collectors, who scour thrift and antique stores looking for items that have that distinctive glow under UV or black light. Inspired, Pam checked her own glass collection and discovered, to our surprise, five pieces of uranium glass (by the way, don't worry about exposure — the amount of uranium is safe to be around). The museum provided a black light so you can see the effects for yourself.

The Museum of Glass is open Wednesday-Sunday, 10 am-5 pm, and is open late the third Thursday of each month, with free admission from 5–8pm. Tickets are adults ($18), seniors ($16) and children 6-18 ($10).