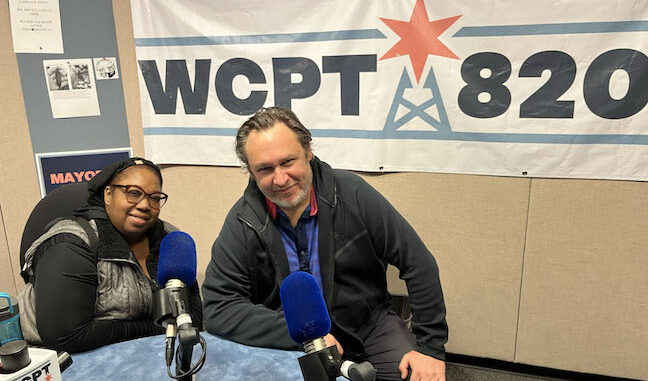 DEBUTING JUNE 10, ON SATURDAYS, 4 TO 5 P.M. ON WCPT 820 AM COLLABORACTION RADIO WILL BRING LIVE NEWS, CONVERSATION, STORYTELLING, COMEDY AND DIGITAL THEATER – ALL ROOTED IN INCITING POSITIVE SOCIAL CHANGE – TO CHICAGO'S AIRWAVES, APPLE PODCAST, SPOTIFY AND MORE.
Collaboraction Theatre Company is a critically acclaimed Chicago arts organization that uses theater and virtual content to bring people together and inspire social change.
Collaboraction announced the launch of Collaboraction Radio, a new way to gather Chicagoans – and people around the world – around the company's digital campfire to inspire new ideas, empathy, dialogue and action around today's most critical social issues.
Collaboraction Radio will be a weekly show airing live every Saturday, 4 to 5 p.m. CST, on WCPT 820 AM, Chicago's Progressive Talk. The first episode will premiere Saturday, June 10. 
Join co-hosts Anthony Moseley, Collaboraction Artistic Director, and Collaboraction Managing Director Carla Stillwell for fresh dialogue around the intersection of arts, activism and social change. 
Collaboraction's Anthony Moseley and Carla Stillwell, co-hosts for Collaboraction Radio
Collaboraction Radio will feature interviews with social justice warriors who are building positive change in Chicago, and around the world. Listeners can look forward to a fast-paced hour of news, conversation, storytelling, comedy, digital theater, plus a weekly round-up of upcoming arts and culture events, all rooted in positive social justice. 
In addition to the live Saturday radio broadcast, audiences in Chicago, the U.S. and around the world can watch and interact with the show's livestream on Facebook or YouTube. 
Missed an episode? No problem. Go to collaboraction.org and subscribe to the new Collaboraction Radio podcast, available on Apple Podcasts and Spotify and updated with a new episode every week. 
Or, visit the WCPT website, heartlandsignal.com/programs/collaboraction-radio, to find a Soundcloud archive of all shows.
Anthony Moseley says "In this new post-pandemic era, it is critical to overlap the social circles of politics, culture and activism in order to create new dialogue that brings Americans together. It is our honor to announce Collaboraction Radio as a new platform for these crucial conversations that will lead to new knowledge, empathy, dialogue and action bringing together political leaders, visionary artists and ground-breaking activists." 
Carla Stillwell adds "Poet Robert Frost says that 'everything green is gold'. This is what the pandemic taught us… everything old is new and radio communication is back. I am excited to communicate Justice through the airwaves. 
"We're excited to welcome Collaboraction Radio to the WCPT-AM line-up," WCPT General Mark Pinski, said. "Anthony and Carla promise to bring strong, experienced voices to our airwaves, and their programming, centered around positive social change, will definitely speak to our listeners. In their dual roles as Chicago theater professionals, we look forward to Carla, Anthony and Collaboraction Radio making a big, dramatic entrance to Chicago's live talk radio scene."
To contact Collaboraction Radio, or for Chicago arts and social justice organizations interested in submitting event PSAs, please email ra***@co************.org. To learn more about Collaboraction, visit collaboraction.org or follow the company on Facebook, YouTube, TikTok, Instagram and Twitter. 
And be sure to tune into Collaboraction Radio, Episode One, Saturday, June 10, 4-5 p.m. CST on WCPT 820 AM.
Collaboraction Radio: Meet the Hosts
Anthony Moseley (he/him) has been the Artistic Director of Collaboraction since 1999, using theater as a tool of knowledge, empathy, dialogue and action. Through this work, Moseley has commissioned and collaborated with thousands of artists to build a more equitable future for Chicago through projects including Sketchbook Festival, Peacebook, Encounter and The Light youth theater festival. As a writer/director he created Crime Scene: a Chicago Anthology and its four sequels, This is Not a Cure For Cancer, Connected, A Blue Island in the Red Sea and co-created and co-directed the Emmy Award-winning The Lost Story of Emmett Till: Trial in the Delta and its live theatrical adaptation. Anthony is also a MC, Public Speaker, Auctioneer and SAG actor having worked on numerous film and tv projects.
Carla Stillwell has been an award-winning actor, playwright, producer, artistic director and teacher for three decades. Currently, she is Collaboraction's Managing Director, where she won a Regional Emmy for her work as producer on The Lost Story of Emmett Till: Trial in the Delta, a collaboration with NBCUniversal/Chicago. Stillwell began as a theatre artist at age 10 in Chicago's South Shore neighborhood, continued her studies in high school with the Chicago Park District's after-school programming, and went on to attend Columbia College as a Theatre-Music double major. In 1995, she was cast in a show with an Afrikan Centered theater company new to Chicago called MPAACT, which became her artistic home for 22 seasons, serving both as resident playwright and artistic director. In 2019 she founded The Stillwell Institute for Contemporary Black Arts, with a mission to recruit, develop and support contemporary Black artists and to teach art making in the Black community as a healing practice, a vehicle for social change and a viable career opportunity. In 2021, she joined the adjunct staff at The Theatre School at DePaul University.