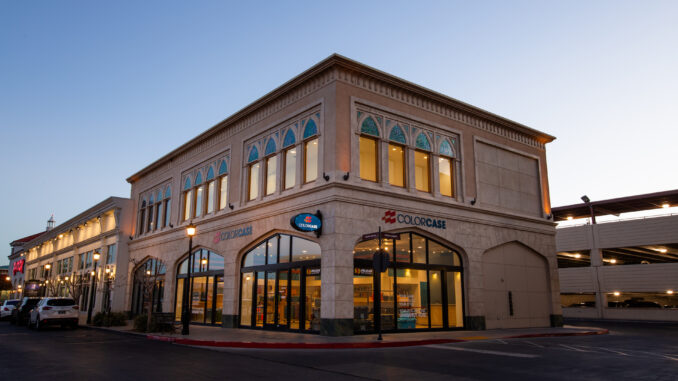 The team behind Las Vegas' newest storefront is bringing a "case of a different color" to the scene for Pelican case enthusiasts, creatives, medical and military personnel, and other professionals who rely on the exceptionally durable gear to protect their most prized equipment.
Founded in 2011 as an online retailer and authorized Pelican case distributor, ColorCase has expanded and grown rapidly over the past decade — and is now celebrating that growth with the grand opening of its flagship storefront in the coveted Las Vegas Town Square's open-air shopping, dining, and entertainment center.
The new brick-and-mortar store (located at 6677 S. Las Vegas Blvd. A-113 Las Vegas, NV 89119) makes ColorCase the first company to showcase Pelican's extensive shock-resistant, dust-proof, and water-tight product line in an immersive retail environment. The store offers customers the opportunity to explore and test out ColorCase's Pelican products in person to see which best fit their specific needs, while exploring a wide variety of customized solutions and clever design options that can capture their unique style or brand colors. The store will also be a place for customers to quickly grab replacement parts such as new wheels, foam inserts, latches, TSA locking latches, handles and other elements, without having to wait for online orders to process, ship, and deliver.
"Our Town Square flagship store is a game changer, as it makes the process of customizing a Pelican case much more accessible and fun for customers. Las Vegas is a great city and a hub for industry trade shows such as the National Association of Broadcasters. We look forward to becoming a destination for those visiting Vegas and for locals who want to personally experience the customization process. We're also offering something that no other retail establishments offer: the ability for people to personalize their protective cases with color combinations that aren't found anywhere else" — Adam Gerard
ColorCase has been working with Pelican for over 12 years. As authorized distributors, ColorCase has one of the largest inventories of Pelican cases and accessories nationwide, but they are the only ones in the industry to unlock creative customization of these products. The company offers unique designs to reflect an individual or company's unique personality, brand, and equipment needs. The customized products are designed to provide enhanced protection and functionality for Pelican cases and are made from high-quality materials that are built to last. Ultimately, ColorCase makes it fun to be protected with their huge array of color configurations and designs — and I had the chance to ask Adam Gerard, the company's VP, more about the journey that led them to Las Vegas.
Hi Adam! Mind telling us a bit about your role at ColorCase?
I am the Vice President, and I handle sales, inventory management, and fulfillment, along with more of the 'boring stuff' like administration, regulatory compliance, accounts payable, and tax processing. I also handle our brand management and intellectual properties.
What gave you guys the idea to open the storefront in Vegas? And why not LA or New York?
We originally rented a warehouse in Carlsbad, California, and we decided to make the move to Las Vegas for several reasons. By being in Las Vegas, we save a day of shipping to the East Coast, and I don't think it's a secret that the business environment in Nevada is superior to California, at least right now. We were able to purchase a building that really suits our needs and can better accommodate our continued growth. We had toyed around with the idea of opening a ColorCase kiosk in a place with heavy foot-traffic like the Grand Canal shops, but once we saw the Town Square location become available, we jumped at the chance to set up shop there. Our goal was to expose people to the ColorCase brand while giving them customization options they've never had access to before. My motto has always been, 'Why would you buy a black case when you could customize a case in up to 150 colors?!"
If I was to buy one, I would definitely want fuchsia. What colors do you offer? And when it comes to the cases, how many different customization options can customers choose from?
Ironically enough, we are actually in the process of adding pinks, magentas, and purples to our arsenal — and hope to add some pastel shades in the near future, too. (I'll relay the message about fuchsia).
Basically, Pelican makes certain colors for their cases, which we then take and replace the handles, foam, and latches with customized colors. So, an all-black Pelican case can be customized with red handles and latches or blue handles and latches or lime green, yellow, tan, orange, you name it. We also offer custom colors for the Pelican cases themselves. One of our most popular case colors has been what we call "trekking green," which almost looks like a British racing green. For that, we get the customization done directly through Pelican. We submit the specific color pantone we want, they turn around a first article which we would approve or readjust, and then they run production.
One important thing to note as far as the customization is concerned is that we don't do anything that voids the lifetime warranty provided by Pelican. The cases are air-tight and water-tight, so we don't drill holes in them or compromise their quality in any way. Our goal is to provide our customers with the customization options they crave while enabling them to carry their valuables however works best for them.
Why do you think customization is so important to people? Personally, I bought a Betty Boop suitcase so I could see the character everywhere I travel to and easily distinguish my case from others. Is that a key driver in their interest?
Absolutely, that's one of the reasons. To distinguish one's case from the rest. I've talked to a lot of our customers who come to Las Vegas to work a job, like producing the lighting for a big show, and they tell me that there can be hundreds of black Pelican cases sitting on the ground at any given moment during production. They struggle to find theirs in the stack – and shuffling around a heap of cases trying to identify which one is theirs is the last thing someone wants to do at the end of a physically exhausting work day, especially in the Las Vegas heat. We want to make it easier to distinguish their case instantly, which also elevates the security of their equipment and decreases the chances that anyone but the owner will attempt to handle the case.
We've also seen people crave customization because it makes it possible to identify a case's contents without having to affix a label to the case. For example, if you are a photographer, you could designate your lenses case with red handles, your lighting equipment with green handles, etc. We sell a lot of cases to medical device professionals for exactly that reason. There's also the opportunity to totally customize the interior of the case — whether you want to go to with seafoam or our custom dividers that can change the case's configuration for that particular day. People just really love to express their unique style, even in their practical pieces of equipment.
My readers are mostly in the entertainment industry. How prevalent are Pelican cases in that field?
Pelican cases are pretty well known in the entertainment industry, because anybody who need to work with, travel with and/or carry around camera or sound or lighting equipment (for example) that costs up to tens of thousands of dollars is going to store it in a protective case. Typically, the contents of a case are worth about 10x the cost of the case itself, which makes investing in quality protection for that equipment a no-brainer. Pelican is the gold-standard brand name of protective cases. There are others out there, and some of them are very good. But Pelican is by far the most trusted leader, having been around for 40+ years.
What is your favorite ColorCase color?
I have two. I'm a San Diego Chargers football fan (I remain loyal to their home town) and have a 1615 Pelican air case that's been customized with indigo and yellow latches.
What do you hope this particular storefront opening in Vegas will lead to for your company?
I hope it leads to more exposure. I hope to save the world from a boring black case. I want people to know that they have options. So, I hope the storefront gives us a little more visibility and also allows people to come in and touch and feel their options. A lot of times, people will call us after buying a case online without really knowing if or how it will fit their equipment inside. They usually have trouble finding the right dimensions and will make a purchase they don't feel totally comfortable in. It's a lot of guesswork. Our new storefront gives them the opportunity to bring their equipment into the store and find exactly the right size for their needs. We add onto that by also giving them so many ways to customize it. It's thrilling to see people choose the case and customizations they want with confidence that it reflects their style, will protect their valuable equipment, and will survive the elements the way Pelican products are proven to do.
Is there anything else you want to add?
Beyond the entertainment industry, these cases are also trusted by the military, first responders, and other public or government-funded industries for decades. That should give customers who are new to Pelican a little bit of comfort, knowing that the military and first responders rely on the same brand to take protect extremely valuable equipment.
Photo Credits: ColorCare