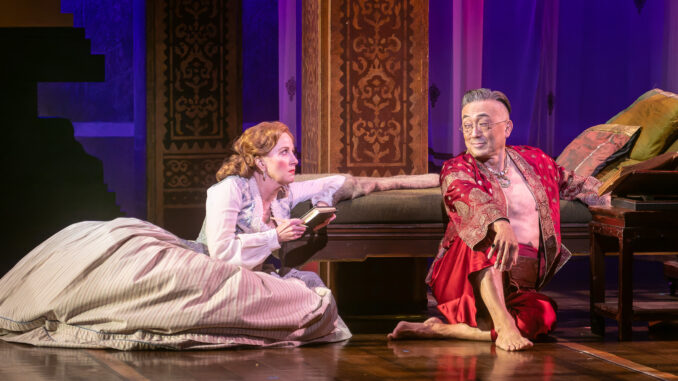 Based on a true story, THE KING AND I returns to the Los Angeles stage in its glory with a two and one half hour journey to Siam, a magical land we currently call Thailand. The fifth musical by the team of Rodgers and Hammerstein, THE KING AND I is based on Margaret Landon's novel "Anna and the King of Siam (1944)," which was derived from the memoirs of Anna Leonowens, governess to the children of King Mongkut of Siam in the early 1860s. The fascinating tale has inspired this musical, as well as several films. THE KING AND I was an instant hit and winner of three Tony Awards. From the Golden Age of Broadway – with songs like "Shall We Dance" and "I Whistle a Happy Tune" and a cast of 41 – THE KING AND I currently delights audiences at La Mirada Theatre for the Performing Arts.
Cast of THE KING AND I – Photo by Jason Niedle
In an effort to modernize his country, Siam's King (Paul Nakauchi) hires strong-willed British teacher and widow Anna Leonowens (Anastasia Barzee) to tutor his many royal children. An intelligent and forward-thinking monarch, King Mongkut ultimately succeeded in keeping Siam an independent nation through introducing Western ways to his heirs and kingdom. But life in Siam did not prove to be smooth sailing for Anna and her young son, and her relationship with the king often proved challenging for both. From the moment that she was escorted to the palace by Prime Minister Kralahome (Alan Ariano) to her introduction to the King's first wife Lady Thiang (Joan Almedilla) to her budding support for a forbidden love affair by Princess Tuptim (Paulina Yeung) to her growing relationship with Prince Chulalongkom (Luke Naphat), Anna nurtures her understanding of the Siamese culture and slowly begins to influence the direction of policy and future goals. Her influence is nowhere more evident than during "The Small House of Uncle Thomas," a play within a play representing Harriet Beecher Stowe's anti-slavery novel seen through Siamese eyes.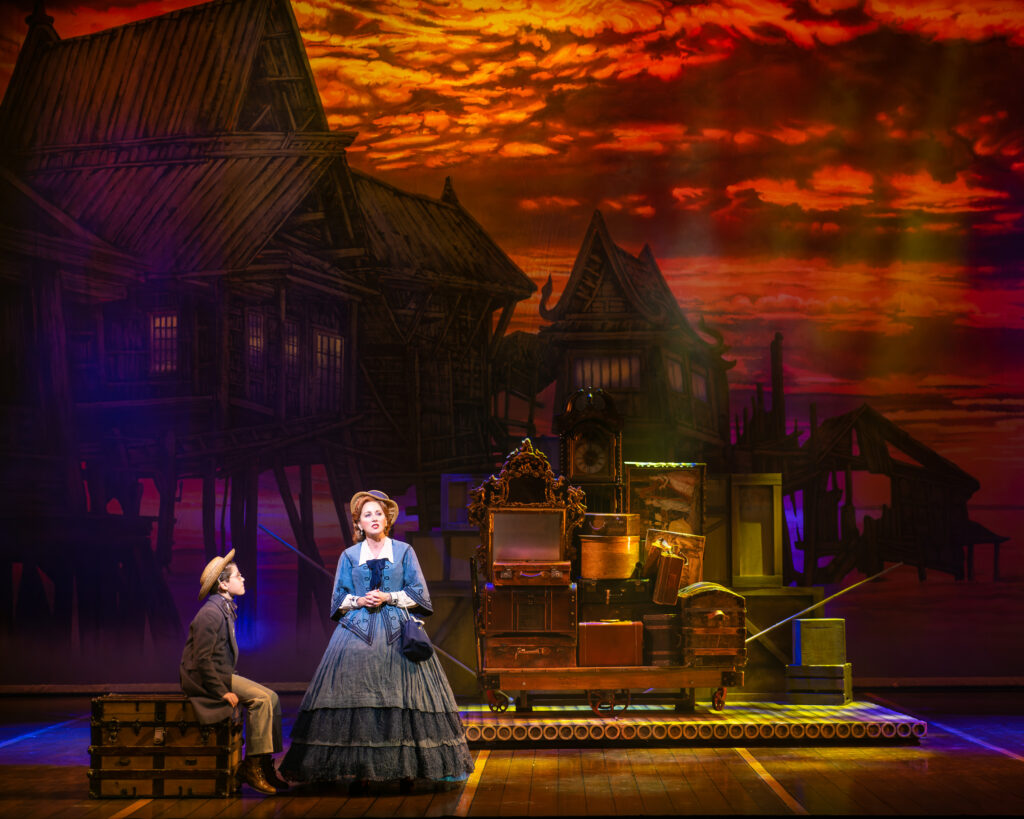 Oliver Stewart and Anastasia Barzee – Photo by Jason Niedle
Director Glenn Casale and musical director and conductor Dennis Castellano work well together to produce a faithful and authentic version of the original. The huge cast is strong, with the principal females exhibiting especially fine voices. Every cast member carries his weight, whether it be acting, singing, dancing, or simply just being there. It is notable that the current production of the show maintains the excitement and mystery of the original. Kudo's to the ballet presentation of "The Small House of Uncle Thomas."
Ballet Cast for "The Small House of Uncle Thomas – Photo by Jason Niedle
With music by Richard Rodgers, book and lyrics by Oscar Hammerstein II, choreography by Rumi Oyama, and direction by Glenn Casale, THE KING AND I shines. The package is a sumptuous collection of sparkle and vivacity inspired by Michael Yeargan's original set design and Catherine Zuber's original costume design. With scenic/costume design by NETworks Rentals' scenic/costume design, Kaitlin Yagen's and Madison Medrano's co-hair/wig/makeup design, lighting design by Steven Young's lighting, and Cricket S. Myers's sound, THE KING AND I is a splendid production indeed.
Anastasia Barzee and Cast – Photo by Jason Niedle
THE KING AND I runs through May 14, 2023, with performances at 7:30 p.m. on Thursdays, at 8 p.m. on Fridays, at 2 p.m. and 8 p.m. on Saturdays, and at 1:30 p.m. and 6:30 p.m. on Sundays. La Mirada Theatre for the Performing Arts is located at 14900 La Mirada Blvd., La Mirada, California. Tickets range from $19 to $95 ($14 student tickets available). For information and reservations, call 562-944-9801 or 714-994-6310 or go online.