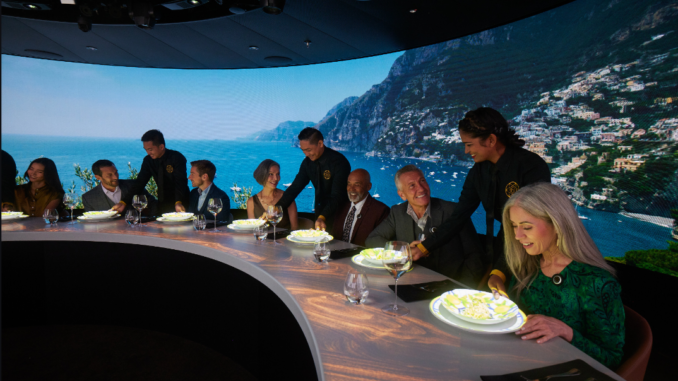 Taking a cruise has always been the one vacation that offers so many experiences onboard and to the ports the ship takes you, any other vacation will be hard-pressed to give you such a long list of memories. Princess Cruises is always at the forefront of creating those experiences for their guests and they just introduced a dining experience like no other with their "360: An Extraordinary Experience" that aims to transport guests to the Mediterranean, regardless of your actual sailing destination. This immersive experience brings the dining experience to all your senses far beyond just taste and will have you on the edge of your seat with childlike anticipation throughout your meal.
The 360 experience is unique to guests booked in suite accommodations on Discovery Princess as well as Enchanted Princess. The dining experience goes far beyond the tastes of Greece, Italy, Spain, and France, the food is simply flawless, but what makes this truly unique is that sensory overload to everything beyond taste is what you will remember far beyond the food. Everything is brought together by the storytelling of Brooke Shields and locals from every region as you are surrounded by walls that display 4K cinematography. The beauty of each region is brought to life and even if you have a chance to visit some of these places in person, a lot of the places that you get an up-close-and-personal view of you might never get to see.
The food is without question meant to give you a taste of what each region is about, but you are also introduced to people who will share what the ingredients and food means to them and their community. In Greece you are taken through the fields were olives are grown and they you get to see how olive oil is made and the many ways it is used and finally you get a tasting of olives and olive oil to start things off. While Brooke and the locals take you through the each region, you are also in the expert hands of Princess Cruises and in this instance Rafal shared insight into the food as well as wine and so much more. He also takes you through a tasting of an incredible wine that is aged at the bottom of the sea and the flavors are brought to life from the rocking of the waves.
As you are seated you will find no seasoning and as you are told, the food is seasoned and cooked to exactly how to best enjoy it as if you were eating in the homeland of each course. You will get to taste fresh buffalo mozzarella, octopus, a filet with truffle, and an artistic dessert that is created around fresh honey. With each course their are hidden gems that appear that you have to always be watching for. The plates themselves are magical. As you are served a authentic lemon pasta dish, you get a plate of dancing lemons. The word whimsical was meant for this and you are always go to be surprised and the small on your face will never leave.
If you are that person that is always looking for that next one unique evening that you will remember with fond memories and one that you can't wait to share with friends, 360: An Extraordinary Experience is just that. As adults our definition of fun changes and that childlike newness has long left us, this is one night that will bring you back to pure joy, wanting more and hoping this is a meal that never ends.
For more information about Princess Cruises and the 360: An Extraordinary Experience, you can contact call 1-800-PRINCESS (1-800-774-6237), or visit: Princess Cruises.