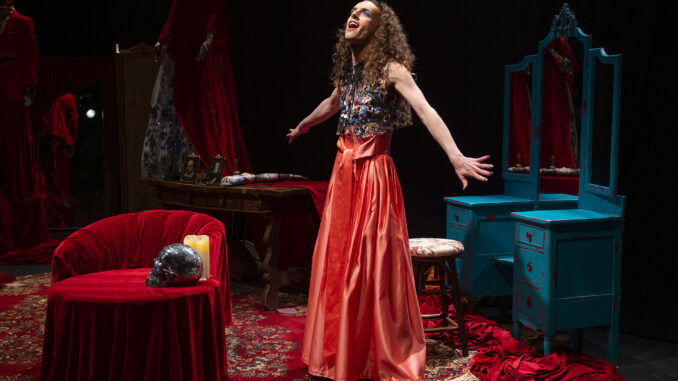 Shakespeare's legacy has never been the most heterosexual. This largely went over my head in my early studies of the Bard's work, but by the time I made it to an undergraduate theatre major, it occurred to me that love sonnets addressed to men, characters constantly in some state of cross-dressing, and intimate same-sex relationships that felt far richer than the heterosexual romances of the plays weren't exactly the trappings of a straight, cisgender playwright.
So, I was immediately drawn to Gender Play, or What You Will, co-created by Will Wilhelm and Erin Murray and currently receiving its world premiere with About Face Theatre. The premise here is that our main and only character, who shares the name Will with the famous playwright, has summoned the Bard and wishes to share with us what they learned from the encounter. Throughout the show, personal reflections and textual analysis of Shakespeare's work is interwoven with the stories of his characters, told both in contemporary prose and in his original words. And all of it is delightfully, unapologetically queer.
Will Wilhelm is a charming host. Flitting gracefully between the heartfelt and the lighthearted, they never lose sight of either the show's sense of fun or its importance. Their abundant charisma as they welcome the audience into the intimate world of the play makes it easy to embrace the show's premise and to happily accept the invitation to come along for the ride. Remarkably, Wilhelm demonstrates both an ease with contemporary slang (like "sickening") and a mastery of Shakespeare that allows for a fresh, fascinating take on even the most well-trodden of his work (like the "to be or not to be" speech).
The entire play takes place in a black box theatre dressed up with a few mannequins and pieces of furniture draped in red velvet, which are revealed as relevant throughout the course of the story. This simple yet effective set design by Steven Abbott perfectly suits the nature of the play. Prop details courtesy of props designer Lonnae Hickman add a wonderful touch of sparkle to the production; my personal favorite is the bedazzled water bottle from which Will drinks periodically. And I would be remiss not to mention Will's gorgeous costume, designed by Uriel Gomez; the embroidered crop top and flowy pink bottoms Will wears draw the eye while straddling the lines between neat categories like pants and skirt, just as our protagonist refuses to accept binary definitions of Shakespeare or themself.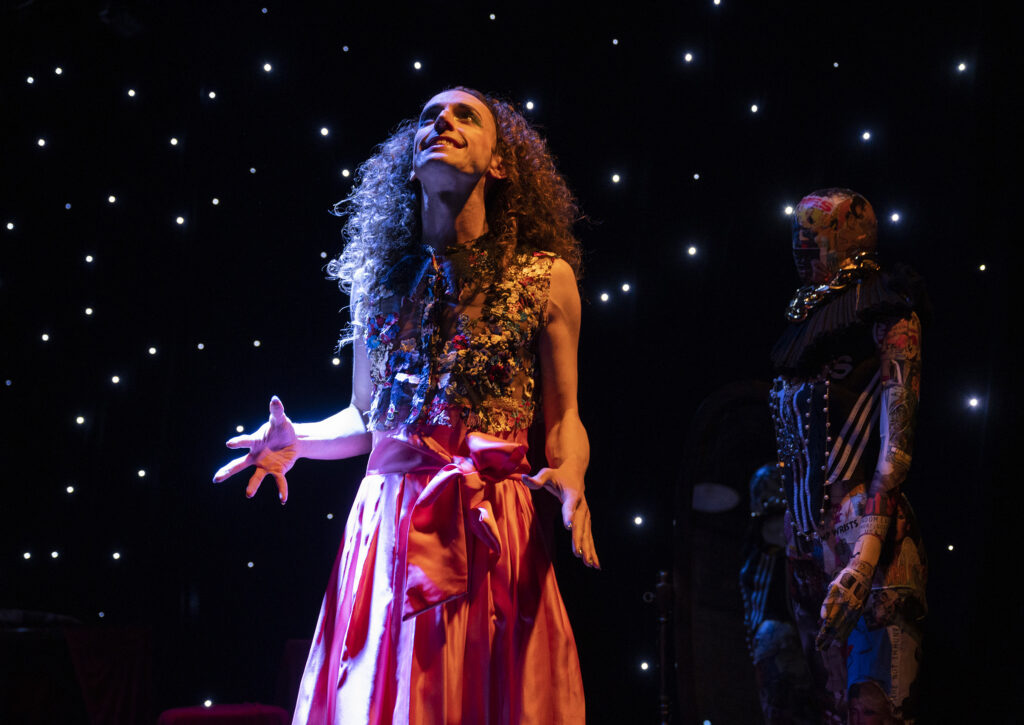 It's not an easy task to recontextualize a set of plays and poems that have been infinitely recontextualized over the course of more than four hundred years, but though tarot, dance parties, and above all, queerness, Wilhelm and Murray have managed to do just that. Whether you're a Shakespeare devotee like me or would normally pass on his work, do yourself a favor and come see this show. It's something truly special.
Ticket Information
Location: The Den Theatre, 1331 N Milwaukee Ave, Chicago
Performance Run: Saturday, May 13 – Saturday, June 3
Thursdays & Fridays 8:00pm, Saturdays 3:00pm* and 8:00pm, and Sundays at 3:00pm
*No matinee on Saturday, May 27
Industry Night: Monday, May 22 at 8:00pm
Tickets: On sale now online at the About Face Theatre website, by calling 773.697.3830, or in-person at The Den Theatre box office. Ticket prices range from $5 to $35.
All photos by Michael Brosilow.