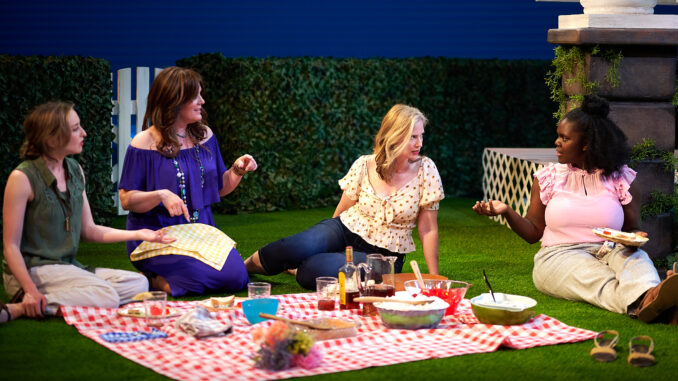 The Bridge Initiative brings Elaine Romero's "Like Heaven" to the Estrella Mountain Community College (EMCC) Performing Arts Center. EMCC is a new venue for us, and we're pleasantly surprised by it. The stage is modest, yet far from black box. Cleverly designed production pieces expand the space visually. The audience seating is intimate, yet quite comfortable. Seating capacity is 297. It's more of an auditorium than a full theater. Venues of this nature, when done right, provide marvelous acoustics without intrusive body mics. EMCC's Performing Arts Center does not disappoint. To cap it off, a quality surround sound system places the music and sound effects exactly where they are needed.
On to the production.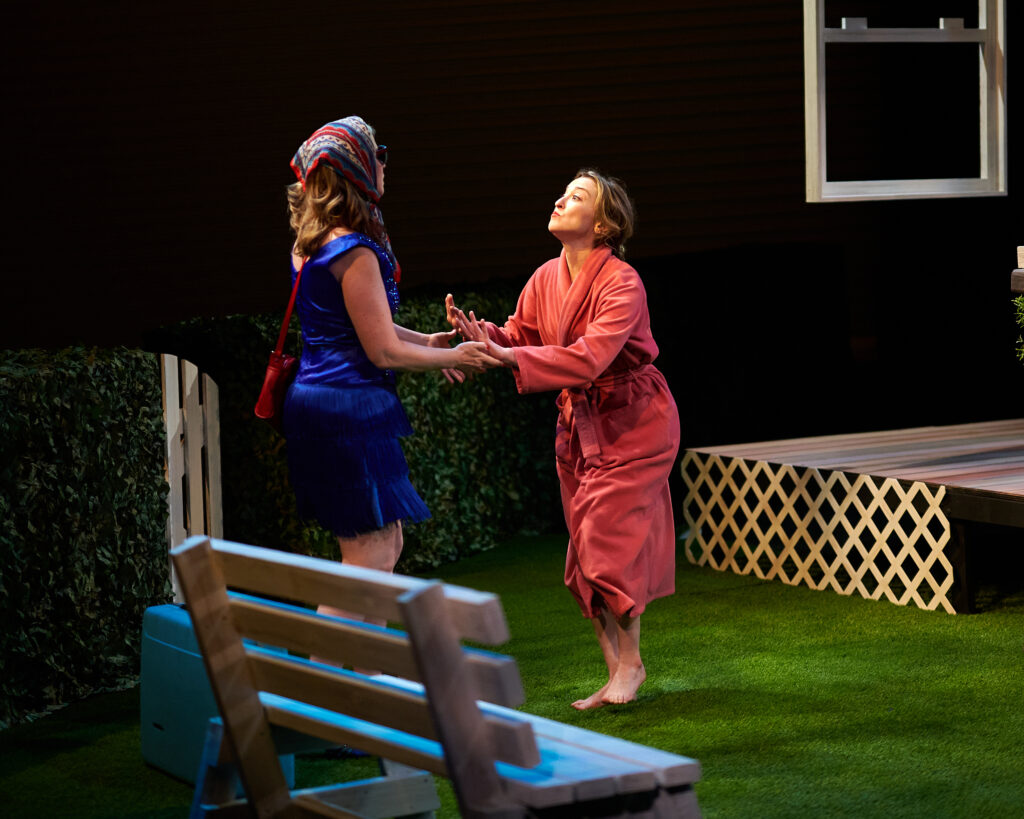 "Like Heaven" is a comedy in two acts. It's set in a small mid-Western town, the nature of which would invite anyone with a modicum of ambition to flee. So it is with April (played by Brenda Jean Foley), whose journey to Hollywood is cut short at her own front porch by her well-meaning and protective younger sister Callie (played by Natalie Andrews). At Callie's insistence, April agrees to stay just a bit longer to see if things at home work might themselves out, the most challenging of those things being her relationship with her philandering husband.
Complicating matters are the two other individuals that round out the cast: Trudy (played by Shonda Royall) can only see things through the moral lens of the Holy Bible. Conversely, Sapphire (played by Maren Maclean) contributes the perspective of a footloose and fancy free liberated woman. Trudy and Sapphire are the angel and devil perched on April's shoulders, whispering opposing advice into opposite ears.
Brenda Foley and Natalie Andrews mesh well playing sisters whose resemblance sort of ends at the blonde hair. April is the talented and worldly one who marches forward into the unknown with wild abandon. Callie is the sheltered and wary one who measures her every move. Still, there doesn't seem to be much conflict between them, which may be a rarity between sisters. This would be bothersome except that there's more than enough friction generated by the likes of Trudy and Sapphire.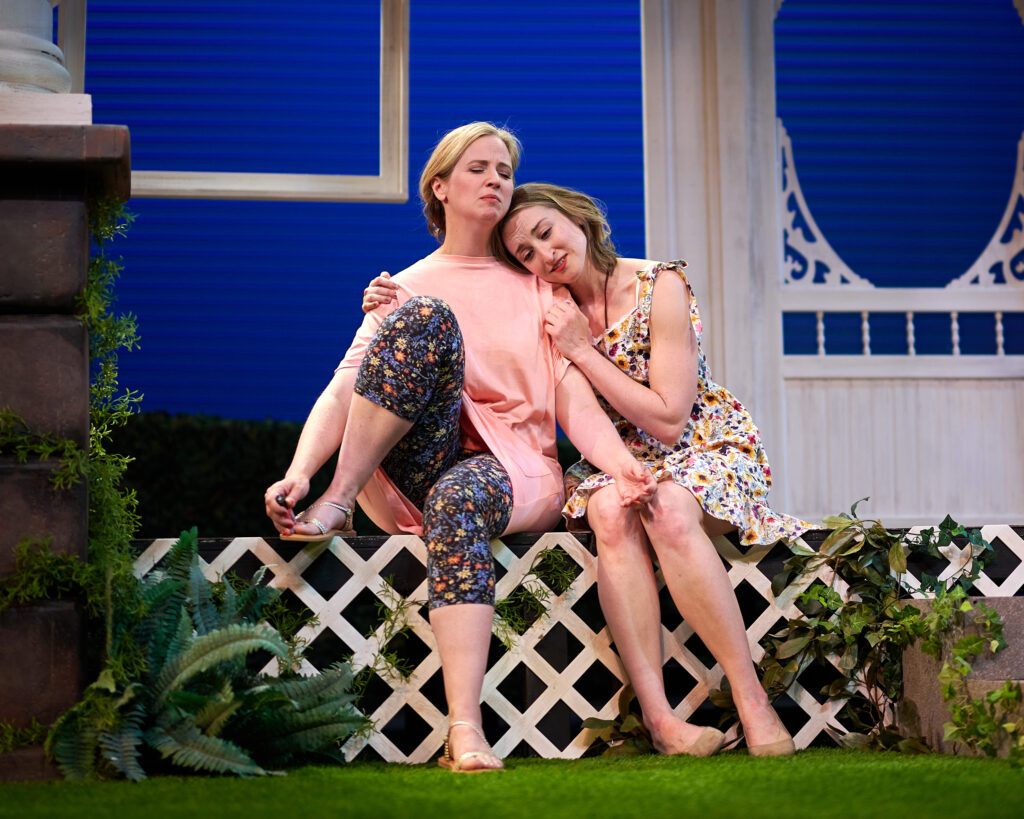 Shonda Royall's Trudy is a lovable Christian disciple. She manages to not be heavy-handed, using her faith more as an example to follow, rather than a divine edict. Maren Maclean's Sapphire is, of course, at the opposite end of the spectrum. She's an irreverent atheist with a thirst for adventure. Together and separately, Royall and Maclean provide much comedy relief in this tug of war that pits the proper against the practical.
LIKE HEAVEN is the product of playwright Elaine Romero. Romero has an extensive body of work for which she should be proud. LIKE HEAVEN has its challenges in the telling of a story that has more drama than comedy simply based on the play's dramatic subtext. So the comedic episodes, while quite effective in the moment, cannot suppress the undertones of personal failures, infidelity, and deception. But its overriding theme of the love between two sisters in a small town does provide satisfying bookends to a series of silly vignettes that are definitely entertaining to watch. I would recommend LIKE HEAVEN simply for the honest and energetic performances of its four performers, Brenda Jean Foley, Natalie Andrews, Shonda Royall, and Maren Maclean.
LIKE HEAVEN is brought to EMCC by The Bridge Initiative.The Bridge Initiative is a women-led artistic collective. Their purpose is to use theatre and media to build bridges in the Arizona community. Their board is led by Brenda Foley and Natalie Andrews, the two principals of this production. We look forward to more productions by The Bridge Initiative, especially featuring these very talented actors.