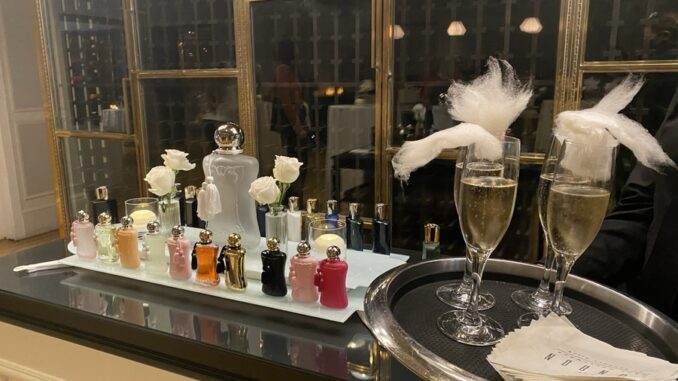 Parfums de Marly in partnership with Nordstrom and in honor of Mother's Day showcased 36 of their decadent fragrances and welcomed guests to the "Colors of Emotion" soiree at the elegant London Hotel in West Hollywood.
The Haute Perfumery Maison, Parfums de Marly is a unique, refined perfumery that honors both the classic and contemporary composition of ingredients in its perfumes. The founder and Creative Director, Julien Sprecher's passion for the olfactory is inspired by both the past and the present so that each fragrance embodies both the 18th century era of splendor and lavish extravagance with a modern or contemporary vision.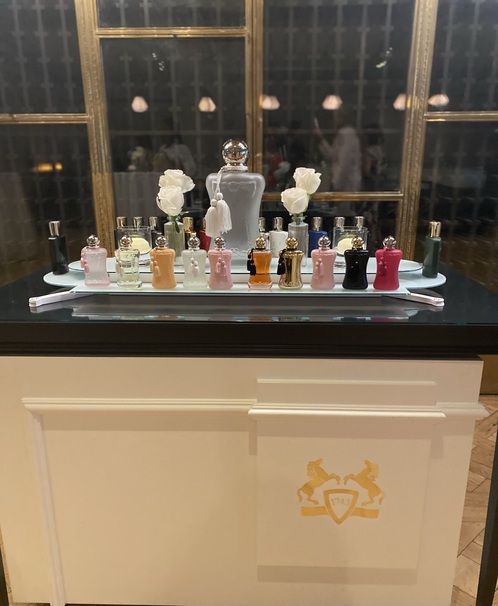 The Marly story is one of Julien Sprecher reviving the splendor of Château de Marly which was a place dedicated to pleasure and celebration during the 18th century. King Louis the XV spent most of his reign at the Château de Versailles but Château de Marly was where he went to have fun. It was a pleasure palace where his small entourage would engage in extravagant celebrations. The court of the King was nicknamed the "perfumed court" because they were obsessed with fragrance and would douse their pouches, fans, gloves and fountains with perfumes. King Louis XV commissioned the Chevaux de Marly in 1743 and these majestic statues of horses and the flamboyance of the 18th century were the inspiration for Julien Sprecher's perfumer's soul and passion for perfumery.
President of the Americas, Yvan Jacqueline discussed in detail about how the variety of Parfums de Marly fragrances evoke different emotions in people such as confidence, sensuality, peace, vibrance and whatever emotions you want to feel at any particular time then Parfums de Marly offers perfumes that can color your spirit with different emotions. Yvan also discussed some of Parfums de Marly's latest new launches of perfume such as Valaya, Haltane, Delina and Layton.
Yvan Jacqueline has been the President of the Americas of luxury brand Parfums de Marly, working closely with Julian Sprecher for the past 11 years. Yvan has been integral to establishing Parfums de Marly as a leading luxury fragrance in the United States. Yvan has experience working extensively with retailers and department stores in Europe, Middle East and Eastern Europe and travels all over the globe. According to Yvan, "Perfume also represents freedom – the freedom to highlight any part of your personality and become the person you truly are or the person you want to be. You can wear perfume as a statement to feel confident, as a vector of seduction, or simply to feel at peace with yourself."
Exquisitely designed bottles and in an array of different colors were displayed at the London Hotel soiree along with decorations of beautiful bouquets of roses. Parfums de Marly has an opulent and decadent collection of the most divine, unique and sumptuous scents that have high quality ingredients, are classy and definitely posh! The beautiful Parfums de Marly collection include 37 perfumes – 10 for women and 17 for men.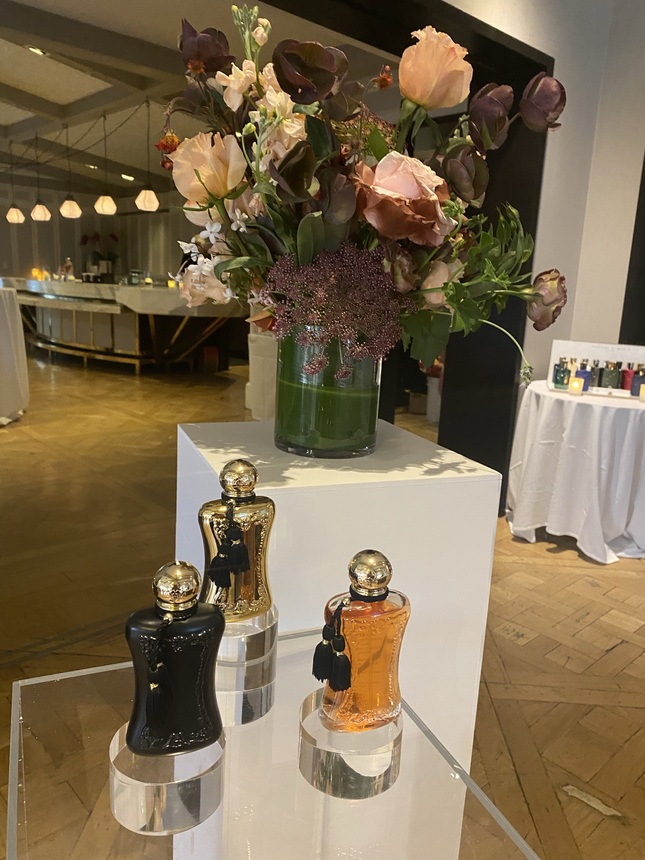 The 17 men's perfumes include Haltane, Layton, Percival, Pegasus, Herod, Greenley, Sedley, Layton Exclusif, Galloway, Pegasus Exclusif, Kalan, Carlisle, Godolphin, Oajan, Darley, Habdan, Shagya, Althaïr and Bverley. My favorites were Haltane and Pegasus.
Pegasus has top notes of cypress, bergamot and heliotrope. The heart notes are jasmine, lavender and bitter almond. The base notes are vanilla, amber and sandalwood.
The Haltane top notes are bergamot, lavender and clary sage. The heart notes are saffron, cedarwood, praline and oud wood. The base notes are patchouli, vetiver, musk, leather and natural agarwood.
Herod also had an interesting and very unique scent. The top notes are cinnamon and pepper. The heart notes are tobacco leaf, incense, ciste and osmanthus. The base notes are vanilla pod, musk, woody accord and patchouli.
The 10 women's perfumes include Valaya, Oriana, Delina, Cassili, Delina Exclusif, Meliora, Athalia, Safanad, Darcy and Delina La Rosee. My Favorites were the Delina's, Darcy and Cassili.
The Delina top notes are rhubarb, lychee and bergamot essence. The heart notes are Turkish rose, peony and vanilla. The base notes are casmeran, musk and vetiver.
The Darcy top notes are bergamot essence, orange and citrus. The heart notes are rose and jasmine. The base notes are patchouli, musk and praline.
The Cassili top notes are red current, Bulgarian rose and transparent white flowers. The heart notes are plum accord, mimosa absolut, plumeria and petalia. The base notes are sandalwood, tonka beans and vanilla pod.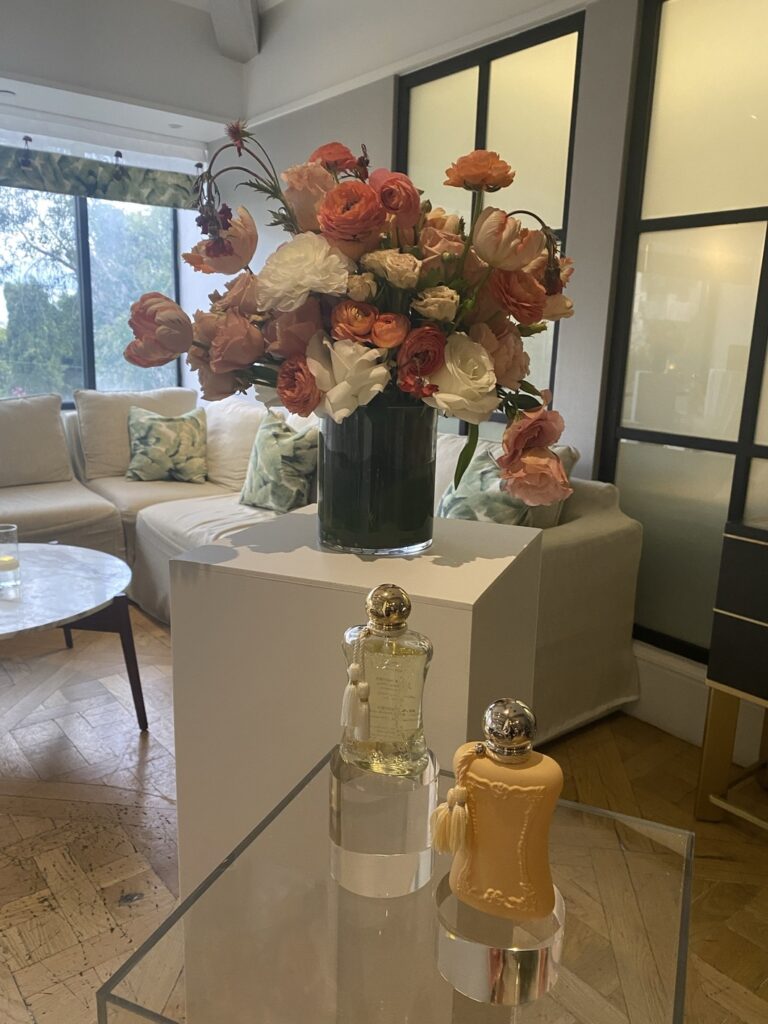 Parfums de Marly's unisex fragrances are Herod, Pegasus, Carlisle, Greenley, Kalan, Oajan, Althaïr and Haltane.
The latest launches are Valaya, Althaïr and Haltane.
Parfums de Marly Valaya ($355) was launched in January 2023. The inspiration to Valaya dates back to the 18th century when cotton at that time was an innovative fabric. This perfume is fresh, sensual, delicate and feminine.
Top notes: Bergamot, Mandarin, White Peach
Heart notes: Orange Flower, Mahonial, Nympheal, Vetiver
Base notes: Akigalawood, Ambrofix, Vanilla
Parfums de Marly Althaïr ($350) was launched in August 2023. This seductive fragrance is warm and fresh, gourmand and light and is unisex. It has Bourbon vanilla, citrus, spices and noble woods.
Top Notes
Orange Blossom, Bergamot, Cinnamon
Heart Notes
Bourbon Vanilla, Elemi
Base Notes
Guaiacwood, Ambrox, Praline, Musk
Parfums de Marly Haltane ($410) was launched in May 2022. The Haltane fragrance evokes the wonders of nature and has lavender, clary sage, cedarwood, oud wood and agar wood. Patchouli, leather and musk add a sense of peace.
Tope Notes: Bergamot, Lavender, Clary Sage
Heart Notes: Saffron, Cedarwood, Praline, Oudwood
Base Notes: Patchouli, Vetiver, Musk, Leather, Natural Agarwood
Brand favorites are Delina and Layton.
Parfums de Marly Delina ($355) is a charming and modern floral bouquet with a fragrance that is sweet and sensual. It is dominated by floral notes of Turkish rose, lily of the valley and peony and blended with lychee, rhubarb, bergamot and nutmeg. The base has vanilla, whit musk, cashmeran, cedarwood and incense.
Top Notes: Rhubarb, Lychee, Bergamot Essence
Heart Notes: Turkish Rose, Peony, Vanilla
Base Notes: Cashmeran, Musk, Vetiver
Parfums de Marly Layton ($350) is a seductive, oriental fragrance with an intriguing note of caramelized coffee.
Top Notes: Apple, Bergamot, Lavender
Heart Notes: Jasmine, Violet, Geranium
Base Notes: Vanilla, Pepper, Guaiac Wood, Patchouli
It was a magical and opulent evening of aromatic perfumes, a red carpet backdrop, a D.J. playing music, an artist hand painting perfume bottles, bouquets of roses, a portrait artist, endless champagne, gold leaf macarons, delectable hors d'oeuvres of melon gazpacho soup, mushroom vol-au-vent, chicken satay, salmon rolls, coconut shrimp, crab cakes, beignets and guests got to take home gift bags of the Delina perfume, a beautifully scented Delina candle and roses.
https://us.parfums-de-marly.com
IG: @parfumsdemarly
LOCATIONS:
LONDON / NEW YORK / LOS ANGELES / MIAMI /HONG KONG
PHOTO CREDITS BY SANJINI BHAKTA