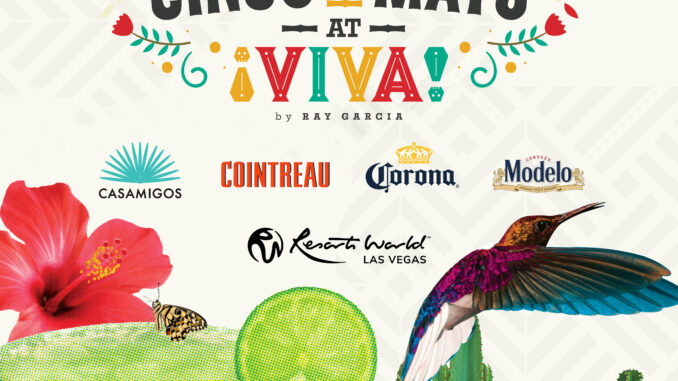 Cinco de Mayo has become a holiday that is celebrated as much in America as it is in Mexico. With so many people celebrating on May 5th, the ways to celebrate are seemingly endless. Splash Magazines Worldwide has put together a list of cocktails as well as venues that will help you celebrate Cinco de Mayo in 2023.
Margaritas are America's favorite cocktail for a reason. They're delicious to sip but can be a hassle to make, especially for a crowd. Bright Cellars, the wine club for real people, is changing the game with its new line of "Day & Night" bottled margaritas. No juicing, measuring or shaking required.
Day & Night Classic Lime Margarita
Tastes: Sweet-tart, tangy and refreshing with notes of lime zest, guava, pear and sea salt
Suggested Pairings: Firecracker Chicken, Burritos or Fish Tacos
Day & Night Fresh Strawberry Margarita
Tastes: Sweet and silky with notes of pear, passionfruit and strawberry
Suggested Pairings: Curry, Chicken Mole or Empanadas
Day & Night Margaritas are available exclusively at Bright Cellars. Members can purchase them for $15.73 per bottle as an add-on to their subscription or in four, six or 12 bottle boxes. Non-members can purchase boxes with a single flavor or mixed flavors for $18.50 per bottle.
For more information on Bright Cellars and Day & Night Margaritas, visit www.brightcellars.com.
Resorts World
Venue Name: ¡VIVA!
Date Available: Friday, May 5
Reservations: HERE
Cinco De Mayo Cocktail Offerings:
In celebration of Cinco de Mayo, ¡Viva! Will host a party on its patio featuring:

Music from a mariachi band
DJ EstoVega from 7 p.m. to 11 p.m.
Food and cocktail specials
Station Casinos Bars
Date Available: Friday, May 5 and Saturday, May 6
Available at the following properties:
Green Valley Ranch Casino & Resort – Drop Bar
Red Rock Casino Resort & Spa – Lucky Bar
Cinco De Mayo Cocktail Offerings:
Spicy Manzana, made with Don Julio Blanco, apple, melon, lime, fire tincture and tajin basil salt
Paloma Fresca, made with Don Julio Reposado, aperol, strawberry, lime, fever tree grapefruit and citrus salt
Submarino, made with Don Julio 70th Anniversary and Modelo Especial
Fashion Show Las Vegas
Venue: El Segundo Sol
Cinco de Mayo Offerings:
Guests can ring in Cinco de Mayo by enjoying authentic Mexican cuisine from El Segundo Sol. The Mexican cantina offers a variety of staples including tacos, homemade tamales, enchiladas and carne asada. In addition to mouthwatering entrees, guests can wash it all down with handcrafted margaritas, cocktails, draft beers and more.
Embrace 'la vida loca' at Gold Spike this Cinco De Mayo weekend at Downtown Las Vegas' premier adult playground. Fiesta like there's no mañana when 'Down To Fiesta' returns to The Spike with drink specials, live entertainment, specials guests and more.
On Friday, May 5th beginning at 4 p.m., Gold Spike transforms into the ultimate Mexican fiesta, complete with vibrant decor, lively music and of course, plenty of tequila. Day long drink specials sure to get guests in the Cinco De Mayo spirit include $4 Modelo drafts and Pacifico cans, $11 AMFs, $6 Telson Blanco and $20 buckets of Corona.
'Salsa, margarita, repeat' all night long with live Mariachi music on The Backyard stage from 8 – 10 p.m. before DJs A-Ron and Presto One lay on the late-night Latin throughout the venue.
Gold Spike's events are 21+. For more information or to book a table visit www.goldspike.com.
One cerveza, two cerveza, three cerveza, more! Las Vegas' open-air marketplace and live entertainment venue, Downtown Container Park, goes loco with a Cinco De Mayo beer-filled fiesta!
On Friday, May 5th, from 3:30 p.m. to 12:30 a.m., Downtown Container Park invites revelers to live 'la vida loca' for a Cinco De Mayo-inspired beer festival! From 7 to 10 p.m., amigos y amigas can celebrate the holiday with $50 bottomless Micheladas, Teremana Tequila and Producer Mezcal margaritas and cervezas including Corona, Pacifico, and Modelo on The Lawn. The fun begins with Alfred Rasgado's solo Tejano and mariachi performance at 3:30 p.m. before Del Sol Academy Ballet Folklorico continues the day's events at 5:30 p.m. with a special performance. Live band, The Sonz, takes over the Container Park stage with their signature sound of Latin Rock followed by Vegas' own DJ Smoke to close out the night at 10:15 p.m. Around the park, attendees can indulge in and devour Latin flavors from Pinches Tacos and Mexican Pizza from Mob Pie.
Grab your booze buddies and drink-o for Cinco! Early bird tickets for Container Park's Beer Fiesta are on sale now online for $50. A limited quantity of tickets will be for sale at the door, pricing based on availability.
To purchase tickets to or for more information about Container Park's Beer Fiesta, please visit https://bit.ly/41rC2RK.
If you are looking to celebrate in Southern California, there are a number of great options to choose from:
Trejo's Tacos
There's no better way to celebrate Cinco de Mayo in Los Angeles than with Hollywood-legend, Danny Trejo himself. Head to Trejo's Tacos La Brea and Hollywood Cantina locations to meet and greet with Danny Trejo, and dive into a menu filled with Danny's favorites. Guests can expect flowing Agua Frescas and Margaritas, alongside various dishes including Beef Barbacoa Tacos, Chicken Tinga Tacos, Fried Chicken Burritos, Stacked Nachos, and much more! Additionally, for those looking to start the Cinco de Mayo celebration early, Trejo's Tacos is now offering Happy Hour at their La Brea, Santa Monica, and Hollywood Cantina. From 3pm-5pm daily, Trejo's Tacos is now offering $5 Taco Plates, $2 off all Beer, $10 Nachos, and most importantly, $8 House Margaritas!
Catch Danny at two of his Trejo's Tacos locations on Cinco de Mayo – exact times shared below:
Trejo's Tacos La Brea 4:00PM to 5:30PM
Trejo's Tacos Hollywood Cantina 6:00PM to 7:30PM
Sushi Roku & BOA Steakhouse Manhattan Beach
Sushi Roku and BOA Steakhouse's Manhattan Beach locations are joining in the Cinco de Mayo fiesta with their cultural-fusion cocktails. At BOA Steakhouse, try the Highland Cooler ($18) made with Don Julio Reposado Tequila, Chartreuse, yuzu, pineapple juice, egg white, and agave, garnished with a fragrant herbal bouquet. Sushi Roku is crafting a drink with a kick – the Muerte Por Wasabi ($18) packs a punch with Don Julio Reposado Tequila, lime juice, Liquid Alchemist Blood Orange syrup, Triple Sec, yuzu juice, and egg white complemented with a wasabi salt rim. Both of these uniquely flavored cocktails will be available for purchase at Manhattan Beach locations from May 5th to May 11th.
Gracias Madre West Hollywood
Angelenos are invited to celebrate Cinco de Mayo this year at Gracias Madre's Pop-Up Margarita Garden from 3:00pm – 9:00pm! It will be a festive-filled day with margaritas, plant-based bites, live mariachi band performances, beats by DJ Vick Jagger, raffle prizes, photo opportunities and more – all in Gracias Madre's vibrant, festive outdoor Margarita Garden. Sip spirit-free cocktails by CUT ABOVE and refreshing cocktails at Gracias Madre's pop-up Margarita and Mezcal bars hosted by Herradura, La Tierra De Acre, and Mezcal Mal Bien.
The lively Pop-Up Margarita Garden will also include $7 bites for purchase including Executive Chef Diana Briscoe's Jackfruit and Asada Tacos, Nachos, and Esquites. Tickets are $30 each and can be purchased via Eventbrite.
Cinco de Mayo at the Rose Bowl
Saturday, May 6th, 2023 | Event Begins at 12:00PM
The 2nd annual Cinco de Mayo at the Rose Bowl is set to take place on Saturday, May 6th. The free family friendly event will be an opportunity for the community to come together and enjoy Pasadena's rich Latino culture and traditions through music, sports, art, and film.
Timeline:
12:00 PM – Doors Open
12:00 PM – 5:00 PM – Marketplace in Court of Champions
12:00 PM – 6:00 PM – Youth Soccer Tournament
2:00 PM – Movie Showing: Coco
2:00 PM – 4:00 PM – Stair Climb Challenge with Stadium Fitness
4:30 PM – Movie Showing: Selena
6:30 PM – Soccer Awards Presentation
7:00 PM – Movie Showing: Encanto
8:30 PM – Conclusion of Event
The multi-faceted event will include opportunities for families to participate in fitness and exercise with a new "Rose Bowl Stair Climb" challenge, live music, a youth soccer tournament, a marketplace, and movie showings of Disney's® Coco and Disney's® Encanto on the videoboard with the perfect backdrop of the San Gabriel Mountains that can be seen from the iconic Rose Bowl field. 
If you're looking for other ways to celebrate Cinco de Mayo, there are many options. Here are a few ideas:
Make Mexican cuisine: Cinco de Mayo is an excellent opportunity to enjoy some delicious Mexican food. You could make your own guacamole, salsa, or tacos, or try your hand at a more complex dish like mole or chiles en nogada.
Have a tequila tasting: Tequila is a popular Mexican spirit that is often associated with Cinco de Mayo. You could gather some friends and try different types of tequila, or experiment with making margaritas or other cocktails.
Attend a local event: Many cities and towns hold Cinco de Mayo celebrations, such as parades, festivals, or cultural events. Check your local events calendar to see if there's something happening near you.
Learn about Mexican culture: Take the opportunity to learn more about Mexican culture and history. You could read a book about Mexican history or culture, watch a Mexican film or documentary, or visit a museum with exhibits on Mexican art or history.
Support Mexican-owned businesses: Cinco de Mayo is a great time to support Mexican-owned businesses, such as restaurants, food trucks, or shops selling Mexican goods.
Remember to celebrate Cinco de Mayo responsibly and respectfully, and enjoy the festivities!