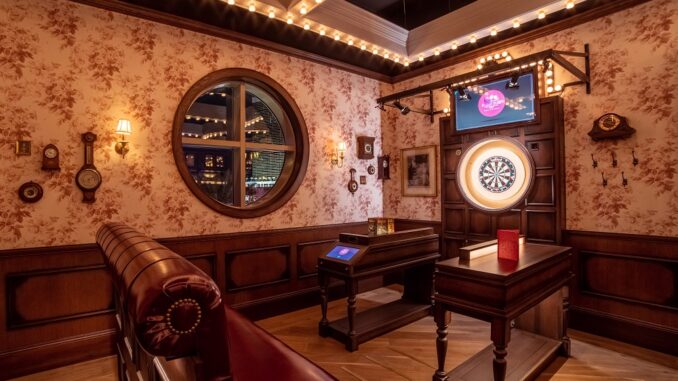 Just when you thought Las Vegas had it all, a new game has appeared. Well you could say an old game with a new and fun twist. That is what Flight Club, located inside the Grand Canal Shoppes at The Venetian Resort, is bringing to you.
Las Vegas is all about experiences and sharing those experiences. Flight Club can bring any size group together for some "social darts" and they have created a darts experience that anyone can enjoy. Flight Club takes you beyond the typical bar darts by adding a technological touch to this classic game. Flight Club added digital scoring systems, and interactive screens to go along with a wide variety of games that allow you to make your experience all yours. Everything is at your fingertips, you choose the game, a number of players, the system will even steer you in the right direction based on your skill level and then it tells you how to play each game.
The setting and playing darts with friends is fun anytime in Las Vegas, but if you are visiting for a convention or a large group setting Flight Club incorporates unique multiplayer games that while bringing out the competitive nature of everyone, also gives you a sense of friendly competition and camaraderie. If you are looking for a change of pace, Flight Club can take care of groups of up to 600 people with their 16,000 square foot space. Even for smaller groups, Flight Club is great because they have several rooms throughout the property and there are plenty of dartboards to keep everyone entertained.
Flight Club has an almost magical, historical feel with the classic and stylish surroundings throughout, highlighted by the life-sized carousel bar that is about as iconic and beautiful as anything you will see in Las Vegas. You might have to pick your jaw up as you are walking around and taking it all in and Flight Club makes sure your experience is truly Las Vegas with an incredible staff and of course, and yet there is more. Family, friends, and whoever you are with will love the replays of the epic dart throws to win or lose a match, allowing you to relive the best moments of the day or night moments after they happen.
Flight Club makes sure the carousel bar is not just a pretty afterthought, they produce some incredible handcrafted cocktails and feature and a great selection of beers on tap including several local breweries. Once you see the venue, you will conclude that they must serve food to match the breathtaking backdrop and that they do. You could begin and end with just the shareable menu. The mini beef barbacoa tacos and loaded with flavor and the meat is fall apart tender. The selections are very wide-ranging, from Kung Pao cauliflower to Thai spiced pork tenderloin satay and oysters on the half-shell just to name a few.
Flight Club recently made some new additions to their Oche Menu, including:
Mini Impossible Tacos made with Impossible Meat, pico de gallo, avocado, cheddar, sour cream and cilantro
Pork Lumpia made with ground pork, carrot, ginger, cilantro, tamari and spring roll wrapper
Blistered Shishito made with shishito peppers, garlic chips an shoyu aioli
Papas Bravas made with torn potatoes, smoked paprika, lemon garlic aioli, sea salt and parsley
Lamb Souvlaki made with souvlaki marinade, tzatziki, cucumber salad and dill
Hot Honey Chicken Sliders made with fried chicken, hot honey mayonnaise, sweet cucumber pickles and brioche buns
Vegan Mushroom Flatbread made with truffle oil, vegan cheese, assorted mushrooms, crispy fried onions and parsley
Buffalo Chicken Flatbread made with buffalo sauce, crispy chicken, mozzarella and provolone, garlic ranch, celery and carrots
In addition to the new flavorful bites on the Oche Menu, Flight Club offers a sophisticated and expertly-crafted cocktail program filled with tasty botanical libations. Just in time for spring, the destination has added three new cocktails to their Signature Cocktail Menu that are sure to please every guest's taste buds. New signature cocktails include:
The Sea Turtle made with botanical: cucumber, tequila, ginger and salt
The Jaguar made with espresso, vodka, rum, amaro, coffee liqueur and almond
The Vicuña made with mango, pisco, clove, lime and egg white
Whether you're a seasoned dart enthusiast or a curious novice, Flight Club promises an unforgettable experience that will make you an instant fan of darts. The game of darts will hook you, but it is the all-encompassing experience that Flight Club offers that will keep you coming back every return visit to Las Vegas.
For more information, visit: Flight Club Las Vegas