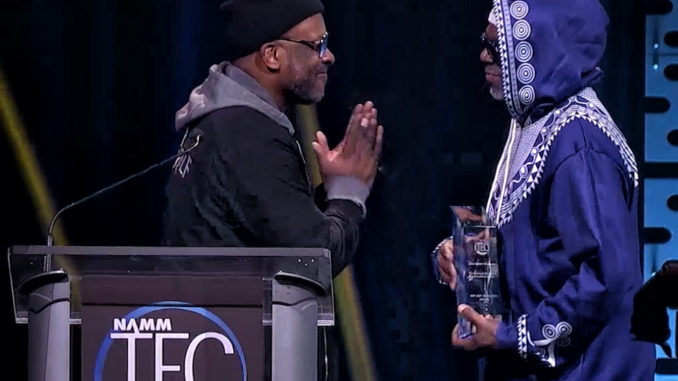 It was humanity not technology that took center stage at The 2023 NAMM Awards. Whether it was Public Enemy's bassist Brian Hardgroove presenting the first ever Impact Music & Culture Award to CHUCK D , Grand Mixer DXT receiving The Hip Hop Innovator Award or Brandi Carlile talking about witnessing and becoming a part of Joni Mitchell's return to the big stage after her stroke. Finally, one tech innovation that I found most significant, was by Lung Trainers, whose device has not only helped singer Luis Fonsi and trumpeter Arturo Sandoval breathe more effectively but has served to rehabilitate many others including Covid victims and Vets.
Hosted by Veteran producer Larry Batiste, NAMM was celebrating Hip Hop At 50 at the TEC Experience Theater; providing an insight into and a history of the Hip Hop's creators that was illuminating for hardcore fans and neophytes alike.
In his introduction Larry provided a historical perspective that he gained from his association with Quincy Jones, "Even though we don't think of Quincy as part of the Hip Hop world. For Quincy, it was simple, Hip Hop started the same way as Bebop," Q said. Both art forms are, and I quote, "young, black, urban males with a lot of energy expressing the conditions of their life. They see the power of music as a tool to reach the hearts and minds of millions of people. There is, as Quincy points out, "a special responsibility to sing a melody without poverty, to end the suffering caused by extreme poverty." Larry continued, "Hip hop was a niche being embraced and unapologetically nurtured in the ghetto. MTV was three years old, but they had yet to play a single Hip Hop video. Now here in 2023, Hip Hop is more than mainstream. It is the mainstream."
Brian Hargroove, who had helped create and name the Impact Music & Culture Award award said when he was young he wanted to be a police officer. "When I saw Earth, Wind and Fire having been bussed into a sort of hostile environment surrounded by people that would've, outside that arena, been possible enemies. Watching them perform with all of these beautiful people around me made me realize the power of the discipline of music and the messages. And I realized that being a police officer, I would be too late to help anyone. I'd be dealing with someone after they'd been victimized or after they have victimized someone."
While on tour with Public Enemy an Australian reporter asked Chuck D and Brian how they felt about Barack Obama being elected. Brian's answer was, " I think Public Enemy had something to do with Barack Obama being elected. The message of the band came at a time that helped a lot of young non-black people in America realize that black men are not something to be afraid of. A song like Fight the Power was about fighting the power of injustice, which everybody suffers from. It softened the soil for people to vote for a black man that they're not so afraid of."
After Chuck D who earned a B.A and honorary doctorate from Adelphi University, was presented with the award he explained, " I don't really accept anybody that says it's about me. I think my whole career… It's been because of a we, not a me. We just turned the M upside down."
During the speech Chuck D railed against the less talk more music stations that don't even announce the recording artist of the selections they are playing, or give background on the artist. "You pay homage to the musicians, to the artists, to the name of the record, that's where we come from as DJ culture to be able to explain to the world the beauty and the gift of music. But I also will truth to power over BS. My parents were from 150th Street in the forties and the fifties, so they had to be 150% solid. Music spoke to us and it set us free, and that's.. what we always thought."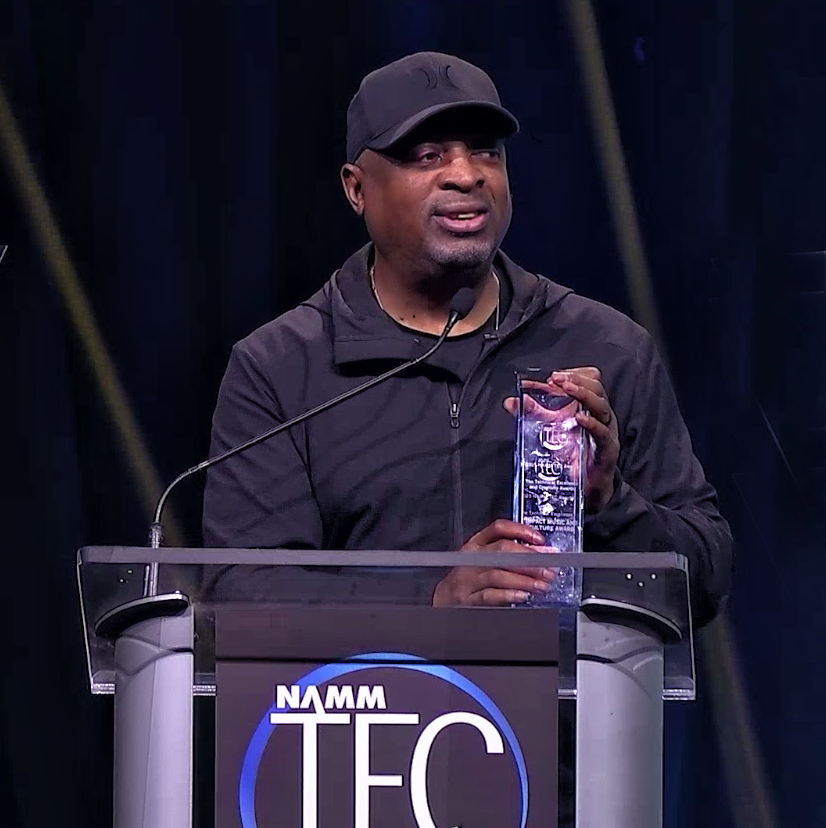 Chuck holding up the crystal award trophy, "No, we all could share this. If I could break this in a million pieces, I'll give it to each and every one of y'all out there."
The DJ Jazzy Jeff introduced Grand Mixer DXT. DXT then shared a story called The Three Angels, a moment where he could have lost his life but instead, gained an insight that propelled his career to new heights.
"Once upon a time in a Housing Projects in New York City, a long time ago, I was on my way to a party to acknowledge the younger DJs who were in there doing their thing. And I was already a street celebrity deejaying in Mount Vernon, New York and these places in the Bronx. I said, I'm gonna go and tell these DJs have a good show, do your thing. I never made it inside. I got to the building and the first angel approached me and he had on a ski mask. So I thought I knew him, but I looked in his eyes and didn't recognize him but the gun looked familiar."
"That's, that's the way it is in the, in the hood. By the time I reacted, I felt another gun in my side. They started walking me around to the side of the building and I said, I think I'm getting stuck up. And then another guy met me, so it's three guys going through my pockets, taking everything I have. My big DST, snatched it off my ring my mother bought me. I'm actually getting robbed, next to the precinct and all the cop cars are lined up right around here. And so I went home. I was devastated. Here I am, a celebrity in my neighborhood and these guys are from my neighborhood."
"I get a call, Dee, we gotta record Rockit (the hit with Herbie Hancock). We we're doing the session and I was so upset that I did that solo in one (take). Years later when the record blew up and I'm flying around the world and I'm doing all this stuff. I'm sitting on the tour bus and I'm going, "Angel, I'm here because of an angel." Angel went to prison for that. He gave himself up because I had an older brother who scared people, and two of them dispersed and Angel, one guy surrendered and went to prison. I don't know about the third guy." "The record's success was based on these guys who told me without telling me in words that you don't need jewelry, you don't need gold, and all of this stuff to be who you are. And so to these angels, I thank them. Because I wouldn't be standing here if it wasn't for the Three Angels, end of story."
The technical innovations which ran from ingenuity of repurposing two turntables, Roland's Epic TR 808 drum machine to digital samplers like the SP1200, was artfully outlined in producer Mike Reim's video at NAMM TEC awards. It was clear that these musical landmarks in Hip Hop like using two turntables to extend a musical solo or phrase, were a little like reinventing the wheel. Perhaps the most widely used drum solo in all of hip hop was drummer Clyde Stubblefield's solo on James Brown's Funky Drummer. Rolling Stone claimed this break to be sampled in over 1,000 songs. Clyde was also the drummer you hear on James Brown's Cold Sweat. Clyde's solo on Funky Drummer was repurposed by among others Public Enemy, LL Cool J and Run DMC. What many may not be aware of it was also used in Madonna's Justify My Love and George Michael's Freedom 90. The Roland TR 808 was a commercial failure (1980 you can still buy them online) but was adopted by over newer digital models because of it's analog open source sounds with the ability to build upon patterns others had created. Perhaps the most famous track that used the TR 808 was Marvin Gay's Sexual Healing. Mike Reim's presentation below lays it all out. A visual history lesson like no other.
Brandi Carlile Grammy Award-winning singer, producer and best selling author, described the series of events that led to her friendship and to her epic jam with Joni Mitchell. "I met her at her 75th birthday party, one thing led to another, she met my wife, they hit it off, became friends, and I was allowed to come to a dinner that they had. I was like really beside myself and it was right after the 2019 Grammys, where I felt like one of the greatest moments in my entire life. The very next night at the dinner with Joni Mitchell, she said to me, "I don't do music anymore. And she goes, and before you get weird or sad about it, it's not sad. I'm a painter. I choose to paint." She was just kind of really dignified about it; she was choosing not to do music, you know, after this aneurysm had taken everything from her. She was slowly getting these fine and basic skills back. The woman works out every day. All she does is physical therapy, swimming, walking, singing, and working to get her body to listen to her again. And she goes, "But what is sad about it is that I have this room in my house with all these instruments and the room just really wants music; it's a space that just is made for music. So maybe we could have jams."
"And her best friend Marcy was like, "yeah, we need to do this jam thing. And she looked me in the eye and said, are you in?" And I was like, watch me dance! YES, I am in! So two weeks later I pulled a few people together and we went over to Joni's house and it was as if we had been called to the court. We were gonna sing for Joni and everybody's palms were sweating and everybody was stressed."
"And you know, she fed us and we were drinking wine. I played first. A song of mine called Cannonball, and then we started passing songs around and in walks Chaka Kahn and Herbie Hancock, Joni had invited without telling us and she's just sitting there in her chair smiling and cheeky. Herbie sits down at the piano and he just starts kind of fluttering over some notes in these abstract chords coming together and creating this beautiful web of overtones and we didn't really understand what it was, but Joni did."
And, for the first time since she hit that floor all those years ago with the aneurysm, she went into "Summertime and the living is easy" and everyone burst into tears. Herbie, Marcy, all the people that I had been with Joni since the aneurysm started crying that's the first time. Did she open her mouth? Wow. And I've been there every time she's done it since. And so I've watched that change, that growth. We've put together so many groups of people to surround Joni, sit on the floor, play guitars, learn her songs.
She sings her songs with us. She sings whatever she wants. It's been probably the great honor of my life to watch that recovery happen. It's unbelievable to watch someone age in reverse and age out of such a debilitating neurological event like that. Wow." Brandi Carlile also recently partnered with Tanya Tucker on her album While I'm Living and award winning film song Ready as I'll Never Be.