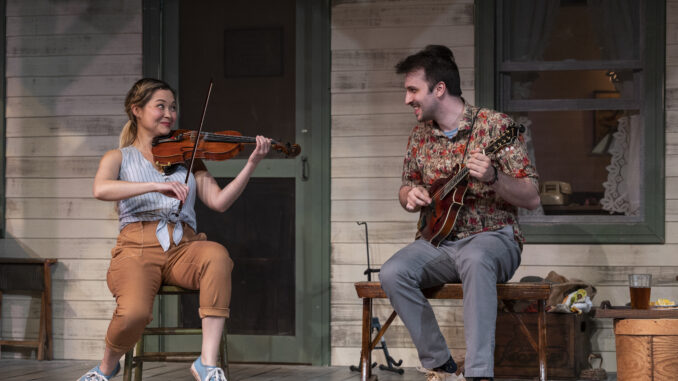 This homespun, heartfelt "porch" welcomes you to the Northlight Theatre, under the direction of Artistic Director BJ Jones and Executive Director Timothy J. Evans. It's billed as a new play with old music. Come the story, stay for the music!

When a young classical violinist and her folksong collector boyfriend want to escape from their Brooklyn apartment during COVID-19, they head to the mountains of North Carolina where there are open spaces and plenty of fresh air.

Their search leads biracial Mira back to her old family home, where she reconnects with an estranged grandfather she kept hidden. An unexpected combination of joy and discovery along with past pain and racism come together in this story of an Appalachian family's varied roots and the music that binds them over the generations.

One of the best parts is the foot-stomping, hand-clapping bluegrass music that's performed throughout the show. It is outstanding.

Audiences will find themselves enveloped in an American family's cultural and generational identification, estrangement and isolation with the hope of reunion, and music as the catalyst.

The play stars the trio of Lisa Helmi Johanson (Mira), David M. Lutken (Edgar), and Morgan Morse (Beckett; conceived and directed by Sherry Lutken. The three musicians are multi-talented, playing a variety of instruments, some familiar, others not. Outside the theatre are posters explaining the instruments.


As Mira, the highly-skilled Johanson conveys a sense of frustration as she relives the pain of her family's estrangement. The music runs through her veins. She is a joy to watch.

The creative team includes David Lutken (Music Director), Mara Zinky (Set Design), Gregory Graham (Costume Design), and Lindsey Lyddan (Lighting Design).
Kudos to set designer Mara Zinky for her downhome creation of the family porch where Mira shared so many memories growing up.

The music includes Old Time, Bluegrass and Country Blues fiddle, guitar, banjo and mountain dulcimer melodies from the deep south with instruments from all over the world. Songs include "Down In The Valley," "Green Corn," "Blackberry Blossom," "Sail Away Ladies," and more.

The show promises an entertaining, thought-provoking experience, now through May 14.

Northlight Theatre is located at the North Shore Center for the Performing Arts,
9501 Skokie Blvd, Skokie. For tickets, call 847.673.6300 or visit northlight.org