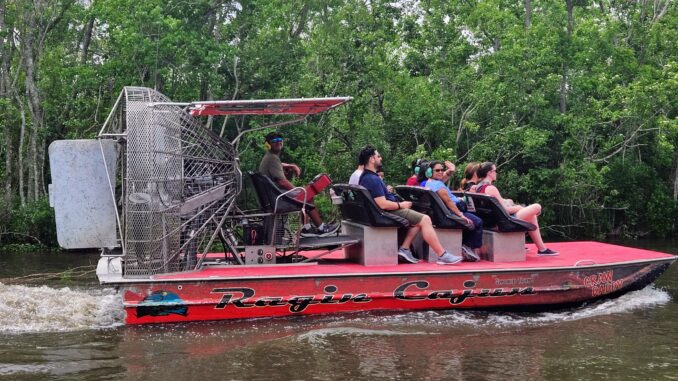 By Jennifer Lunz and Weston Gleffe
If you want a unique experience when traveling, then make sure not to skip the Small-Group Bayou Airboat Ride (with transport from New Orleans). Bring out your curious and adventurous side with a boat tour that will wow you! You will get a front row seat with a small-group airboat tour (up to nine people), while experiencing the iconic New Orleans swamplands led by a professional guide. Your guide will alternate between adrenaline-fueled high speeds and gentle cruising as your sail past amazing flora and fauna, capturing fantastic photographs of unusual birds, alligators and much more.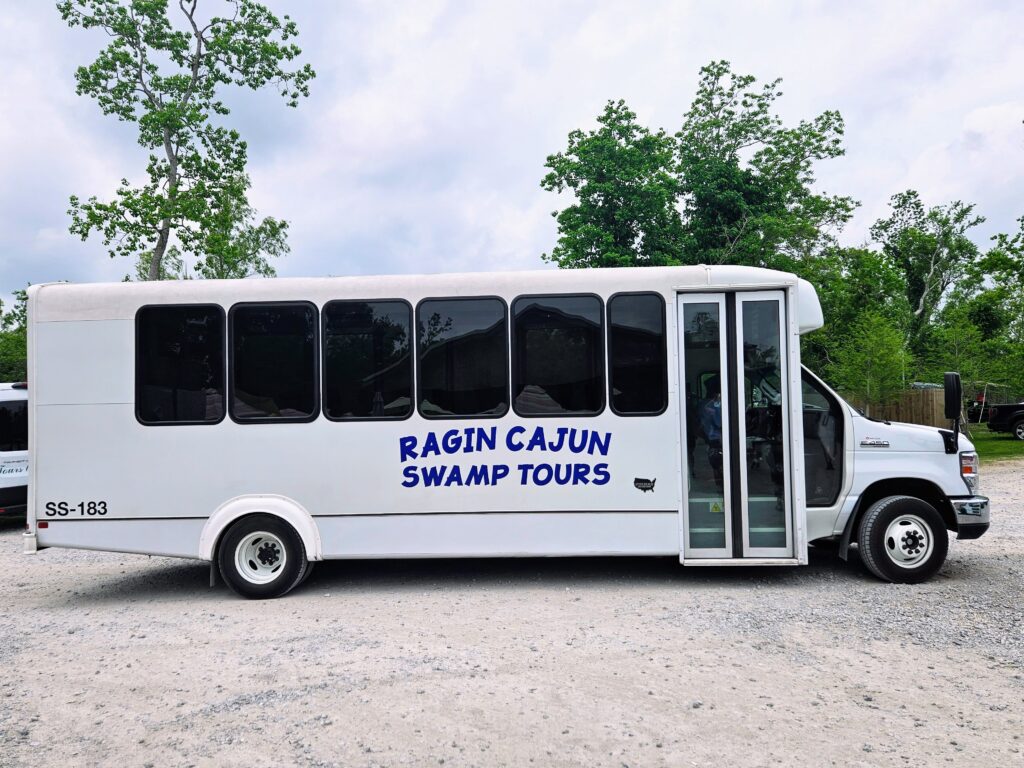 Our Rajin Cajun Swamp Tour Bus
My friend and I had the time of our lives when we went on the boat tour ourselves. It was one of the most interesting experiences I have ever had. When we purchased our tickets and made our reservations, we were given a choice of where we preferred to have the shuttle pick us up from. We found a spot at a hotel near our own hotel, which was very convenient. We booked the boat tour through viator.com. Cajun Encounters Tour Company was the business that hosted the boat tour.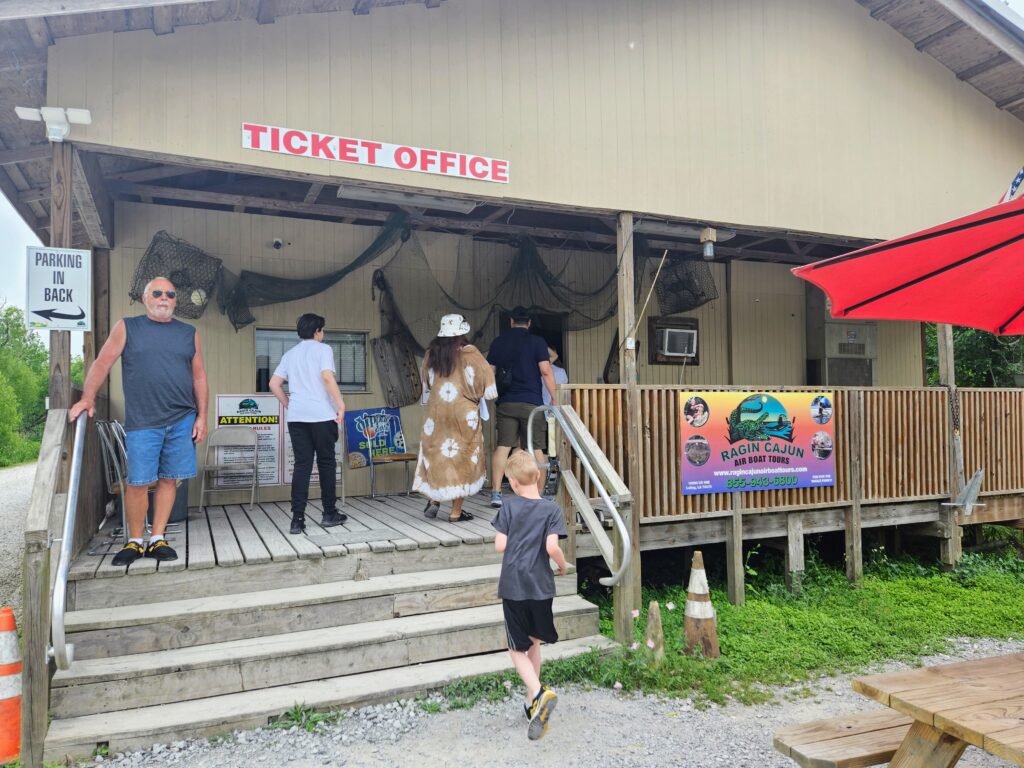 The ticket office where you pick up your boat boarding pass
This gator greets you when you enter the ticket office
Our shuttle driver, Brett, was very welcoming and funny. He had a nice selection of oldies playing on the shuttle radio when he picked us up. The shuttle service was also a really nice way to see different parts of New Orleans that you would not otherwise see if you were just sticking around the downtown area.
Brett gave us background information about New Orleans, Hurricane Katrina and what to expect during the boat tour. He had a great sense of humor and mentioned how many tourists on the boat are "eaten by alligators" each year!
Airboat tour guide, Doug Carter
Our boat tour guide, Doug Carter, had the best dry, sarcastic sense of humor. He was fantastic! We got a slew of interesting facts about alligators from him, such as a gator is roughly as long in feet, as is the number of inches from its eyes to snout tip.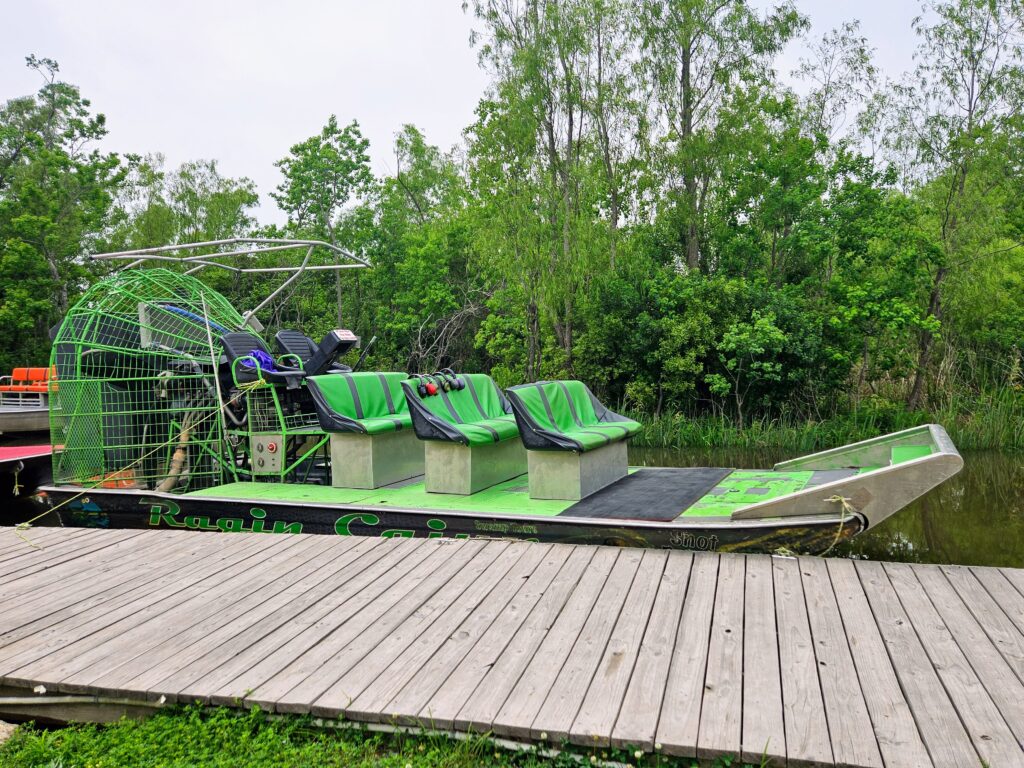 Our airboat, The Snot Rocket
Our swamp airboat, The Snot Rocket, was painted a bright green boat to go along with its perfect name. Carter mentioned that he had been doing airboat tours for many years and it was evident by his knowledge and expertise. He made the boat ride absolutely wild, with full throttle turns this way and that, kicking up a little spray, but not enough to get anyone soaked.
As mentioned on the Viator website, the airboats used in the tours are "driven by a 454 Chevy Engine that will produce speeds of up to 35 miles an hour. They are propelled by a huge fan that will blow air from the back of the boat in excess of 200 miles an hour." The airboats were very powerful!
Colorful bird species seen on our tour
The swamp area (9706 Barataria Blvd, Marrero, LA), was tranquil, beautiful and full of plants and water life. The swamp area toured was a mixture of swamp, marsh and lake. We saw some small birds with pretty black and other colorful feathers.
Fred, our tour boat gator
The main thrill was stopping and running into a couple of gators. We had never been so up close and personal to a wild gator in its natural habitat, other than in a zoo. The entire tour was around ninety minutes long, but the time zoomed along.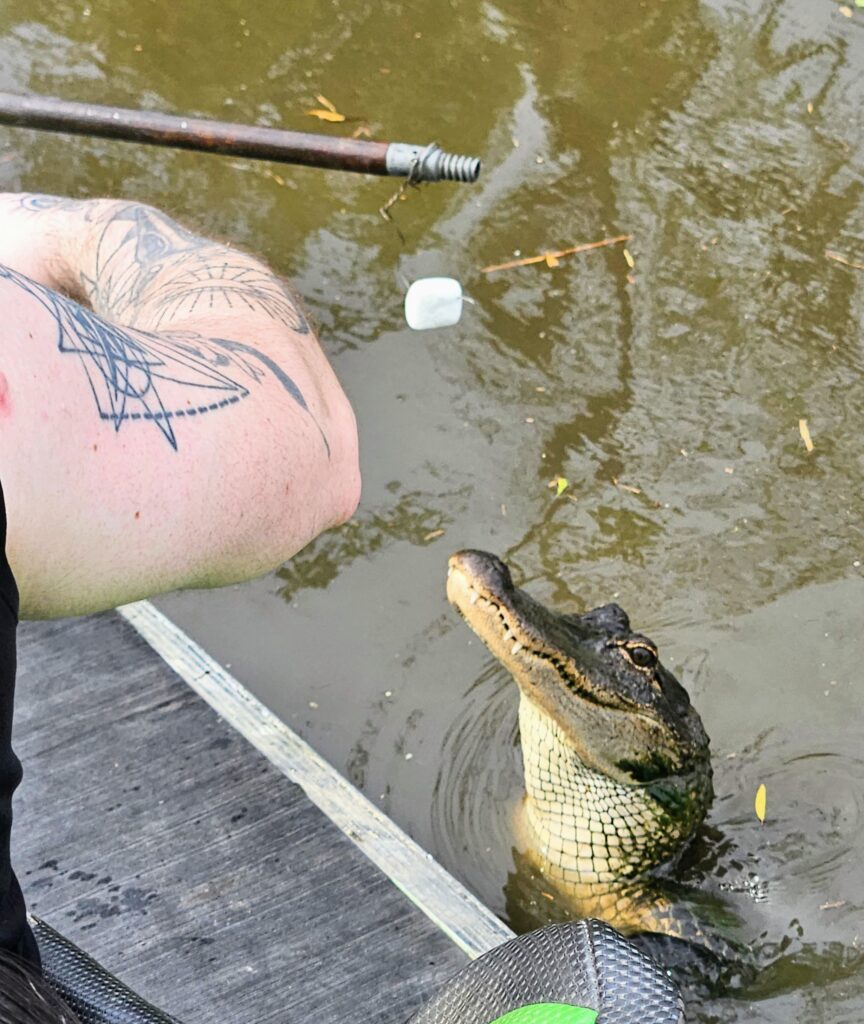 Fred going in for the marshmallow bait
Due to the higher than normal water level that day, there were fewer than usual by the surface. Luckily, on one of our stops, we were able to attract a gator to the boat using popping noises with our mouths (they are attracted to vibrations), along with marshmallows. The gator, which the guide called Fred, was eight or nine feet long. We got a very close-up look at him as he was going after the marshmallows. Some of the folks on the boat even pet Fred. (I was too hesitant to do so).
Our view during the airboat tour
I highly recommend this boat tour if you are looking for something different to do when in NOLA. There is a lot to do, learn from and love on this tour. Don't miss it! While you are down there, do not forget to hop on the Snot Rocket with Carter and go say hello to Fred-Just make sure you have some marshmallows.
For more information on the boat tours, or to make a reservation, visit the Viator or Rajin Cajun Swamp Boat Tours websites.
Photos: Jennifer Lunz