Oakbrook Terrace, just outside Chicago, is hosting a production of Grease that pays homage to its original roots as a Chicago-based production. Two amateur actors, Jim Jacobs and Warren Casey, created Grease in 1971, staging it for eight months at the Kingston Mine Theatre Company in Lincoln Park. Jacobs's version of the show, as he describes it was not the sanitized, re-worked Broadway version. The original show was written as "the real nitty-gritty story of the kids I went to school with and the birth of rock 'n' roll," quoted Jacobs in Playbill.com. Chicago references were front and center in this original R-rated play with obscene, profane language and mentions of familiar Chicago landmarks.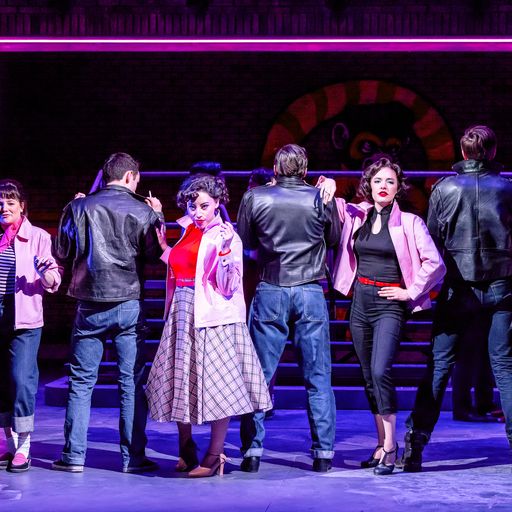 The Drury Lane offers a Parental Guidance version of Grease with nods to 1958 Chicago through a skyline video backdrop. There are also projected fifties ads for a discount gas station on Milwaukee Avenue, a Jewel Food store, and a Wimpy's Hamburger joint. In her opening monologue, Kyra Leigh, the Rydell staid English teacher Miss Lynch engages the audience with references to Chicago through a campy comic delivery welcoming the senior class. Paul Stancato, Director and Choreographer, a native Chicagoan, wants the audience to understand the generational character of teens and music at this time and place.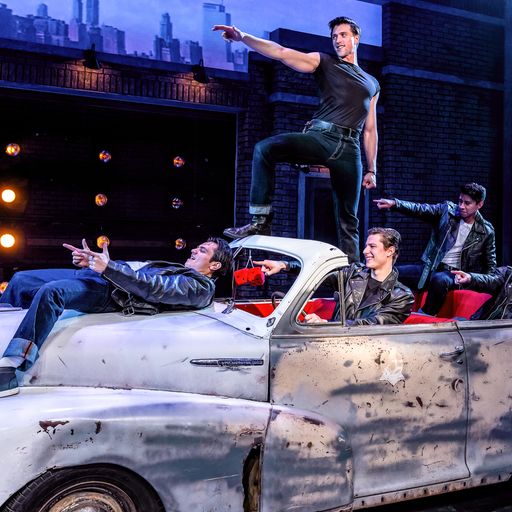 When I lived through the late Greaser era in the Chicago neighborhoods, we were either dubbed Greasers or Dupers. Full disclosure my crowd was definitely Dupers. Think Happy Days sitcom with Ron Howard playing Richie Cunnigham, a definitive Duper. We were the conservative good students as opposed to the rebel edgy Greasers. I, as well as a very enthusiastic and supportive audience, reveled in the nostalgia promoted in this production with its top-notch dance and song numbers. The first-act storyline was a little flat. The second act was much stronger with more developed character relationships.
Michael McBride, the Music Director and Choreographer, describes Drury Lane's production as many elements pulled together from various previous versions, including the original Chicago story, Broadway stage, and the film starring John Travolta and the late Olivia Newton-John. McBride feels the musical score has songs that connect with people in various ways. His goal is to blow your socks off with 1950's style orchestration and vocal influences. He and Associate Director/Choreographer Felicia Finley do just that.
Jake Dimaggio Lopez immersed himself in the music from the fifties icons such as Buddy Holly, Little Richard, and Elvis to get the right feel for his performance as Danny Zuko, the leader of his Greaser Gang. The King of Rock and Roll, Elvis Presley, inspired his smooth, groovy dance moves. He is a fantastic dancer and a fabulous singer. I did not see him as the leader of his pack, though. Emily Schultheis as Sandy Dumbrowski really reminded me of Olivia Newton-John. She is a tremendously powerful singer, but the love-hate romance connection between her and Danny did not click. Billy Rude as Kenickie, has a powerful stage presence and great charisma. Alina Taber looked and played the part of Bety Rizzo flawlessly. She was the right mix of hard-core sarcasm, sensuality and vulnerability. Taber and Rude both exude star status. Evan Tyrone Martian's performance as Teen Angel was an obvious audience favorite. Ciarra Stroud as Frenchy proved a delightful character.
Kudos to the design team Jeffrey Kmiec (Scenic Designer) Rachel Boylan (Costume Designer) John Burkland (Lighting Designer) Ray Nardelli (Sound Designer) and Casey Schillo (Properties Designer) as they were at the top of their game. The Jalopy transformed into the Grease Lightening Hot Rod made for a stunning visual. The lighting was dynamic and the costumes both colorful and on the mark for the time period.
Rock along with 1959's Rydell High School's senior class with the hot-rodding "Burger Palace Boys" and their gum-snapping "Pink Ladies" in one of the world's most popular musicals. Single tickets for Grease range from $85.00-$95.00. Matinee performances are scheduled for Wednesdays and Thursdays: at 1:30 p.m. with a $5.00 discount for seniors, Saturdays at 3:00 p.m., and Sundays at 2:00 p.m. Evening performances are Thursdays and Fridays at 7:00 p.m. Saturday at 8:00 p.m. and Sundays at 6:00 p.m. For further information, please get in touch with the Marriott Oakbrook Terrace Box Office 100 Drury Lane in Oakbrook Terrace Tuesday through Sunday 10 a.m.-5 p.m. (630) 530-00111 or visit Drury Lane Theatre online.
Photos Courtesy of: Brett Beiner