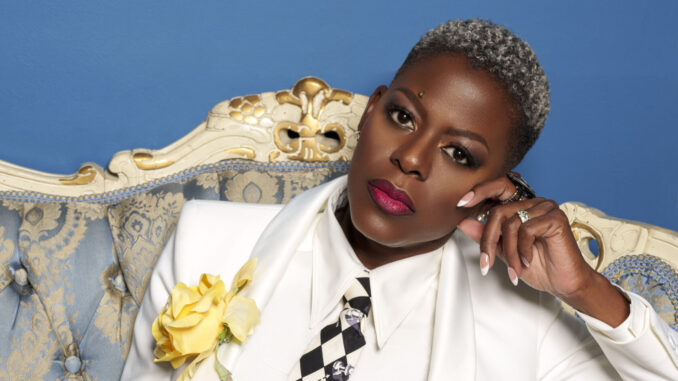 The "Truth Be Told" is that jazz enchantress Angie Wells is like a seductive alchemist who transforms both anguish and joy into a narrative of truth through her poetry and song. It's as though she's on a spiritual quest and the universe itself propels her Chariot of Fire…."Truth Be Told" is also her most recent album release via Café Pacific Records which was produced by John Clayton.


With a mosaic of vocal ranges and a kaleidoscope of soul, Angie Wells began thrilling audiences in an intimate night spot in Paris, then later returned to France to tour with French pianist Raphael Lemonnier and perform at The MoZ'aique Festival, Festival Jazz au Chateau, Festival Jazz De Colliure and Festival Jazz de Monsegur. In the US Angie showcased her gift at festivals including The San Jose Summer Jazz Festival, The Telluride Jazz Festival, and KJAZZ LACMA Jazz Series….as well as hot jazz night spots all over the West Coast.

Angie has played and recorded with some of the best musicians in LA jazz including: John Clayton, Harry Kim, Sam Hirsh, Henry Franklin, Christian Euman, Paul Kreibich, Clayton Cameron, James Leary, Josh Nelson, Kenny Elliot, Quentin Dennard, Tom Warrington, and a barrage of others. Angie will be unleashing her style this summer in the heart of New York City as well.


Aside from singing Angie Wells is also a Hollywood, multi-award nominated makeup artist whose work can be seen in television series such as "Blackish" and "Hunters" as well as critically acclaimed motion pictures. She was even the groomer for the iconic record producer Clive Davis for several years.

However, every sunrise is a new chapter in life waiting to be written. While our deepest desires are never simple, the joy that we find when they are met eclipses everything……Angie Wells is committed to her talent. Her joy is released in the spaces between the heartbeats….
What inspired you to become a jazz singer?
I always loved the music. I grew up with jazz and blues being played in my house because my dad was a true jazz and blues fan. So that music was obviously on vinyl and it was played at my home. And my mom played and sang gospel. I was around music all my life. I think somewhere around 13 I really started to enjoy singing. I had never really done it except in school plays, or if my mom asked me to sing in the choir at church. Then I did my first competition either when I was a sophomore or a junior in high school. I sang in one of the competitions and people reacted OK, but I didn't really think anything of it. Then when I got to college, I was in a talent competition and I actually tied for the win. And that was kind of cool. But I never really thought about it again.
Strangely enough, and I have to laugh about this, but you know when you watch those American idol competitions? A person comes on and they're like "my grandmother told me I could sing." Then they start singing and you're like "oh my, no I'm sorry, they lied." So, I wasn't sure and I questioned myself, do I just think I sound good, or do I also sound good to other people? I wasn't really sure. So, I never really tried it again until years later when I started taking some vocal workshops. Then I went to Paris to go visit a friend. She took me to a jazz club, and she told the people there that her friend was an American jazz singer and she was in the club that night. She told me I needed to get up and do it. So, they called me up and I sang a couple of numbers with the trio that was playing that night, and the reaction that I received from the audience was pretty amazing. That inspired me to come back home and start training. I got inspired from that moment. And that's where it started.
You also write original songs?
Yes. I have written a few songs. I wrote my first song for my last album with Raphael. It's sort of a bluesy tune called "She Ain't That Kind of Girl." I also wrote two songs that I performed for the Makeup Guild Awards. I have sung the memorial portion for the Makeup Guild awards for about 5 years. I'm part of the Makeup Guild because that's what I do in my other life. For the first two years I sang I chose familiar tunes that were appropriate for the occasion. However, in 2020 because of the pandemic the ceremony was going to be streamed and clearances became an issue. So, when I couldn't find anything in public domain that spoke to me I decided to write originals for the memorials. They don't really have a lot of money for clearances so, I've written originals for the last two years. I wrote four songs for my current album "Truth Be Told".
What inspires your song writing?
It's usually some type of event, or a feeling. I'm usually inspired by something that has happened or some moment that I've experienced. For instance, "She Ain't That Kind of Girl" was inspired from the movie "Breakfast at Tiffany's". The scene where she gets out of the taxi early in the morning and has her coffee and her croissant in front of Tiffany's. The song came out of that for me. For the Guild Awards, it's unfortunate, but it's usually inspired by the passing of people and trying to honor them. The other songs I've written, including the title track for the new album, "Truth Be Told", I was inspired by what happened to George Floyd, and the many deaths of unarmed black people. "Where the Livin' is Good" was inspired by the heartbreak I feel when I see people living in these sort of tents or these fabric homes that they've made for themselves because they don't have homes. So, I always say that I am inspired by events or moments in my life and that's kind of what I write from.
What is your ultimate stage fantasy?
My ultimate stage fantasy is to be performing at somewhere like the Hollywood Bowl or big festivals like Monterey or Newport where you have a very large audience to connect with and to exchange energy with. The Hollywood Bowl or Lincoln Center, some of the grand theatres in Europe as well as the historical venues like Birdland, The Blue Note, The Dakota to name just a few. I'm just trying to make my own path. I also believe that life changes the way you sing. Our life experiences come through in our voices. I feel that my voice has gotten better with time and I get more feeling from it.
Aside from singing you have another life also exciting and creative….
Humility often prevents me from saying it, but I'm trying to get over it, but I am a multi-award nominated make-up department head for film and TV. I might have 100 credits or just shy of that at this point on IMDb and it's been a good career. I have done some great films. "Promising Young Woman", "Mudbound", and "Harriet" and also some great TV projects like "Blackish" for the first 4 seasons. I've been very fortunate. I came out to LA after I decided that I had wanted to do make up full-time. I had been a professional hairdresser and I was a corporate trainer before that. Did I mention going to college and getting my Bachelor's in Business as well. In between that, I also modeled, and then I also became a certified image consultant and opened up a small consulting business. I also partnered with another consultant whose husband was a senator and we wound up teaching classes for the NFL which was pretty cool. I kind of had a lot squashed in there.
However, on a planned visit to LA, I went to a make-up convention and interviewed at a few schools, met a few people and asked them to mentor me, because I realized the power of mentorship. I enrolled at one of the schools and one of my mentors was an agent and she represented me. I literally worked from the fourth day that I came to LA. My first job was a gig with MTV that a friend hired me on. I arrived on a Friday and by Tuesday I was working and never stopped.
This was interesting to me as I heard you worked with Clive Davis for a while? That must've been some gig?
One of my first private clients was Clive Davis. I can't even remember how I met him or how I was referred to him, but I worked with him for I guess about three or four years when he would come out here. I would do stuff for his photo shoots and groom him for his big Grammy weekend. It was kind of cool being around somebody that was such a mogul in the industry. Interestingly enough, he didn't know I could sing because I hadn't really thought of it at that time. It wasn't something I was really even pursuing at the time. But I also know that a lot of times when people meet you doing one thing, they can't see you doing something else.
If you could have me ask you any question on the planet what would it be and how would you answer?
The question would be, "what would your best life look like in music"? it would be that I lived in a beautiful home that had space where I could have a music studio. I would get up in the morning, look out at a beautiful view, take a nice walk, get inspired, and come back to the studio. The studio would have a gorgeous view and I would be able to sit down to my piano, and get inspired to write music. Also, to have my phone ringing for bookings for shows around the world and to be writing music with partners that are people that I admire. And of course, that our music would sell. I would love to be writing soundtracks, or to even be included on a soundtrack. My best music life would be that I would hope to make a great living performing and writing music.
The official website for Angie Wells may be found at https://www.angiewellsjazz1.com
Follow Angie Wells on Facebook and IG @angiewellsjazz
Photo Credit: Jarrelle Lee Studios