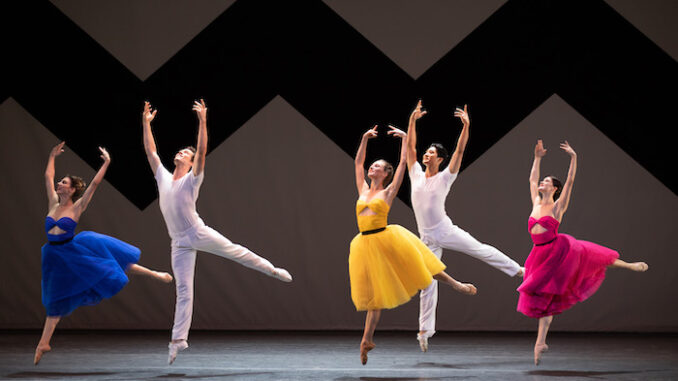 By Katrina Engel and Barbara Keer
Chicago welcomed the American Ballet Theatre back as it performed at the Auditorium Theatre for the weekend of April 14th to 16th, three wonderful performances. With a carefully balanced program with dances that reflected a wide variety of topic and movement, they delighted audiences. Two of Chicago Splash Magazine journalists attended the final performance, a matinee. Both of us were glued to our seats watching the exquisite and surprising choreography revealed by dancers who displayed amazing athleticism tamed and sculptured, enhanced by a wide range of music, costuming and sets. The ABT mixed repertory program featured two Chicago Premieres:
Christopher Rudd's Touché – an all-male pas de deux
and Jessica Lang's ZigZag – set to classic Tony Bennett soundtrack.
"ABT's return to Chicago brings an exciting opportunity to share a mix of classical and new commissions with a new audience. The storytelling through a piece like Some Assembly Required and the fun and joy shared through ZigZag are great examples of the diversity in style and messaging that is capable in our art form. With the Touché panel discussion, we hope to extend the conversation about how we see ourselves reflected and represented on stage," added American Ballet Theatre Artistic Director Susan Jaffe.
American Ballet Theatre is one of the greatest dance companies in the world, revered as a national treasure. Since its founding season in 1940, its mission is to create, present, preserve, and extend the great repertoire of classical dancing for the widest possible audience. Headquartered in New York City, ABT is the only cultural institution of its size and stature to extensively tour, enchanting audiences for eight decades in 50 U.S. states, 45 countries, and over 480 cities worldwide. ABT's repertoire includes full-length classics from the nineteenth century, the finest works from the early twentieth century, and acclaimed contemporary masterpieces. In 2006, by an act of Congress, ABT was designated America's National Ballet Company®.
The program on Sunday, April 16 included:
Songs of Bukovina: Christine Shevchenko, Calvin Royal III
Some Assembly Required: Katherine Williams, Jarod Curley
Touché: Blaine Hoven, Jose Sebastian
ZigZag: Isabella Boylston, Aran Bell, Katherine Williams, Tyler Maloney, Catherine Hurlin, Calvin Royal III
Songs of Bukovina with choreography by Alexei Ratmansky
Music by Leonid Desyatnikov (Excerpts from "Bukovinian Songs [24 Preludes for Piano]") Costumes by Moritz Junge
Lighting by Brad Fields
With the overall theme of Springtime and love, this was a delightful beginning to a wonderful program. The choreography was charming, engaging and often unexpected. Couples interchanging, lovely costumes, a blank background, and a skillfully performed piano music.
Touché with choreography by Christopher Rudd Music by Woodkid (Que Te Mate el Desierto) and Ennio Morricone (Giuseppe Tornatore Suite from Malena), Director of Repertoire: Nancy Raffa
Intimacy Direction by Sarah Lozoff, Cinematography by Matador Content, Lighting by Brad Fields
Touché: (Blaine Hoven, Jose Sebastian) was a total contrast to the first piece. Historically, the pas de deux in ballet has been a duet between a man and a woman. Period. Thankfully, times have changed, even in the binary centric world of classical ballet, and American Ballet Theatre is a testament to that change with Christopher Rudd's Touché. The piece is a tender portrait of male love in many of its forms from fear and denial to (at one point the house lights come up as the dancers look out to the audience with fear and trepidation) to surrender and passion. It is a very carefully crafted dance made all the more lovely with music from the film Desierto, composed by Woodkid, and Ennio Morricone's Giuseppe Tornatore Suite. Originally performed by Calvin Royal III, Principal,and João Menegussi, from the corps de ballet,when it premiered in 2020, Sunday's show was beautifully performed by Blaine Hoven, Soloist, and Jose Sebastian, also a member of the corps de ballet. The dancers began the piece fully clothed, as two people would typically be when first getting to know one another and as their intimacy develops, they slowly disrobe. There are moments of uncertainty and seemingly unwanted vulnerability, which is a true depiction of the progression of a romantic relationship, but the tension of a relationship that is still not seen as 'normal' to many is present as well. The Chicago audience loved it, as did I, and I look forward to the day when I see a romantic female only pas de deux, or one with a trans dancer. May the breaking of tradition continue!
Some Assembly Required with choreography by Clark Tippet, Music by William Bolcom (Second Sonata for Violin and Piano), Costumes by Gary Lisz, Lighting by Jennifer Tipton, Staged by Amanda McKerrow and John Gardner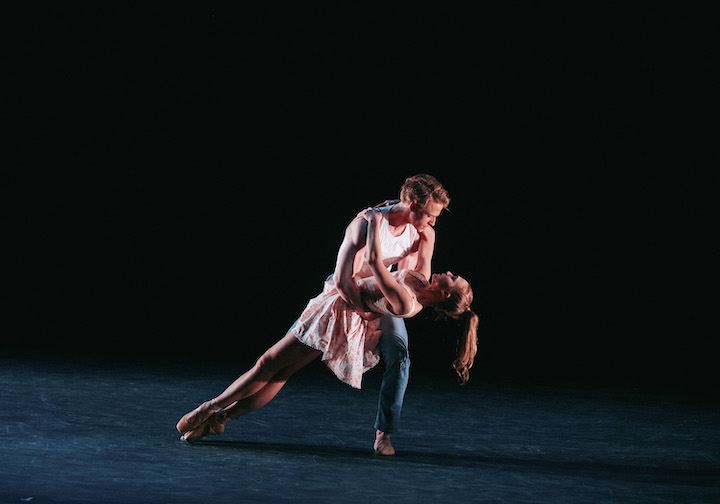 The music of a live pianist and violinist accompany an adorable young woman with a bouncy ponytail as she moves across the stage on the arm of her beau, as he moves jauntily. They appear to be having a delightful time, enjoying one another. As the dance progresses so do the expressions of deeper feelings. It was another view of people caring for one another.
ZigZag's choreography is by Jessica Lang with songs sung by Tony Bennett with a special duet with Lady Gaga Creative Associate: Kanji Segawa Scenery by Derek McLane incorporating artwork by Tony Bennett, costumes by Wes Gordon for Carolina Herrera, Lighting by Nicole Pearce.
The program concluded with Jessica Lang's visually stunning and beautifully performed ZigZag, a work for 14 dancers, that ABT premiered in 2021. The thirty minute piece uses a compilation of excerpts from ten of Tony Bennett's classic songs with guest vocalist Lady Gaga. The gorgeous, brightly colored costumes by Wes Gordon from Carolina Herrera, simple yet effective scenery by Derek McClane, and lighting by Nicole Pearce came together to enhance the splendid dancing. Principle dancer Aran Bell, who I remember fondly from the documentary film First Position, has fulfilled all of the promise he exhibited as an eleven year old, and it was a joy to see how he has matured, both physically and artistically. Other standouts were Principles Isabella Boylston with her lovely upper body and musicality and Catherine Hurlin, who is lithe and sublimely precise, along with corps de ballet members Michael de la Nuez's long lines and Tyler Maloney's personality and exuberant jumps. The performance left me wanting more, always a good sign, and I left the theater feeling energized and fortunate to have experienced it.
The Auditorium Theatre, located at 50 E. Ida B. Wells Drive at Roosevelt University in Chicago, is an Illinois not-for-profit organization committed to presenting the finest in international, cultural, community, and educational programming to all of Chicago and beyond as The Theatre for the People. The organization also is committed to the continued restoration and preservation of this National Historic Landmark that originally opened in 1889.
This Auditorium Theatre's 2022-23 performance season features a dynamic mix of acclaimed global dance companies (Step Afrika!, Cloud Gate Dance Theatre of Taiwan, Alvin Ailey American Dance Theater) while closer to home, beloved Chicago dance companies also take the stage (Deeply Rooted Dance Theater, Ensemble Español Spanish Dance Theater, South Chicago Dance Theatre, and an evening with Trinity Irish Dance Company, M.A.D.D. Rhythms, and special guest, New York-based Dorrance Dance. In addition, the critically acclaimed National Geographic Live speaker series, offering first-hand accounts and expert voices on cultural and environmental issues, returns with three offerings and a new lower ticket price.
For more information on the Auditorium Theatre and a complete listing of events at the Auditorium Theatre, please visit AuditoriumTheatre.org.