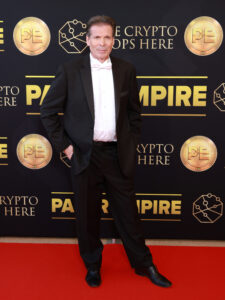 We had the honor of catching up with writer/producer and now director, Robert Gillings, in Cannes for the launch of his new TV series "Paper Empire".
Where did you grow up and how did it impact your life? 
I'm a Brooklyn boy. Growing up in the hard streets of Brooklyn really did help me become independent. My neighborhood in both Flatbush and Sunset Park was a diverse urban environment that gave me insight into life experiences and values from the many backgrounds that I have taken into my adult life.
Can you share with us the backstory about what brought you to your specific career path?
Early in life, I was introduced to kinesthetic learning. I took to self-educating through one's own actions in active participation, attaching myself to an accomplished mentor.  So I learned how to direct and act on set. 
What was your life like before you entered the entertainment industry?
Being a single father my life was all about my children. Now that they're grown and no longer require my undivided nurturing and are now pursuing their own goals and dreams, I transferred that focus and discipline to create.
Life is a gift, every day brings a new experience.
Your journey with creating Paper Empire is so amazing, tell us more about that?
I was originally doing pickups for the Kings of Brooklyn, a movie I wrote and produced. While filming these pickups, I realized that these scenes were developing into a story of their own. Paper Empire was born on set, after filming the inserts. I wrote a storyline around the current Crypto and Digital times and  The Kings of Brooklyn went from the main storyline to a backstory.
Where was the series filmed and how long did it take?
The series was filmed on location – Southern Florida, Miami, South Beach, and the Everglades. We began filming then the pandemic sidelined us along with the rest of the world.
What was it like working with such a talented cast including Denise, Robert, and Kelsey?
Amazing getting to know the person behind all those wonderful characters that they all portrayed.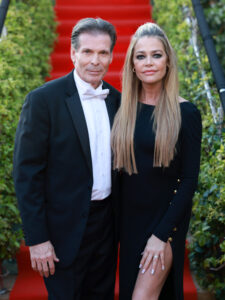 Denise Richards: a humanitarian, philanthropist, and amazing genuine woman. Denise and I immediately connected as we both went through a messy divorce severely complicated by child custody trials. We would sit around after filming and entertain each other by trading war stories.  Ironically we play a divorced couple and bring one epic battle into one of our scenes.
Kelsey Grammer: is the gentleman's gentleman and the utmost professional. He brought his class and dignity to our set. It didn't take long to understand why this man was awarded six Emmys. In one scene with our resident supermodel Carol Alt, Kelsey was to open a bottle of champagne in the back of a limo. I asked him if I could leave the bottle in the hot Miami sun so that when he opens it, it will spray outward. He did it masterfully, staying in character as the champagne spray hit the ceiling and came down on top of him and Carol, drenching them both in their tux and gown. Got it in one take, an incredible scene.
Robert Davi: I had yet to meet Robert when I received a call in my hotel room from my producer Mike Tadross at 1 am that Mr. Davi was in the hotel lobby and wanted to go over the script. That's never good, right? 
I went to the lobby and met a smiling earnest man that just wanted to understand what I understood about the character he was to portray. He's a master of his craft, passionate, and got so much into his character's head that one couldn't tell the difference between the two. He and I spent the rest of the night on the script, we bonded and have been the best of friends since.
Being the writer, director, and cast member in the series, would you say this was your most memorable project to date, and if so why?
By far Paper Empire is the most, as this is my directing debut. Being a cast member wasn't planned, wasn't considered. We cast a Rock Star to play the character Noir, the dark, sarcastic, flirtatious ex-husband of Bentley Fintch, (DENISE RICHARDS). My producer called me at 9 pm the night before our 6 am call to inform me our actor was not capable due to his South Beach partying. He told me no time to recast,  you wrote it, so you're the only one that should do it last second. Kinesthetic learning strikes again. I better get it right, it was Denise Richards first day on set. 
Do you see any similarities between Paper Empires' story and the fall of Sam-Bankman-Fried's crypto empire FTX? How do you feel about that situation?
It saddens me when so many have lost so much, especially when it could and should have been avoided. Amazingly enough, the FTX similarities are spine-chilling as I wrote about a parallel Crypto scenario two years ago. Let us all hope that where Paper Empire's climax of Financial Armageddon doesn't come to real-world fruition.
Are you working on any other exciting projects, what is next for you?
My life experiences are my creative fuel, every day something happens, something is said to me, done for me, and or done to me. Most make it into my scripts, so I write every day. Personally, I would like to have my Staten Island divorce story made. "My Darling". I have also written a horror TV series off of my successful "American Fright Fest" movie. As I hold Paper Empire near and dear. I have written spin-offs for my characters. 
A few things I'm working on include:
-> "Wall Street Savage" off on the Damon Moore character played by Wesley Snipes. 
-> "The Anderson Files" off FBI Agent Blair Anderson's character played by Helena Mattsson.
-> I plan on co-writing a movie with Robert Davi about both our experiences growing up in Brooklyn, titled "Back to Brooklyn"
-> I also have a Sci-fi Series, Project Asylum, and a slate of movies in development, A serial killer, Ruben, April Fools, and Suicide Party, A Reality series about millennials,  A story about the other side of the pandemic, called "Vaccinated". 
-> A story about our youth's addiction to prescription drugs, called Poison Child. A not so love story called Kidnapped Bride. "The New Girl", is a story of a  Midwest girl's trials and tribulations as she attempts to enter the adult film industry. 
As I said, I write every day.
You are hosting a Paper Empire event at Cannes this year, can you tell us about it? What are you most excited about?
Paper Empire, "THE CRYPTO STOPS HERE". The exciting part is introducing the Paper Empire TV series and our tremendous cast to the world.
What are your goals for the coming year?
Of course, my main goal is to land Paper Empire on a Top streaming platform and watch it on TV with my family. Though my main goal and focus each morning is how I can be a better person, amazingly enough with that thought process good things seem to happen.
Do you have a quote/motto you live by?
I have quite a few, but one of the favorites that do help me keep moving forward, "No regrets in life, just lessons learned".