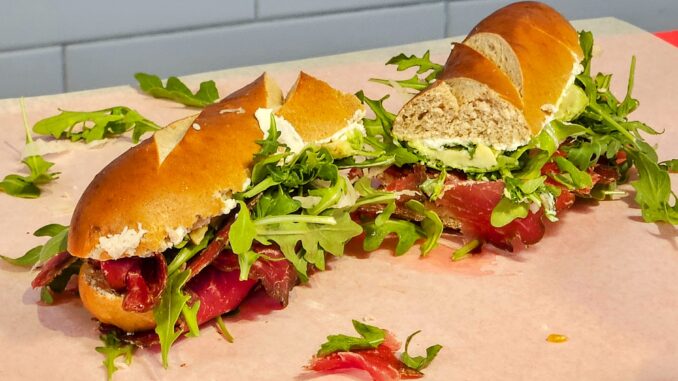 With the recent trend of global flavors being introduced to menus across the country, Florian Pfahler owner of Hannah's Bretzel, a fast casual sandwich shop located in Chicago, has had a mission since moving to Chicago from Stuttgart, Germany. With German roots, Pfahler has been inspired by his travels across Europe, and is passionate about introducing those experiences and flavors to Chicago's restaurant scene.
Florian Pfahler, Hannah's Bretzel owner and founder
When it comes to the menu, the signature at Hannah's is the celebration of Germany's second-best export (behind beer of course) – the bretzel bread. At Hannah's, the bretzel bread is made all organic in-house daily, and serves as the foundation for the über sandwich menu. Pfahler wanted to create an innovative dining experience incorporating adventurous European flavors with ethically sourced ingredients from local, independently owned farms. Hannah's is eager to support those who help fuel their customers day-in and day-out, proving they are not just another fast casual chain, but a link to something better.
Some of the international specialty sandwiches highlighted include ingredients and flavors that are reminiscent of Europe's flavor profiles include the following:
Spanish Serrano Ham + Spanish Manchego Cheese: nitrate-free authentic spanish serrano ham, spanish manchego cheese, fresh shaved fennel, and housemade fig chutney on a freshly baked organic bretzel baguette.
Italian Prosciutto di Parma: Italian prosciutto di parma ham, white truffled goat cheese, baby arugula, cucumber, and avocado on our freshly baked organic bretzel bread.
Italian Bresola: Italian dry-aged bresaola beef, white truffled goat cheese, avocado, herb salad, baby arugula and shaved fennel drizzled with housemade Hannah's Bretzel vinaigrette on the freshly baked organic bretzel baguette.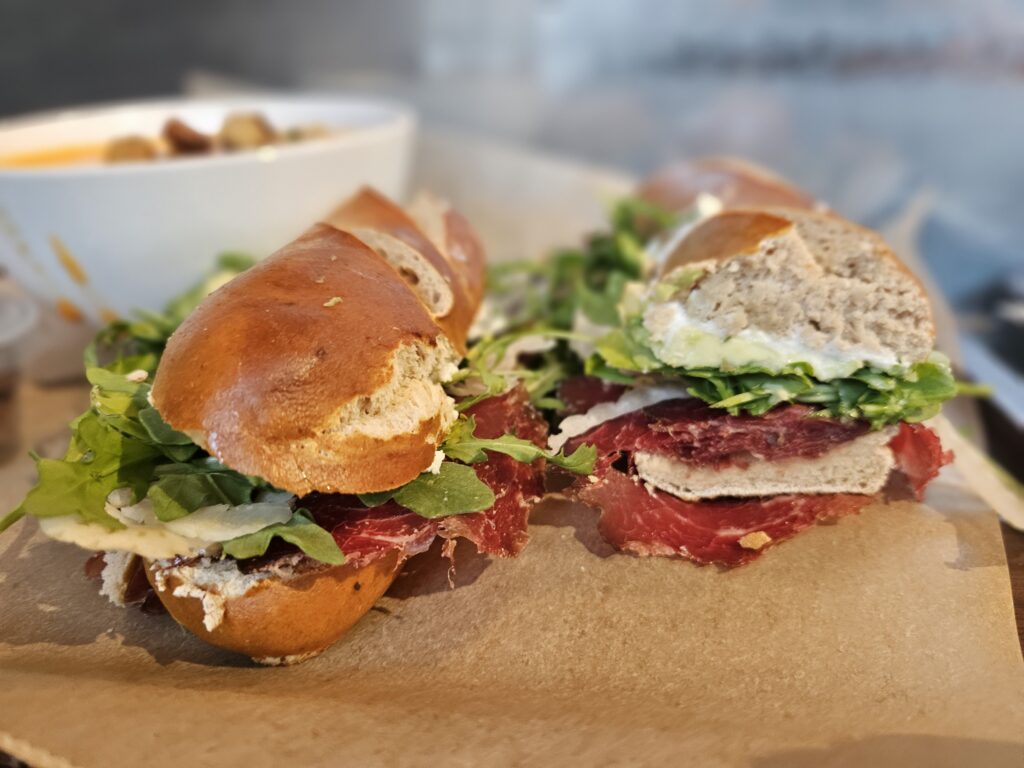 Italian Bresola
Hannah's Bretzel offers a warming, fast casual environment that invites you to sit back, stay and enjoy your meal at your own pace. The food options here are delicious and you can find a wide variety of food, drink and snack options to choose from, all for an affordable price.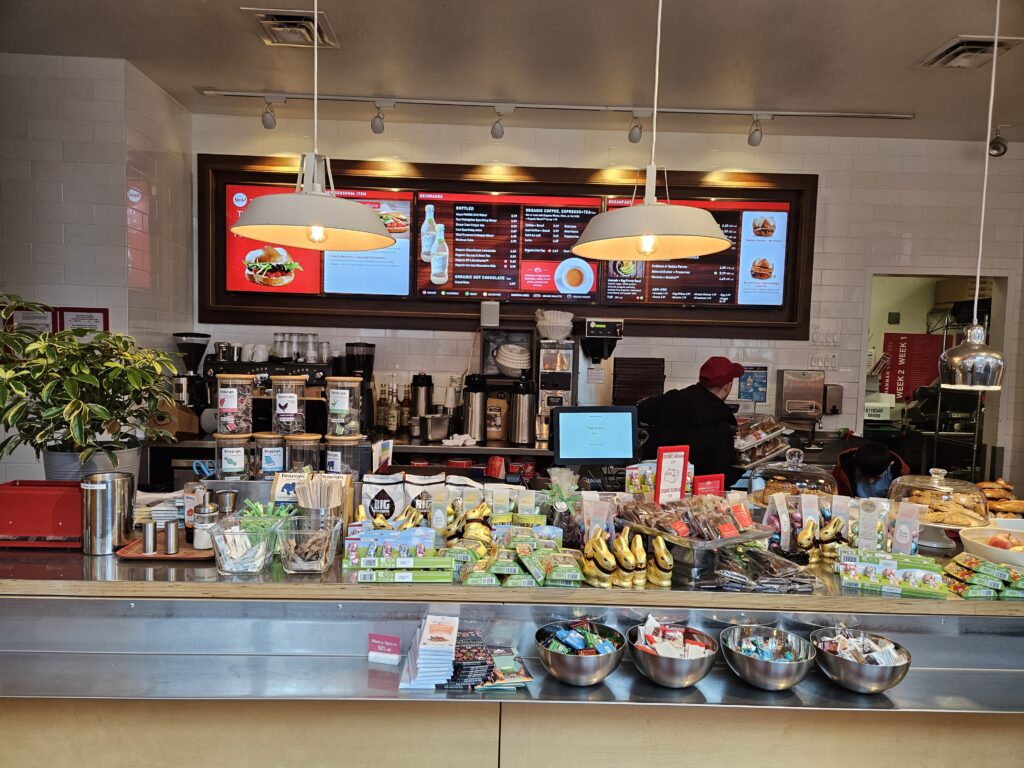 The front counter at the LaSalle location
Many of the sandwich options are ingredients you would not normally find on a sandwich, all of which are of high quality, always fresh, preservative free, natural and are organic whenever possible. Everything is also 99% biodegradable (including their first electric delivery car, a Mini Cooper). Rest assured, whatever you order will be very tasty and satisfying!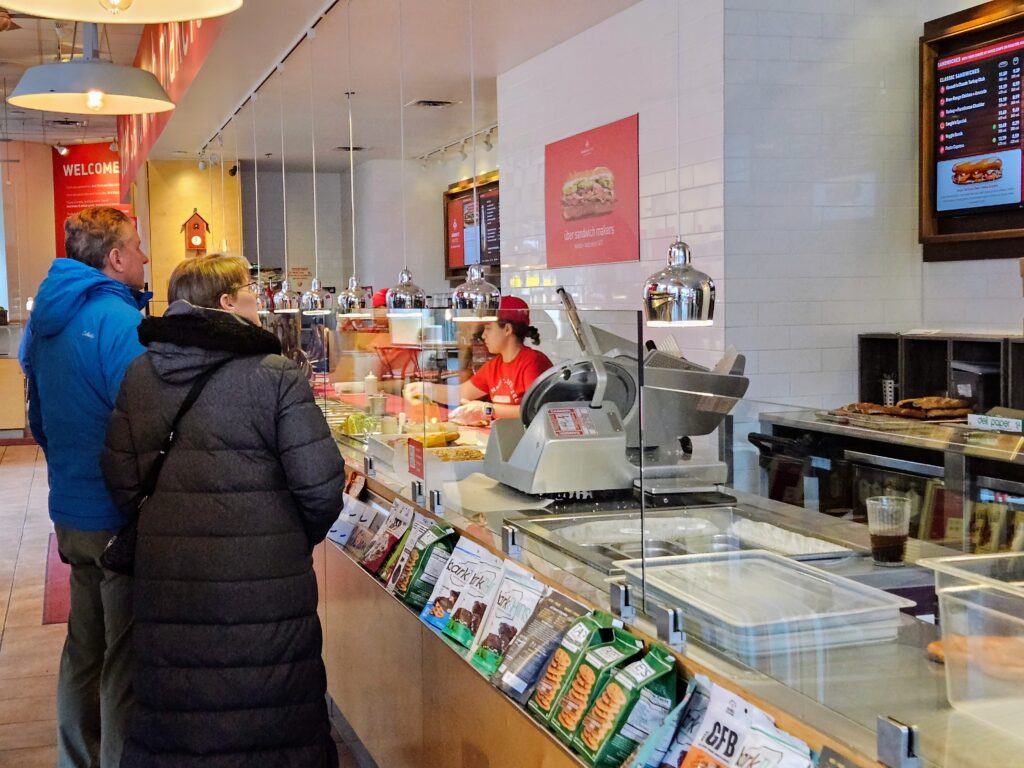 Hungry customers lined up to order their sandwiches
Vegetarian and gluten menu items are also available. Hannah's advantage is that it can accommodate customer preferences that are both traditional and adventurous, such as a simple turkey and cheese club, the mouth watering Italian Bresola, or any of the international specialty sandwiches. Portion sizes are well thought out and just the right size for a hungry stomach. Hannah's also does not feel like a culinary establishment that skimps on quality.
An employee making a sandwich for a customer
There are delicious sides that you can purchase at Hannah's such as the crispy salt and pepper potato chips (a great accompaniment to the sandwiches), the creamy tomato bisque soup (great for dunking sandwiches), cookies, brownies and much more. For the true chocolate lover, Hannah's has shelves of specialty chocolate bars from around the world and local chocolatiers. More chocolate options in one place than that I have ever seen!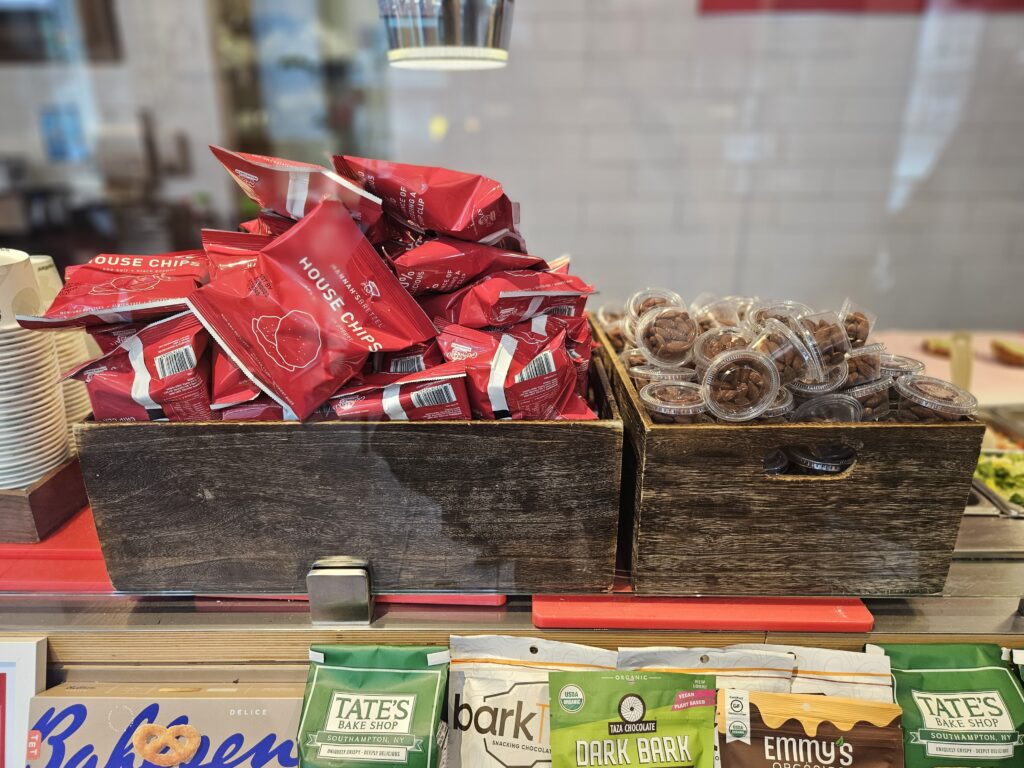 2 photos above: Sides and chocolate bar selections
When I visited Hannah's Bretzel, I could not make up my mind what to order as there were many mouthwatering choices. I ended up ordering the Wild Caught Atlantic Smoked Salmon and Organic Egg Breakfast Sandwich (wild caught smoked salmon, organic eggs, truffled goat cheese spread, fresh dill, avocado and pickled onions on organic weken bread). I also consumed in 3 bites total the delicious the Veggie Bomb – Baguette (Sliced cucumbers, mighty vine tomatoes, fresh avocado, pickled red onions, romaine, and organic baby arugula, drizzled with homemade Green Goddess dressing).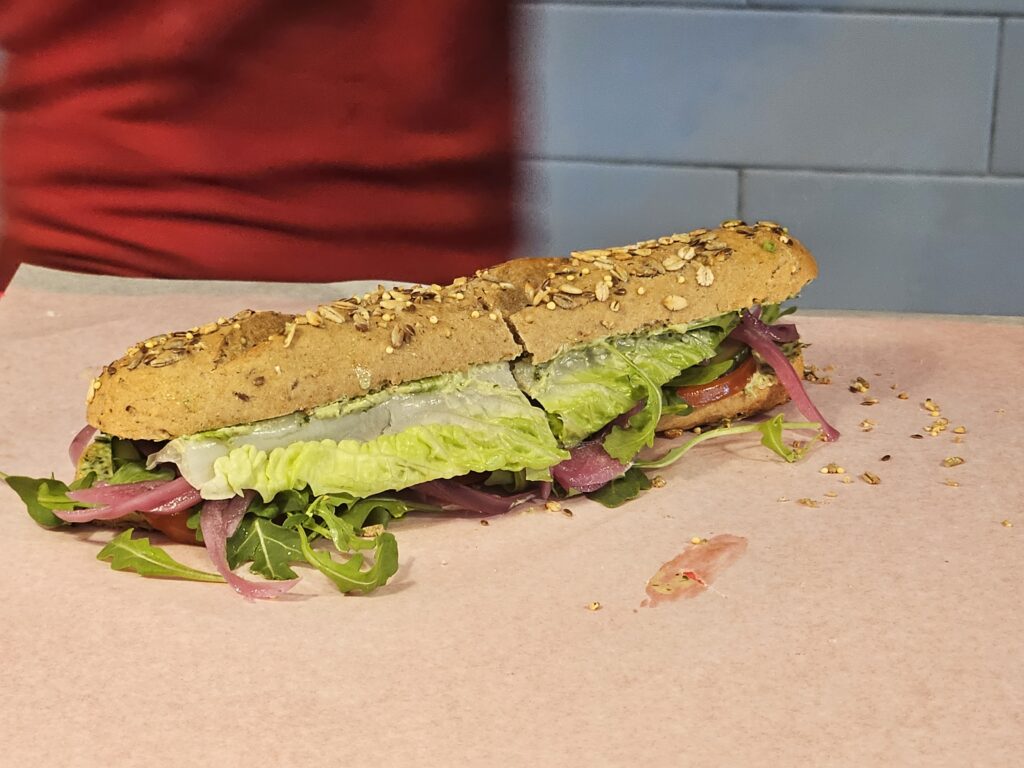 The Veggie Bomb
Both sandwiches were flavorful and fresh! My guest had the Italian Bresola. He loved all of the flavors and textures on his palate everytime he took a bite. We also shared creamy tomato bisque soup and the salt and pepper potato chips, both yummy accompaniments to our sandwiches.
The mastermind behind Hannah's Bretzel is founder and wonder, Florian Pfahler, whom we had the pleasure of becoming acquainted with while eating our lunch. He is down to earth, genuine and transparent. The establishment is named after his daughter, Hannah and his German hometown's beloved, traditional pretzel bread. Inspired by the Whole Foods mission and purpose, Pfahler's goal for Hannah's Bretzel is to continue to create the first gourmet sandwich fast casual establishment.
Hannah's Bretzel has been going strong for seventeen years in Chicago. It all began when Pfahler moved to the United States from Germany to work for the company Leo Burnett in New York City in 1999. He loved the Manhattan street vendor sandwiches you could purchase and consume there, but was not at all impressed with the waste and overuse of paper products and plastic (bags, napkins, utensils, etc).
The history and heritage of Hannah's Bretzel
Move forward through the years and Pfahler ended up in Chicago by 2004. Homesick for his hometown's beloved bretzel bread, which he could not find in the states, he paired with his childhood friend, master baker and marketing extraordinaire, Frank Ellinger, to create a brand new bretzel bread sourdough recipe (with 20% whole grain flour) and sandwich combinations. The team worked hard to promote the new bread and sandwiches at the original first location in 2005 on State Street in the Chicago Loop, along with an old foodie newsletter, The Daily Candy, which helped with PR and advertising. After roughly three months, lines of customers were going down the streets.
Over the years, the business grew to a total of seven popular Chicago storefront locations. Pfahler holds very high work standards for his business and all employees, focusing on cleanliness and organization, which he believes are of utmost importance for a successful business or company. He says that no one works for you, but WITH you. Loyalty is important in any business.
Meet Hannah, Pfahler's daughter and the business' namesake
As with most business during the covid 19 pandemic and lockdown in 2019, Pfahler was forced to downsize to only three stores, while continuing to take care of and work with his entire team. He is at the present not entirely sure where the business will go from here, but one thing he does know for sure is that he will never give up on his mission, based on his years working for Leo Burnett – "Always try to reach for the stars. You can apply this to anything in life."
Meeting Pfahler and learning his story and more about Hannah's Bretzel, showed me that you should never give up on your goals in life. Continue reaching for the stars, and you can accomplish anything.
Photos: Jennifer Lunz
For more information in Hannah's Bretzel, or to order the menu online, please visit their website.