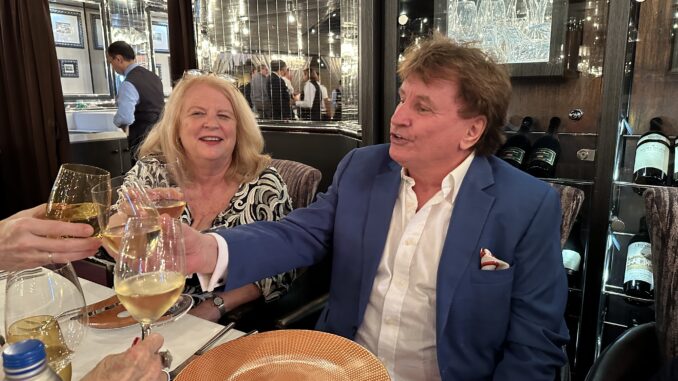 By Gerry Barker
Here's a fun fact: Did you know Holland America has been sailing Alaska before Alaska even become a state — 75 years, to be exact.
That was just one thing we learned from Holland America's president, Gus Antorcha, during a private event onboard Nieuw Amsterdam prior to the start of Seatrade Cruise Global in Fort Lauderdale. The cruise line is celebrating both its 150th anniversary and its alliance with the Alaska Seafood Marketing Institute (ASMI), announced last year.
This summer will be the first full season for the line to exclusively serve fresh, certified sustainable and traceable Alaska seafood, certified by Responsible Fisheries Management (RFM), the first cruise line to have that designation.
"We're excited for our 76th season to showcase all of the reasons why no one does Alaska better than Holland America Line," said Antorcha.
During the event, Holland also showcased their recently announced "Legendary Voyages." Ranging from 25 to 59 days, the itineraries are curated to enhance the guest experience in each destination. You can find more details on what's available HERE.
Since the spotlight was on Alaskan seafood, attendees were treated to a cooking demonstration by Culinary Council Chef Ethan Stowell, who prepared King Salmon and Salsa Verde. It proved the perfect segue to lunch, which was waiting for us in one of the ship's specialty restaurants, Pinnacle Grill.
Each table featured a Holland America host, and as luck would have it, our host was none other than Rudi Sodamin, master chef and head of culinary arts for both Holland America and Princess cruise lines. Wearing his trademark red pants, he both entertained and enlightened us throughout the meal.
Celebrating Alaskan seafood, we started with British Columbia Stellar Bay Oysters, followed by a Dungeness Crab Cake. The main course was Stowell's fresh Alaskan King Salmon, with salsa verde and grapefruit (considered the Cadillac of salmons), and for dessert, Vanilla Raspberry Cheesecake.
To find out more about Holland's upcoming Alaska season, go HERE.