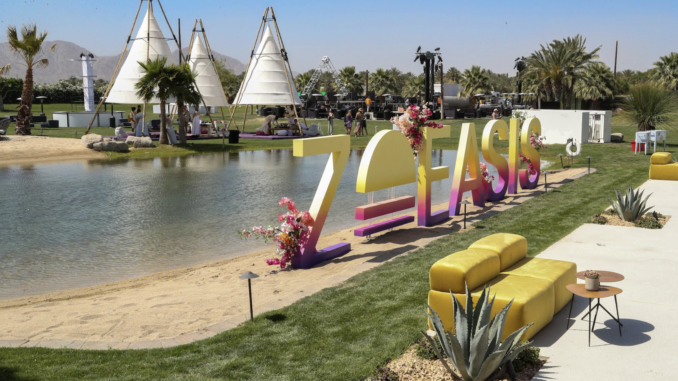 Grab your crop tops and your neon accessories as it's time to head to the desert for some of the best parties! For three days, all of Los Angeles basically relocates to Palm Springs (and surrounding areas) for an unforgettable weekend! While the parties are not affiliated with Coachella, they certainly bring their own impressive line up of must see moments (including private performances). From top DJs to exclusive brunches, brands and industry gurus will compete for the best party of the weekend. This year proves no different as there are many returning favorites, like Neon Carnival, as well as a few new faces! Check out our picks for the hottest parties weekend one of Coachella.
London Alley x Playboy: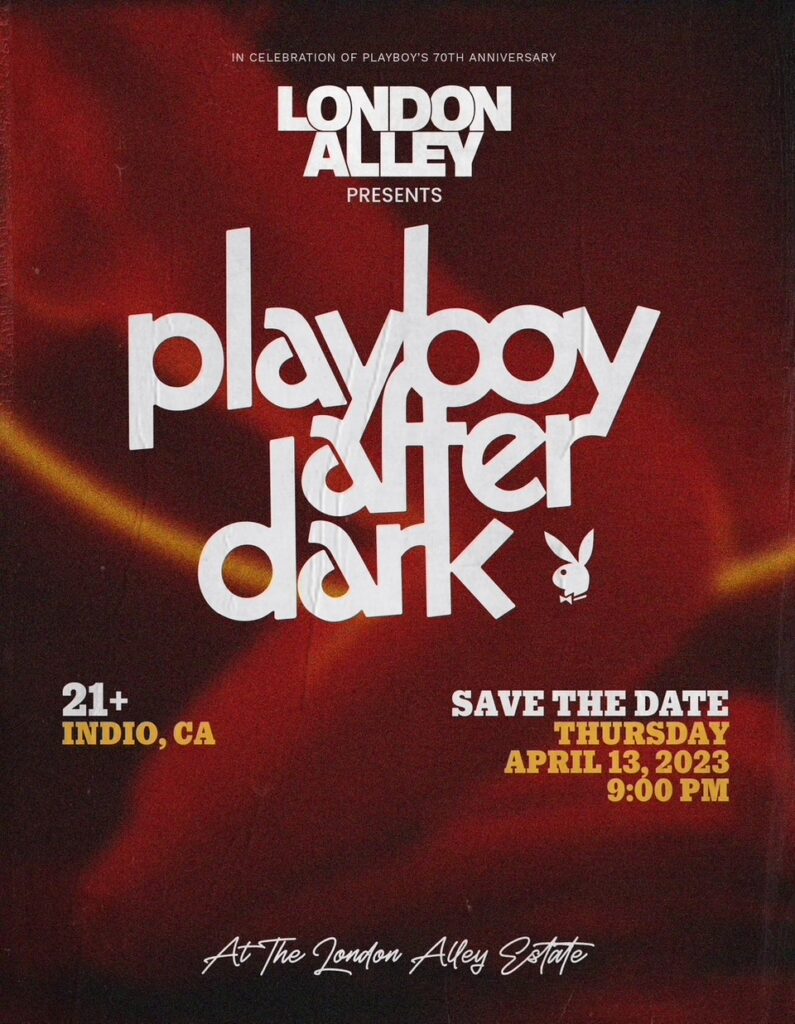 London Alley is bringing Playboy back to Indio to celebrate the original lifestyle brand's 70 th anniversary and simultaneously kick off all of the celebrations during the festival weekend. London Alley is a creative production studio that will be bringing the Playboy After Dark event to life, taking inspiration from the brand's iconic 1970s variety show. The exclusive affair will take place at The London Alley Estate. Guests will not only celebrate the 70th anniversary of Playboy and London Alley's iconic history in the music industry, but can also expect a live DJ set by DJ Pee .Wee (Anderson .Paak), surprise performances, multiple engaging activations, giveaways, food from Verse LA, an array of delectable libations, and so much more!
Nylon House Presented by Samsung Galaxy:
After its success at Miami Art Week and its epic return to Palm Springs last April, NYLON House will touch down in the desert on Friday, April 14th. Presented by Samsung Galaxy, the after hours event will beam guests to an extraterrestrial planet of pop culture to explore and discover experiences that champion freedom and expression — all while bouncing to the beats of today's most relevant established and rising DJ's, including a headlining set with Alesso, sponsored by Patrón, as well as a set with Carlita who will be joined by Diplo later in the show. The event will bring together a curated guestlist of fashion, music and pop culture's cool kids for a mind blowing evening of music, art installations, and beyond. NYLON House is presented by Samsung Galaxy and in partnership with Toyota, Cheetos, Mugler, Got2b and SHEGLAM. While NYLON House will be an invite-only event, there will be a select number of VIP tables available for purchase through Wynn Nightlife — this special VIP area will be brought to life in partnership with PATRÓN EL ALTO.
Geojam Desert Powered by LA Weekly:
From 11PM to Sunrise guests will dance the night away with a night full of surprises and special performances. Hosted by: Nyjah Huston the event will feature: Curlsmith, Mantra, Voss, Tres Generaciones, Fluffy Cakes, Cookie Pop, Candy Pop, Soonish Miage Skincare + Arrowhead, and more.
RSVP Link: https://www.geojam.xyz/geojamdesert
Cap'n Crunch's 60th Birthday Bash:
Event host star Reneé Rapp will curate a delicious brunch menu and perform fan-favorite original hits closed out with a special birthday serenade to the Cap'n that festival goers won't want to miss! Fans can also enjoy an epic all-vinyl DJ set from DJ PEE .WEE (a.k.a. Anderson .Paak) and celebrate their weekend in true Crunch style while munching on Crunch-inspired brunch items, sipping on drinks from the Galley Bar, glamming up their festival fit at the customization cabana, checking out merch released exclusively in honor of the Cap'n's 60th birthday, or enjoying experiential art installations!
The 21-and-up event is taking place in Palm Springs on Saturday, April 15th from 10 AM – 3 PM PST, and entry is free. Fans can learn more at https://capnscove.com
Flying Embers x The Racquet Club:
Flying Embers is celebrating the launch of their new Birds of Paradise hard kombucha with "The Racquet Club and an inaugural pickleball event in partnership with The Kitchen, taking place Saturday, April 15th at The London Alley Estate in Indio. Guests can expect a fun-filled day of pickleball play, tournament-style pickleball games, a live DJ set, surprise giveaways courtesy of JOOLA, and celebrity engagements hosted by renowned influencer, Rocky Barnes. There will also be unique and interactive brand activations and photo moments, inclusive of stunning desert views and the absolute best festival vibes you can imagine. Featuring refreshments from Flying Embers, Zico and LaCroix, cloud-like seating from Lovesac, fun games from Sunnylife, swag from Yeti, and so much more.
The Trading Post:
From noon to 5pm guests will be able to freshen up their festival fit at this years Trading Post. Featuring Vince Camuto and Frye the event will highlight fun brands and refreshing sips. Sponsors include: Nutrl, Heineken, Waiakea Water, LaCroix, Sunnylife.
The Lucky Brand Desert Mirage:
Lucky Brand returns to the desert to celebrate festival culture with a desert mirage minutes away from the festival grounds. The event will feature surprise performances, various DJ sets including several by GAYLE, Jordan Ward, DJ Hunny Bee, Lisbona Sisters, a customization station, custom trucker jackets by Wren + Glory, a pool party, tarot card readings, and exclusive giveaways. Additional sponsors include: refreshments from NUTRL, Waiakea Water, LaCroix, cloud-like seating from Lovesac, luxe lie-on floaties from SUNNYLiFE, specialty cocktails from 818 Tequila, Grey Goose Vodka, Fluffy Cakes, a beauty bar by Upkeep, and more!
Ketel One Spritz Oasis:
Ketel One Botanical is kicking off festival season with its own Spritz Oasis, a "spritzified" house outfitted with everything from a saltwater pool to a waterslide, and two waterfalls, pickleball/basketball sport courts, and more. Nestled in the neighborhood of Cahuilla Hills, the Spritz Oasis is an 8-bedroom, 6-bathroom retreat and a festival-goer's dream. The private invite-only bash will create the perfect oasis in the high heats!
Sonic Desert:
Sonic Desert, a mystical oasis presented by Coca-Cola Creations will be held at a private ranch estate in Thermal, California, within minutes away from the Coachella festival grounds.
Coca-Cola Creations will feature a flavorful portfolio of their limited edition beverages under the iconic Coca-Cola trademark lended by new expressions, driven by collaboration, creativity and cultural connections. Through the limited-edition, sequential releases, Coca-Cola Creations showcases new products and experiences across physical and digital worlds.
Participating partners include Grazia Magazine, Kumo Luxe haircare, Owl's Brew great tasting clean boozy beverages, authentic wood-fired pizza by Dang Brother Pizza, and Drip IV Therapy's on-demand vitamin-infused blends formulated with science-backed therapies to optimize repair, recovery, and rehydration. For Weekend 1, the hottest one-day pool party destination will feature a live celebrity deejay performance by DJ Roxy Ferrari and other special activations.
Study. Oasis:
STURDY. Oasis Hydrated by Liquid I.V. a one-of-kind immersive experience that puts music and fans center stage with a highly influential crowd. It's the can't-miss three-day hang of Weekend 1, featuring custom art installations, relaxed vibes, and live performances, all set against a gorgeous lakeside backdrop.
The creative events are sure to leave its own footprint during the festival with an incredible event backed by partners Liquid I.V., PATRÓN EL ALTO, Stem, Al Tun Tun, Offsunset, Integral Studios, SoHo House, and more. The three-day party will showcase top Latin DJs on Friday night, an Afro Beats-inspired set on Saturday, and an epic exclusive brunch on Sunday afternoon.
Zoeasis:
Returning for its seventh year, The Zoe Report and Rachel Zoe will host ZOEasis, a midday desert oasis of style and self care on Saturday, April 15th. At ZOEasis, guests will have the opportunity to engage with a variety of programming moments focused on individuality, style, beauty, and wellness — creating the ultimate escape for festival-goers to refresh their mind and body as well as their festival beauty and fashion looks. To top it off, the multi-hyphenate DJ Pamela Tick will bring the vibes to the event as the exclusive act at ZOEasis. ZOEasis is presented in partnership with Sephora, European Wax Center, and Cotton.
818 Outpost:
Calling all festival goers: 818 Tequila is heading to the desert for the second year in a row!
This year the brand is hosting their own 818 Outpost during Weekend 1 which will include free festival essentials (including special items from Kylie Cosmetics, Lemme, Emi Jay, Revolve, Vacation, Tower 28 and more), limited-edition 818 festival merch for sale (last chance to snag this coveted collab with Cherry LA) and photo opps galore – the perfect one-stop festival shop before heading to the grounds! All items while supplies last.
When: Friday, April 14, 12-5PM PT
Where: 82710 CA-111, Indio, CA 92201
RSVP: The 818 Outpost is free to attend; guests can sign up here to learn more.
*All guests must be 21+ to attend
Neon Carnival:
Neon Carnival, the highly anticipated late-night party of the year will make its triumphant return to light up the desert night sky during the famed music festival weekend on Saturday, April 15.  Celebrating its 12th year, the coveted outdoor dance party created by LA's original nightlife mastermind Brent Bolthouse and producing partner Jeffrey Best will once again come to life exclusively for one night only.  
The iconic denim and lifestyle brand Levi's is back to headline this year's event alongside Mexico's original luxury premium tequila, Tequila Don Julio. Smirnoff ICE Neon Lemonades and Path Water have joined the party for their second consecutive year, and we welcome newcomer Ghost® Energy to the festivities.