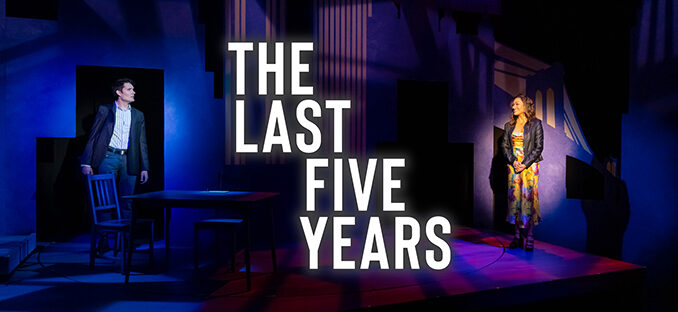 The black-box intimacy of the Hormel Theatre — little sister to The Phoenix Theatre Company's Mainstage — will be missed once its planned expansion is completed. Luckily, over the next few weeks, audiences can be enthralled by the charming yet bittersweet, two-character musical, The Last Five Years — a production that fits perfectly into this 229-seat venue.
The Last Five Years tells a story with a premise that is easy to understand and a challenge to execute. It follows the five year relationship between a man and woman who fall in and out of love. The story is related from two perspectives: his and hers. The genius and challenge is that his story is told going forward in time, while hers is told going backwards. The stories intersect right about the time the couple weds, which itself tells much about how relationships often take diverging trajectories as individuals in the comfort of marriage take on new roles. Without the need to continue the "courting ritual", couples are likely to revert back to their old, less accommodating selves.
Alyssa Chiarello (as Cathy) has many stage credits both in the Phoenix Valley and on tour. Chiarello's voice is a well-trained instrument that is both subtle and powerful. She is mesmerizing to watch and to listen to. We feel her enthusiasm even in light of the outcome already revealed to us. Her backwards telling of her relationship over the last five years does not diminish our optimism when, toward the end of her narrative, she cheerfully expresses her hopes and dreams, which we already know have been dashed.
Šime Košta (as Jamie) is a force of nature, having made his mark as a lead singer in the non-Korean K-pop group EXP Edition. His characterization of a published author and rising star in the literary community compel us to applaud his success while chastising him for becoming so self-absorbed in his own ascent. Košta is anything but boy band eye candy. He starts out as a frenetic hopeful with his entire potential writing career in front of him. He progresses into a confident young scribe of considerable popularity and talent. Even at the pinnacle of his success, he yearns for acceptance and validation. All along, Košta manages to elicit our sympathy as if he was no more than a doe-eyed adolescent.
Chiarello and Košta are gifted performers, in full control of their vocal dynamics to match the intimacy and relatively dry acoustics of the Hormel Theatre. Both exhibit emotional depth that makes them approachable and relatable. We share their laughter and tears, their accomplishments and failures. Neither is the villain in this story, yet neither is the sole victim either. They are two separate lives that, by chance, intersect for just a few precious moments.
Revisiting the 2015 film version (starring Anna Kendrick and Jeremy Jordan) we find Cathy and Jamie interacting in each other's stories and consequently, in each other's version of what actually transpires. The stage production manages a clever manipulation of space and presence, such that we only see one half of each scene. For instance, a bedroom scene takes place in a king-size bed that has been cut in half. We never see the other person who is in the bed, except that we know, through Jamie's dialogue, that it isn't Cathy. Credit goes to Dwayne Hartford's direction and musical staging for enabling the actors to pull off the illusion.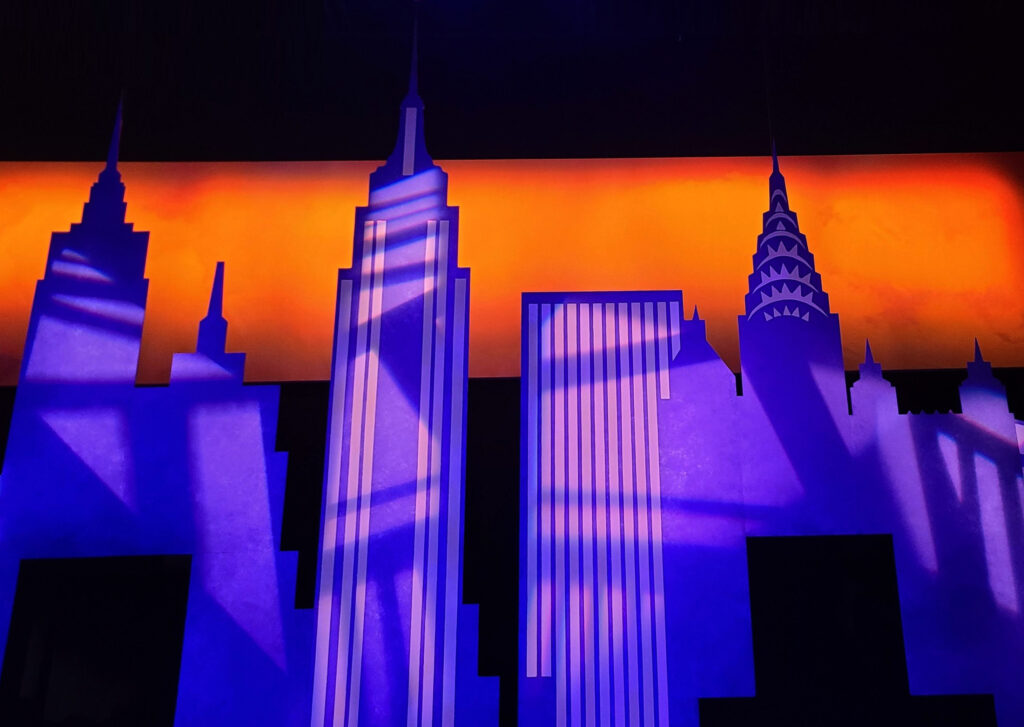 The onstage 6-piece ensemble of some of the best musicians in the Valley — and very likely beyond — provides a perfect accompaniment to the performers while blending into the background like an invisible wall of rich sound. The music is complex without being cumbersome. The lyrics are meaningful without being preachy. Actors and orchestra perform together seamlessly.
Composer Jason Robert Brown wrote the book and songs, basing it on his own failed first marriage. Having said that, we'd be overly optimistic to expect a happy ending. However, in the case of The Last Five Years, we both start and end with new beginnings. It leaves us with a sense that we've learned as much as we can from a relationship that was destined to have a beginning and an end. We're reminded that nothing is forever unless we choose to make it so.